more news
Winter 2012 Features From The Point Available Online
Monday, January 9, 2012
Here are some of the highlights we're excited to share with you in the Winter 2012 edition of The Point.
Urban Quad
With drums, student dancers and the crackle of fireworks, Point Park University opened its new Urban Park at the Academic Village on Sept. 14 before a large audience representing many partnerships - local elected officials, state legislators, philanthropic foundations and labor unions - that helped make the $6.6 million project a reality. Throughout the fall, the new park drew students, faculty and alumni together for a variety of events, including a concert series and reception for alumni during Back to the 'Burgh weekend Oct. 7- 9.
Read more about the new Urban Park at the Academic Village.
With Honors
University course work is always a challenge for students at Point Park. But one group of students has taken their study to a higher level by participating in the Honors Program, which is designed to enhance their academic experience as they seek intellectual and personal growth. The program cultivates a motivated community of learners to not only experience more rigorous studies but also to move beyond the traditional classroom to participate in community service and leadership activities.
Read more about Point Park's Honors Program.
Protect and Serve
From humble beginnings to third in command on Pittsburgh police force, alumna Maurita Bryant embodies the credo: protect and serve. Cleaning offices in the U.S. Steel building in Downtown Pittsburgh in 1975, Bryant (A&S 2006, 2007) did not foresee a 34-year career cleaning up the streets of Pittsburgh that has led her to assistant chief of the City of Pittsburgh Bureau of Police.
Read the full profile of Maurita Bryant.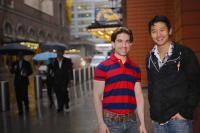 On Broadway
Shortly after graduating from Point Park with a degree in dance, Daniel Johnson (COPA 2010) moved to New York City and landed a ensemble role in the Tony Award-winning revival of the musical Anything Goes. Fellow alum Dustin Fitzharris (A&S 2002), a writer for ABC television, caught up with Dan to discuss achieving Broadway dreams and transitioning from Pittsburgh to the Big Apple.

Read an extended Q&A and see a video of Dan and Dustin's discussion.
Strong Medicine
Business Professor and MBA Program Director Archish Maharaja educates students, physicians and other health care professionals in health care management. He talked with the Point about what patients need to know when switching health care providers and/or insurance plans.
Read an extended Q&A with Arch Maharaja.
Employee Development
Professionals and employees throughout western Pennsylvania will have the opportunity to build their skills for success through a variety of learning opportunities presented through the new Center for Management Excellence at Point Park University.
Read about the Center for Management Excellence.
Focal Point
From photojournalism to fine arts, the School of Communication's photography programs span the spectrum. Each year, a new group of students begin to develop a passion for photography at Point Park. They are making the most of the programs' hands-on learning and opportunities to develop their craft on campus and off.
Read more about Point Park's photography programs.
Making Strides
Year by year, the Point Park men's and women's cross country teams are making more and more of a name for themselves in the Western Pennsylvania running community and beyond. With a growing reputation of faster times, the overall growth of the school, and a growing network of alumni who have had a great experience, the Pioneers are reaping the benefits.
Read more about cross country teams at Point Park.