more news
WTW Architects selected for Student and Convocation CenterWTW Architects will design next project of Point Park's Academic Village Initiative
Tuesday, October 27, 2009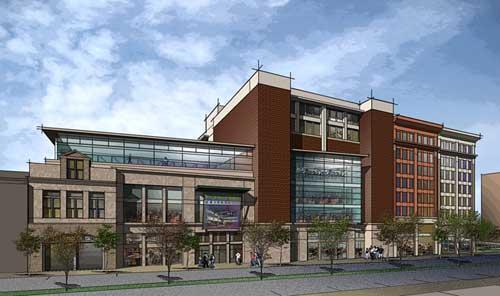 Oct. 27, 2009
As Point Park University continues to develop elements of its Academic Village Initiative, a $244 million campus and public enhancement space plan, it announced today that WTW Architects will design the renovation of its new Student and Convocation Center.
"We are ready to take the next step forward in the development of The Academic Village at Point Park University," according to Paul Hennigan, president of Point Park University. "We have selected WTW Architects of Pittsburgh," he added, "to design the renovation of 330 Boulevard of the Allies, as well as a 60,000 square-foot addition that will become our new Student and Convocation Center."
Point Park has set a goal to have construction of the Student and Convocation Center, a $32 million project, begin by the end of 2012.
"While we have had the pleasure of designing award-winning student centers and other university projects across the nation, it is especially gratifying to be selected for such a vital project in our own backyard and in the heart of Downtown Pittsburgh," said Richard De Young, president and chief executive officer of WTW Architects. "We are thrilled to play a role in Point Park University's significant revitalization of this key Downtown corridor."
"Our Student and Convocation Center," noted Hennigan, "will be a green-design friendly project, in keeping with our commitment to developing a sustainable plan for our urban campus. WTW, in fact, designed the nation's first Gold LEED Certified Student Union in the nation - the University of Vermont's Dudley H. Davis Student Center, and has designed a number of LEED certified projects across the United States."
Currently home to the YMCA, 330 Boulevard of the Allies is a 115,000 square-foot facility built in 1985, and acquired by Point Park University in 2008. The new Student Union and Convocation Center will house a 1,000-seat varsity basketball arena that can convert to convocation space. The University's athletic department will be located there, as well as locker and training rooms for students and teams, fitness center and running track, bookstore, meeting rooms, dining services, and student activity spaces.
"We're seeing a trend in student centers in which there is a blend of student life spaces, mixing both student intramural activities with varsity sports, and other activities," said De Young. "It is a great opportunity to create a center for student involvement."
"The Student and Convocation Center," added Hennigan, "marks the next step in our $244 million master plan to transform Point Park University into one of the most dynamic private, urban universities in America. As we move forward with the development of the Academic Village, it reflects our continued commitment to creating a vibrant living, learning and community hub and the continued rebirth of Downtown Pittsburgh."
Download high-res images of architects renderings
Note: Any use of these image must credit WTW Architects.
About Point Park University
Point Park University, founded in 1960, is a comprehensive master's level university with a strong liberal arts tradition located in the heart of Downtown Pittsburgh. Point Park enrolls more than 3,900 full-and part-time students in 67 undergraduate programs and 11 graduate programs offered through its School of Arts and Sciences, School of Business, School of Communication and the Conservatory of Performing Arts.
About WTW Architects
Headquartered in Pittsburgh with an affiliate office in Colorado Springs, WTW Architects is celebrating its 50th anniversary. The firm has been involved in the design of more than 80 student centers throughout the United States. Their clients include the University of California at Irvine, Georgia Tech, Louisiana State University, Penn State, DePaul University, University of Colorado, University of Connecticut, University of Pittsburgh, Duquesne University, University of Miami, and the University of Texas at Austin. Additionally, the firm has designed a variety of academic facilities for major universities nationwide.