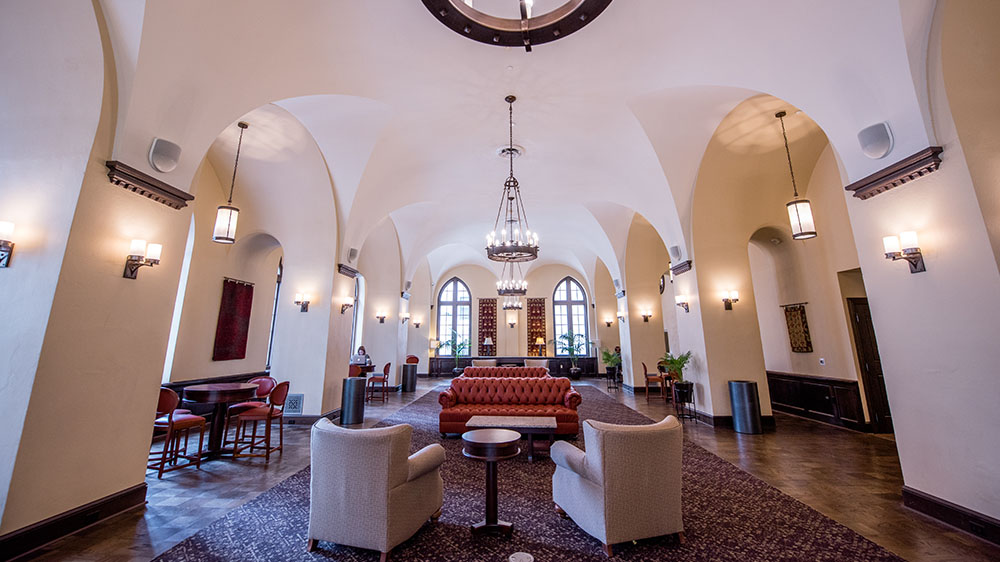 Lounge Spaces
Throughout campus you'll find numerous spaces to study, charge your phone, hang out with friends or just take a breather. Our most popular spots are:
Lawrence Hall 1st Floor - couches, high-top tables, wifi
Lawrence Hall 2nd Floor - couches, tables, wifi
Lawrence Hall 4th Floor - couches, tables, wifi, microwave, vending machines, tv, copy machine (coin operated)
Academic Hall 2nd Floor - comfy chairs, tables, wifi, access to vending machines and PNC ATM
West Penn 8th Floor - couches, comfy chairs, tables, wifi, TVs
University Center (Library) - Study rooms equipped with "smart" technology where students can plug in their own devices to work online, utilizing the screen provided; a presentation practice room gives students the opportunity to practice and record their presentations; reserve a Library study room online. 
Lockers
There are lockers available in Academic Hall. Store books, clothing and whatever else you don't feel like carting around.
Use of the lockers is free, but you need to register for one in the Office of Student Life, seventh floor of the Student Center. And remember to bring a lock.
See the student handbook for rules, as well as information about summer clean out. Questions about lockers? Contact Student Life at 412-392-8026.
Meals
Whether you're on campus once a week or five days a week, you'll need to eat. Breakfast, lunch, dinner, a quick snack - and don't forget coffee! If you pay to dine out regularly it gets expensive, not to mention unhealthy. Eat on campus.
Point Park meal plans make it easy for you to eat healthy, inexpensive meals without leaving campus. You can choose a meal plan specifically for commuters, which gives you access to:
All-you-can-eat breakfast, lunch and/or dinner in the Lawrence Hall Dining Room
Breakfast, dinner or late-night hours at the Point Café
Flex dollars, which work like a bank debit card and are accepted at all of Point Park's food service locations, including Point Perk, the campus coffee shop
Check out the various meal plan options, including costs, and fill out a meal plan contract to sign up.