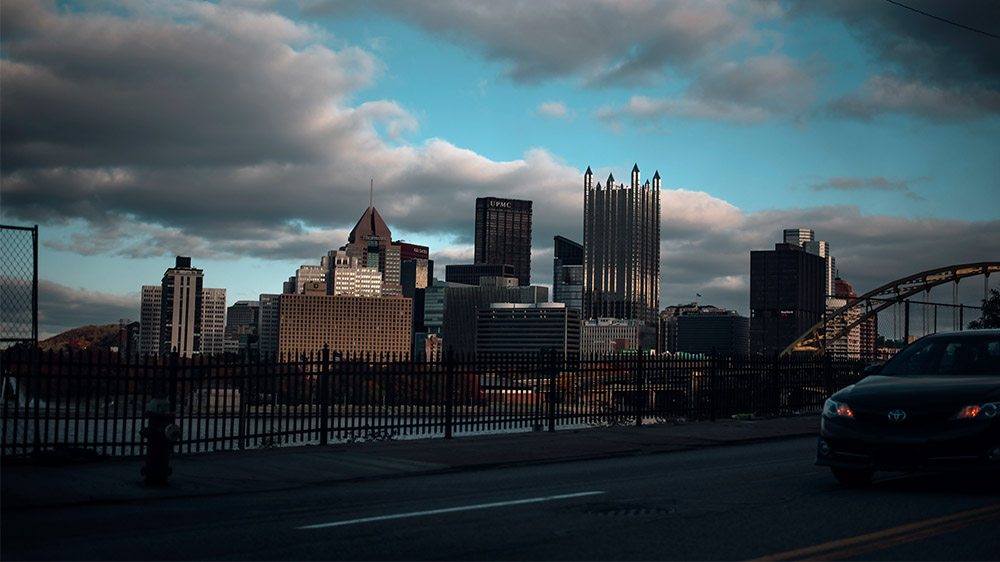 Commuting to Point Park
Whether you drive, carpool, take a bus, bike or walk to campus, here's some transportation information to help make it easier.
Bus and mass transit
If you're using mass transit to get to campus, take the time for a practice commute - you'll be much more relaxed on your first day if you know what to expect, and you'll have time to adjust anything that might not go the way you anticipated. If you know you're going to use public transportation but are not sure of where to start, try the EZ Ride Pittsburgh app.
Pittsburgh Regional Transit (PRT) fares and schedules
Pittsburgh Regional Transit (formerly the Port Authority) provides service to Pittsburgh and throughout Allegheny County. You can find fare and Connect Card information, as well as schedules on PRT's website, along with accessibility information.  In addition, there is "How To" information and step-by-step instructions on riding the bus, T (light rail), and inclines.  There is information on how to bike and ride, Park & Ride lots, and how to transfer.
U-Pass Program
Point Park University has partnered with Pittsburgh Regional Transit (PRT) to provide fare-free rides to all full-time undergraduate students in on-ground programs.  Through the Ready2Ride app on your mobile device, you can ride anywhere PRT travels and accepts mobile ticketing.  Note:  Mobile ticketing is not available at all T (light rail) stations.
Download the Ready2Ride app and create your account to receive your pass when issued by the U-Pass administrator.  For questions or concerns contact the U-Pass administrator, Desmond McCoy at dmccoy@pointpark.edu or visit the Office of Student Life on the 7th floor of the Student Center.
Point Park Ready2Ride User Guide (pdf)
Ready2Ride App Quick Tips (mp4)
Other regional transportation options
CommuteInfo.org provides commuters within the 10-county Southwestern Pennsylvania Commission region, including City of Pittsburgh, Allegheny, Armstrong, Beaver, Butler, Fayette, Greene, Indiana, Lawrence, Washington and Westmoreland counties, with information on ridesharing. By increasing the number of people who rideshare, we are also reducing the amount of harmful emissions that enter the atmosphere. Depending on location, ridesharing options may include carpool, vanpool, transit (bus), bike, or walking.
Biking and bike racks
Biking can be a great way to get to campus; biking is good for your health, can save you money and is kind to the environment. For your safety, and the safety of others on the road around you, please be aware of Pennsylvania's Bicycling Laws and read Pennsylvania's Bicycle Driver's Manual (PDF). 
Bike racks are available in two locations on our campus:
Outside Academic Hall on the Third Avenue side
Inside Lawrence Hall in the basement
Please note: You must provide your own lock. Point Park University does not assume any responsibility for bikes parked in the bike racks.
Parking discounts, options and resources
Discounted parking at Station Square
Because Downtown Pittsburgh is a thriving business and cultural destination - with lots of things to do and many advantages for Point Park students - parking options can be tight. For students who drive to campus, Point Park has an arrangement with Station Square parking for a discounted monthly parking lease for Point Park students at the Station Square West Lot (near the Highmark Stadium).
To acquire a discounted Station Square monthly parking pass (lease), you must:
Visit the Office of Student Life, located on the 7th floor of the Student Center
Show your student ID and fill out a parking contract
Have the contract signed by the director of student life
Email a copy of the signed contract to the Station Square leasing office, ABM Parking, at christie.churetta@abm.com.  For lease questions contact ABM Parking directly at (412) 261-1993.
Other parking options
Of course, there are other places to park in and around Downtown Pittsburgh.
You can also check out ParkPGH, a mobile / app / text / online / phone-in resource that provides real-time parking space availability for garages in Pittsburgh's Cultural District (some of these lots are about four blocks away from Point Park's campus; others may be more of a walk).