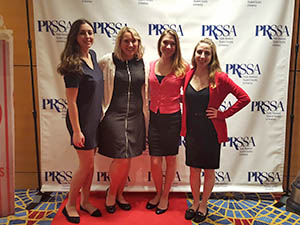 PRSSA Conference in Atlanta, Ga.
Who we are
The American Advertising Federation/Public Relations Student Society of America clubs at Point Park University are the pre-professional student chapters of the nationally recognized professional organizations, the American Advertising Federation and Public Relations Society of America.
The AdFed/PRSSA clubs model their yearly goals after the methods and tactics of the two parent organizations in ways that provide students with relevant experience, networking opportunities and professional skill building in the heart of Downtown Pittsburgh.
What we do
The clubs strive to provide students with a better understanding of the real world by participating in the following activities: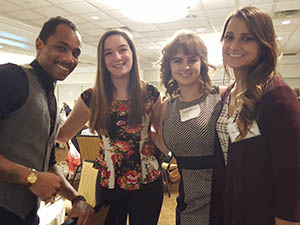 PRSA Professional Development Day at the Rivers Club
Tour local agencies and firms to understand current theories and procedures.
Organize community service projects.
Host industry professionals on campus to learn what it takes to succeed in the evolving field of advertising and public relations.
Why you should join
Joining AdFed/PRSSA is a great way to gain real-world experience with your peers. Membership provides you with the opportunity to expand your knowledge of the industry, experience event and social media planning and will strengthen your writing and design skills. Membership is open to all students; dues are approximately $50 a year.
Contact us
Social Media