Heart of the Neighborhood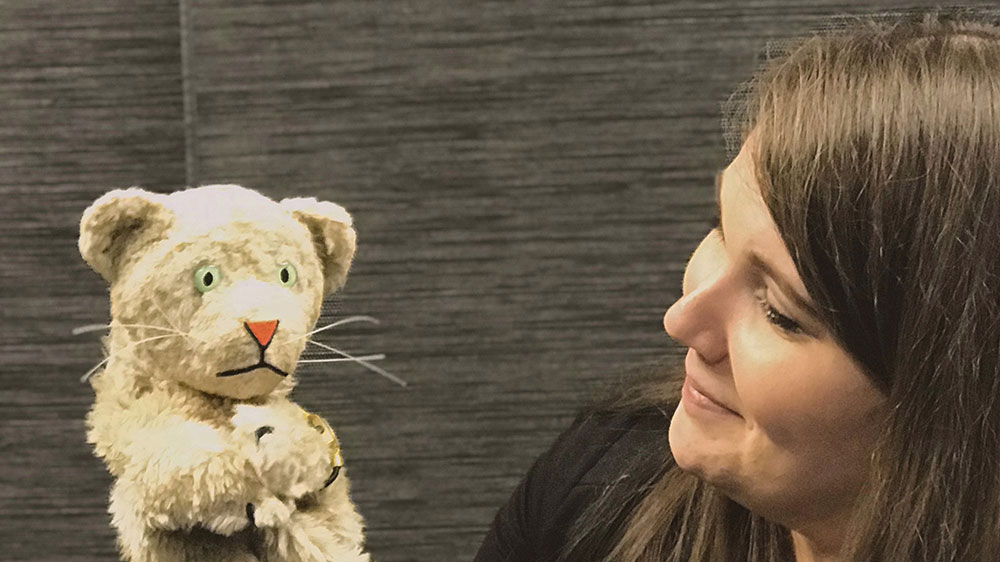 Missy Finnell (COPA '09) with friend Daniel Striped Tiger from Mister Rogers' Neighborhood.
Cinema Arts alum Missy Finnell (COPA '09) had the experience of a lifetime while working as the local casting associate on A Beautiful Day in the Neighborhood, the story of children's television pioneer Fred Rogers, which stars Tom Hanks and filmed in Pittsburgh in 2018. A producing major at Point Park, she is now a casting associate at Donna Belajac Casting in Pittsburgh. She was among nearly a dozen Point Park alumni who worked on various aspects of the movie, ranging from production assistance to art direction. She chatted with The Point about her experiences working on the film, and making a dream come true for a dear friend and fellow Point Park alum:
What was it like to work on A Beautiful Day in the Neighborhood?
I had an absolutely wonderful time working as the local casting associate on A Beautiful Day in the Neighborhood [previously titled You Are My Friend]. When the film's producer reached out to [the Donna Belejac Casting office], I was so excited. I had heard about the film months earlier from my former Point Park roommate, and super Tom Hanks fan, Danette Pemberton (COM '09). She had mentioned that a Mister Rogers movie was rumored to be in the works, with Tom Hanks in the starring role. I immediately reached out to [Pittsburgh Film Office Director] Dawn Keezer to see if the film was coming to Pittsburgh, and soon enough we were getting called to interview for the movie. Marielle Heller, the director, was truly a dream.
Can you talk more about the collaboration with the director?
Marielle Heller is a strong, decisive, caring, compassionate and all-around creative force. Her understanding of the Mister Rogers world, and of his legacy and importance to Pittsburgh, is so deep. She was always quick to ask for our opinions on the cast, and she never made us feel like our questions, concerns or ideas were insignificant. This film was such a breath of fresh air. Every aspect of the casting process was pure fun. From auditioning puppeteers, to watching our talent on set. There was never a moment where coming to work was a chore! Donna Belajac, the local casting director, and I spent so much of our time smiling and laughing while casting each role. Looking for Mr. McFeely was 100 percent as fun as it sounds!
How did your Point Park experience prepare you to work on this film?
When I graduated from Point Park in 2009, my one and only goal was to find a job in the arts, hopefully in film. In July of that year I was hired as a casting assistant on the film Love and Other Drugs. I was excited to be able to put my degree to work! The skills I gained while majoring in producing at Point Park helped me tremendously in working for Donna Belajac Casting. A Beautiful Day in the Neighborhood is such a special part of my resume, and I'm so proud to have been a part of it, even in the tiniest of ways.
Describe your work as a casting associate.
As a casting associate, I am involved in every aspect of the casting process. I help create lists of talent to bring in for each role, I schedule the talent, help run audition and director sessions, provide my insight and opinions on decisions, and handle a lot of paperwork, such as permits, clearances and deal memos. The best part of my job, aside from seeing the end result on the big screen, is meeting and working with other talented individuals who come together to create magic. A Beautiful Day in the Neighborhood is a shining example of this. The entire crew embodied Mister Rogers' compassion, kindness, and optimism, and I think that will really show on the big screen.
What was your favorite experience in working on the film?
My favorite part of working on this film is actually a bit of a side note. As I mentioned, my former roommate at Point Park, Danette, is truly and I mean truly, Tom Hanks' biggest fan. In addition to rooming together at Point Park, Danette and I went to high school together. Everyone in all of Washington, Pa. and all of our friends at Point Park, know just how big of a Tom Hanks fan Danette is. She lost her dad at a young age, and I think she really turned to his films when she needed a pick-me-up. Danette can practically deliver all of Tom Hanks' lines from every movie he's been in. She would celebrate his birthday each year. It was no surprise that Danette knew about the Mister Rogers movie long before anyone in the Pittsburgh region had even the slightest clue about it. Needless to say, when I found out that I was going to be working on the movie, I made it my personal goal to get Danette and Tom in the same space.
How did that come about?
I told Danette I would take her to set. She was excited, and I was excited at the idea of her even just seeing Tom in real life! They were shooting at WQED the night we decided to visit the set. It was a wonderful time to visit. The Land of Make Believe looked amazing, and a few of the actors cast out of my office were working. As we stood in the studio, I could see the excitement in Danette's eyes. As they changed the set-up, Tom walked by, headed to the green room. I thought Danette was going to faint. She was so happy to be watching her idol work. As the night went on, Tom passed by Danette and I a few times. As they were changing a shot, Mari, the director, came over to me to say hello. It was so nice of her to remember me from our casting sessions, and to go out of her way to come over and chat. I introduced her to Danette, and suddenly, Tom came over and said "Who do we have here?"
What happened next?
Mari introduced me and explained that Donna and I had done the local casting for the film, and I quickly jumped in and said "This is my friend Danette, and she is truly your biggest fan! Hands down! She lost her dad when she was young, and she really turned to your films for comfort. Would it be ok if I got a picture of you two together?' Tom gave a big smile and said, 'Well, I think we have to!' And Mari smiled, and I could barely take the photo I was so excited. Tom stood there and spoke with Danette and I for a good ten or fifteen minutes. He was so complimentary about Pittsburgh and our community and he was so nice and friendly. Eventually he was pulled away to change for the final scene of the evening, but he mentioned how nice it was to meet us. I will never forget that night. I will never forget watching Danette meet her idol. And I will never forget Mr. Hanks' kindness. He is a wonderful actor, but he is by far an even better person.
Interview by Cheryl Valyo
Photo courtesy of Missy Finnell
The Point is the magazine of Point Park University
More About: The Point