Student-athletes and Coach Represent for Team USA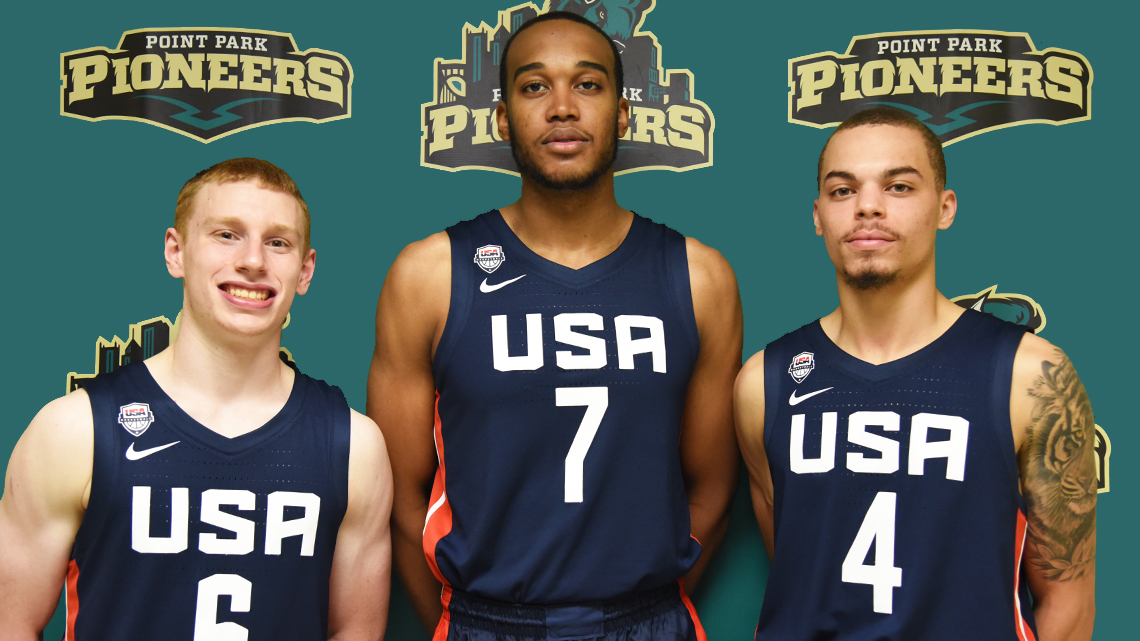 Men's Basketball Pioneers Mark Shehady, Juwan Willis and R.J. Fairrow represented Team USA in the FIBA 3x3 U23 World Cup Oct. 2-6, 2019 in Lanzhou, China.
Three members of the Point Park men's basketball team and Pioneers' head coach Joe Lewandowski had a very special experience prior to the 2019-20 season. Mark Shehady, Juwan Willis, R.J. Fairrow and coach Lewandowski were selected to represent Team USA in the FIBA 3x3 U23 World Cup Oct. 2-6, 2019 in Lanzhou, China.
The opportunity for the Point Park group presented itself with coach Lewandowski's involvement with USA Basketball. He has been involved with USA Basketball since 2012 and has served as one of the main 3x3 coaches for Team USA ever since.
Lewandowski has coached three different USA teams to gold medals in 3x3 basketball, including most recently this past summer leading the USA senior national team to the FIBA 3x3 World Cup gold medal. The team featured former NBA player and Purdue University star Robbie Hummel as the MVP.
Global play
An Olympic sport that will make its debut in the 2020 Summer Games, 3x3 basketball is taking the globe by storm. With three players on the floor for each team at a time and just one substitute, it's fast-past action and fan-friendly. Games are played on a half court with a shot clock of just 12 seconds. Games are 12 minutes in length or the first team to score 21 points, whichever comes first.
With the race to qualify for the 2020 Olympics, nations around the world are pursuing opportunities to earn qualifying points. The FIBA 3x3 U23 World Cup provided USA Basketball a chance to earn points in a category that it had not yet tried. The Point Park players were the first to suit up for Team USA in the U23 division of 3x3 basketball.
Twenty countries from around the world competed at the U23 World Cup. They were divided into four pools of five countries each. USA was grouped with China, Romania, Latvia and Kazakhstan.
Pool play consisted of one game versus each of the teams in the group. The first day, Team USA took a 21-18 loss to Romania and a 21-14 loss to Latvia. Day two of pool play featured a 21-18 loss to Kazakhstan and a 21-15 loss to host team and pool winner China.
Team USA had an early lead in the first game but could not finish it off. They held their own versus previous World Cup runner-up Latvia and had their rallies versus China and Kazakhstan fall short.
Unforgettable experience
Despite the losses, it was an experience that the Point Park student-athletes won't soon forget. The chance to represent their University and country overseas was an honor in and of itself. The opportunity to see China and gain valuable playing experience added to it as well.
"It's been a great experience," said Shehady, a graduate of Hampton High School. "You don't get too many opportunities like this. I'm thankful that coach brought us along.
"I'm glad to see the different style of basketball. That's the biggest thing with me. The area is great, great atmosphere. There is a lot of pride that the fans have in their countries, and I thought that was really fascinating. Whenever China plays at home, that place is just packed, a lot of noise."
The three players from Point Park were joined by former Cleveland State player David Payne as the fourth member of the team.
Shehady is a junior point guard in his third year with the Pioneers. Willis is a junior guard from Woodland Hills High School. He is in his second year at Point Park after transferring from Penn State-New Kensington. Fairrow, a 6-7 forward from Pickerington, Ohio, transferred to Point Park this year after two years at Columbus State CC.
Coach Lewandowski is in his second year at the helm of the Pioneers. He was hired in October 2018 as interim head coach and was officially hired as permanent coach after the 2018-19 season. With three starters who gained the Team USA experience to jump start the current season, the Pioneers are aiming for big things in 2019-20.
Sports Roundup – Fall 2019


WOMEN'S CROSS COUNTRY
For the third year in a row, the Pioneers won the RSC Championship to qualify for the NAIA national meet as a team. Sophomore Alyssa Campbell won the RSC individual title with Reba Bartram and Alyssa Frausto earning all-conference honors as well. First-year head coach Jim Spisak and the Pioneers placed 27th of 37 teams at nationals. The conference title made four in five years for the program.
MEN'S CROSS COUNTRY
The Pioneers placed second of 12 teams in the RSC Championship for another strong year. It was the third year in a row as conference runner-up. Senior Xavier Stephens was third in the conference and qualified for NAIA nationals along with sophomore Brody Carlin. Point Park put six runners in the top 15 finishers in the RSC and had five all-conference performers.
VOLLEYBALL
The Pioneers won the River States Conference East Division title and hosted the RSC Volleyball Championship in the Student Center Gym. Point Park's final record was 22-9 overall, 12-4 RSC. It was their second divisional championship in four years and the tenth 20-win season in the last 13 years. Head coach Bridget Bielich had five all-conference players in her second year at the helm.
WOMEN'S SOCCER
Point Park made a run to the RSC Championship semifinals with a big playoff win at WVU Tech, 2-0. The Pioneers battled injuries and adversity to earn a playoff spot at 4-5-1 RSC. Interim head coach Bethanie Moreschi was hired Aug. 15 and led the team to a 7-12-1 overall record. Senior goalkeeper Ashtyn Webb and sophomore forward Taylor Goldstrohm earned All-RSC Second Team.
MEN'S SOCCER
The Pioneers set a program record for wins in a season with a mark of 15-3 overall this fall. That included 7-2 RSC for third place. The Pioneers came up just short of a bid to the NAIA national tournament despite a strong showing. Head coach Jeroen Walstra will welcome back all five of the team's all-conference selections next season, including top goal scorer Mitchell Roell, a junior.
Text by Kevin Taylor
The Point is the online magazine of Point Park University
More About: The Point