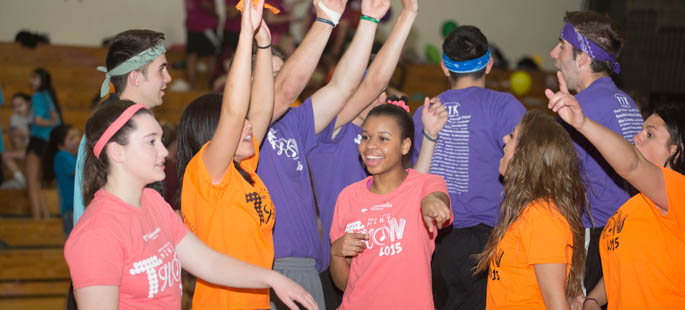 SAEM 101 course at South Fayette High School raises over $43K for pediatric cancer research. Read the story.
High School Seniors Earn Three Credits Toward a Point Park Bachelor's Degree
The sports, arts and entertainment management program at Point Park University offers high school seniors with the opportunity to earn three college credits — right at their high school. Students who earn a "B" letter grade or better in the Introduction to the Sports, Arts and Entertainment Management Business (SAEM 101) course receive three credits toward an undergraduate degree at Point Park.
Taught in collaboration with Point Park's SAEM faculty, the course provides students with a broad overview of the structure of the sports, arts and entertainment management industries.

Through in-class presentations, discussions, textbook and trade publication readings, and field trips to venues such as Stage AE and the Pittsburgh Playhouse, students gain a comprehensive understanding of the sports, arts and entertainment industries as businesses.
Topics covered in the course range from sports, arts and entertainment marketing strategies to licensing, sales and implementation of communication plans.
Course Learning Objectives
Students taking the SAEM 101 course will expand their critical thinking, communication, information technology, theory and practice skills by:
Evaluating the effectiveness of an event (Examples: Broadway touring show at The Benedum Center, the Pittsburgh Folk Festival, a Penguins game at CONSOL Energy Center or a concert at Stage AE) they have attended and writing a 360-degree report as well as a Strengths, Weaknesses, Opportunities and Threats (SWOT) analysis regarding their experience;
Preparing a report and presentation that outline the knowledge gained during his or her pre-professional experience;
Creating a professional quality PowerPoint or Prezi presentation highlighting the key management elements they learned during their pre-professional experience; and
SAEM 101 Montour High School students with Professors Steve Tanzilli 
(front row, third from left) and Ed Traversari (far right)
Explaining the role of a specific individual within the sports, arts and entertainment industry, the organizational structure of the individual's business, the roles and interactions of other people within that management structure and how business is conducted.
Participating High Schools
Currently, Point Park has partnerships with the following schools:
April Fisher, a business education teacher at Montour High School, is among the individuals teaching the course. Watch Fisher's interview to learn about how the course is impacting her students. 
Learn More
If you are interested in offering the SAEM course at your high school, contact Steve Tanzilli, associate professor of SAEM and chair of the Department of Management, at 412-392-4742 or stanzilli@pointpark.edu.