PROGRAM GUIDES: FRESHMEN; TRANSFER | COURSE DESCRIPTIONS | FACULTY | SCHEDULE OF COURSES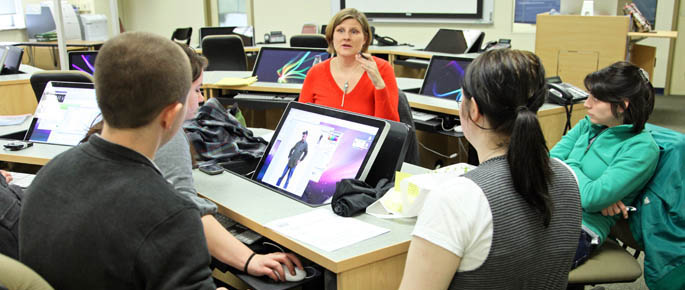 Major in Multimedia
You want a program that combines your love for the web and the flexibility to learn the multiple skills you need today to have a successful career in multimedia. Our multimedia major includes classes in a rich variety of new technologies and traditional journalism to teach you to be adept at writing, web design, online journalism and even audio and video technology.
Alumni Profile
Meet 2012 alumna Erin Price, web designer and developer at United Steelworkers .
---

Take Action
Students can work with the print or web editions of The Globe, The Cavalcade and other student media. They can also join the campus chapters of professional organizations like the Online News Association.
Multimedia students can also produce stories for our wire service, The Point Park News Service. The PPNS is operated in partnership with Trib Total Media, and makes it possible for students to publish their work in professional media outlets starting from their first day of class.
Multimedia Course Offerings
You will receive a well-rounded education through Point Park's core curriculum and classes in your major. Some of the courses in the multimedia major include:
Typography
Social Media
Web Publishing
Visual Communication Design
Digital Photo Editing
Information Graphics
Video Production and Editing
Desktop/Electronic Publishing
For a comprehensive list of program requirements and course descriptions, see the program guide links at the top of the page and the School of Communication course descriptions.
Multimedia Internships
Internships are available at a number of media, nonprofit, agency, governmental and corporate locations in the Pittsburgh area and beyond.
Careers in Multimedia
With a B.A. degree in multimedia, you will have the option to pursue various career opportunities, such as:
Graphic Designer
Social Media Specialist
Multimedia Reporter/Producer
Online Journalist
Web Content Producer
Web Editor