more news
Point Park University to Host Graduate Students Conference April 14
Monday, March 19, 2018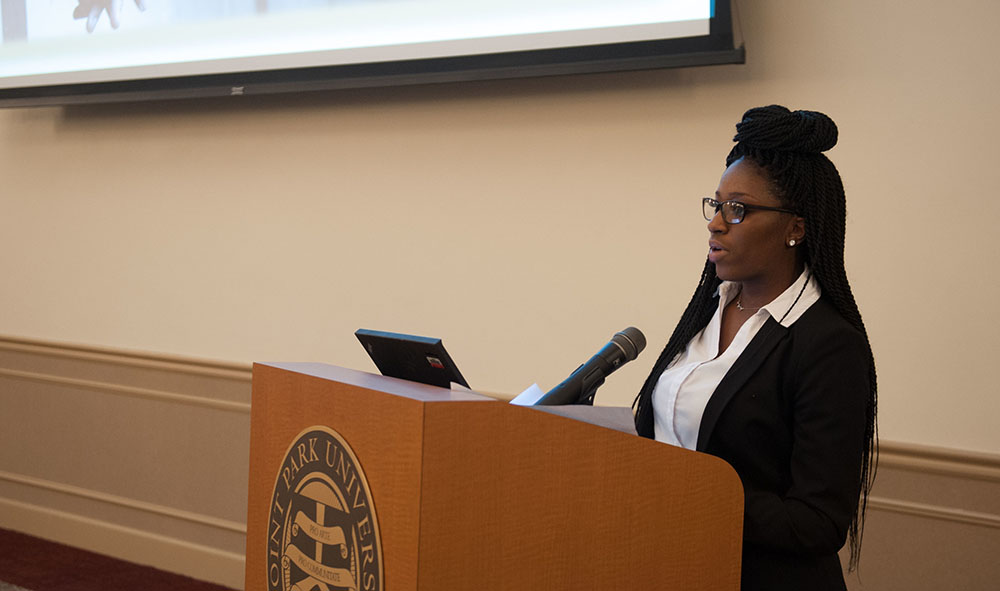 Graduate students are invited to present their research related to professional development and community services for Point Park University's Graduate Student Conference on April 14, 2018.
The conference from 9 a.m. to 2 p.m. will include a keynote speech by alumnus Billy Hartung on "Advancing Professions and Serving the Community" as well as technical and poster sessions.
There will also be networking opportunities related to a variety of fields in which Point Park offers graduate programs including:
Business administration
Education
Engineering management
Environmental sciences
Health care management
Psychology/community health
Please note that registration for this conference is open for all and is free, but mandatory. Since space is limited, reserve your spot soon.
Keynote Speaker
Hartung received his B.F.A. in theatre arts from in 1993 and later returned for his M.A. in Curriculum and Instruction in 2008; both from Point Park University. Hartung has written curriculum and taught acting and musical theater for the performing arts faculties of The Pittsburgh High School for the Creative and Performing Arts (CAPA), the Carnegie Mellon University Pre-College Program and the Pennsylvania Governor's School for the Arts. He is also an active member of the Arts Education Collaborative (AEC) where he taught and created programs for high school teachers and district staff to further explore arts education curriculum in their classroom and school districts.
Conference Schedule
8:15-8:45 a.m.

Registration

8:45-9:15 a.m.

Welcome Reception

9:15-10 a.m.

Paper Session A

Paper Session B

Global Economic Inequality: Forces at work, and Policies to Reverse the Problem

Ourania Mining International Corp: A Self-Sustaining Facility on 1943 Anteros

The Future of Food Production and Agriculture: United States Policy on Genetically Modified Organisms

Death Experiences as Mortality Salience priming, personality traits, and Schizotypal Personalities

Negotiating Religio-Cultural Barriers in Psychotherapy with Female Arab-Muslim Victims of Sexual Violence: A Literature Review

The Empty Self and Addiction: Towards Alternative Approaches to Treatment

By: Ana C. Houser, Stephen Schuchert, Zachary Snowden

By: Rebecca Norton, Minodora Mihai, Gerald Ferguson

By: Kathleen Thompson

By: William Harper, Brent Robbins, Ming Yuan

By: Carleigh Ann Mallah

By: Ashley Bobak

10:15-11 a.m.

Paper Session A

Paper Session B

Wave Energy Conversion Technology Feasibility Study for Puerto Rico

Renewable Energy Solutions for a Town in Need

Automate or Not to Automate

The Impact of Community Engaged Racialized Conversations on Educational Planning for African American Students

Medical National Council

Stories from the Yam: Centering Black Women Sexual Assault Survivors in Higher Education

By: Robert E. Bagwell

By: Lawrence J Keenan

By: Aike Okolo, Hung Nguyen

By: Trisha Gadson

By: Thiago Siervo

By: Leatra Tate

11 a.m.-noon

Poster Session

Effectively Understanding Risk Management

Balancing the ongoing crisis of offline/ online e-commerce market utilizing smart supply chain management

Diversity Awareness Initiatives in 3 Western Pennsylvania School Districts

Do you ask for a receipt from your medical care provider? If not, don't be ashamed to ask for it.

Opportunities and Barriers to Female Leadership in Secondary Education: A Qualitative Analysis

Social innovation

By: Brittany Bartel

By: Pratiksha Dixit

By: Robert Kartychak, Jason Olexa, Laura Ward

By: Thiago Siervo

By: Stephanie White

By: David Gloss

Freedom Dreams: Cultural Work as Resistance in the Hill District of Pittsburgh

Solar Farm Planning for Alhassa City

Community Violence

Provider Scholarship Program: A Case Study of Student Access and Affordability

Professional Development for Young Employees in the Nonprofit Sector, using Technology to Increase Funds and Decrease Administrative Time

By: Kendra Ross

By: Zyad Alshabat

By: Selena Marshall

By: Meggan Lloyd

By: Maria Montaro, Shannon Gregg

11:30 a.m.-12:30 p.m.

Lunch

12:30-1 p.m.

Keynote Speech

1-1:30 p.m.

Awards Ceremony
For Authors
Download the final paper template and submit your papers on or before April 5, 2018.
Download the oral presentation guidelines.
Download the poster preparation guidelines.
Learn More 
For questions or more information about the conference, contact Yaser Roshan, Ph.D., at 412-392-3879 or yroshan@pointpark.edu.
More About: M.S. in engineering management, M.A. in clinical-community psychology, M.S. in environmental studies, M.A. in media communication, M.A. in communication technology, graduate programs, M.F.A. in Screenwriting and Playwriting, M.A./M.B.A., M.Ed. in Athletic Coaching, M.B.A.