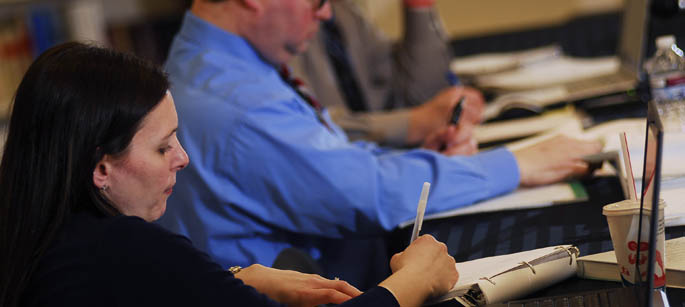 Offer Your Employees an MBA Program at Your Company's Location

Are you looking to provide your employees with a convenient, flexible, professional development opportunity that would enhance their business skills and help your company be more competitive in the marketplace?
We offer a unique, fully accredited, 36-credit accelerated MBA degree program for businesses in the Pittsburgh area, allowing participating employees to take classes on-site at your company location.
Taught by the same experienced faculty who teach on our campus, classes are held one evening a week (or Saturday) using your company's existing technology and space to offer employees a classroom experience that is convenient, compelling and relevant to the work they do.
Benefits For Your Company
Dedicated employees with enhanced business skills
Course content tailored to your company through team projects
Convenient, flexible class hours (evenings or Saturdays)
Access to Point Park resources, such as the library and workshops
Companies Enrolled in the Program
GAI Consultants, Inc. was the first business in the region to take advantage of Point Park's on-site MBA program and continues to enroll students each semester. GAI Consultants implemented the program as part of its leadership development efforts and offered it to employees who had completed or enrolled in GAI's Harvard Executive Leadership Program. Learn more about Point Park's on-site corporate MBA program at GAI Consultants, Inc.
Employees of ERT, (formerly Invivodata), a provider of high-quality patient safety and efficacy endpoint data collection solutions for use in clinical drug development and health care settings, are also currently enrolled in Point Park's on-site MBA program.
In the News
Learn more 
For questions and more information, contact the Office of Graduate Admission at 412-392-3808 or gradadmission@pointpark.edu.