Accounting Career Awareness Program
Sunday, June 24 - Friday, June 29, 2018
Increasing Awareness of Accounting Careers Among Minority High School Students
The field of accounting has been identified as one of the fastest growing professions according to the U.S. Bureau of Labor. Yet studies have shown that there has been declining enrollment in accounting and finance among minority students.

The goal of the Accounting Career Awareness Program, which is part of the National Association of Black Accountants, Inc., is to increase the understanding of accounting career opportunities among high school students in underrepresented minority groups.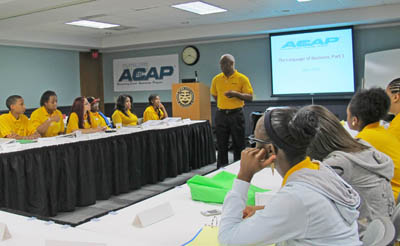 ACAP began in 1980 when NABA recognized the need for a program that would direct African Americans and other minorities toward the accounting and finance profession.

Through ACAP, students throughout the United States have received educational enrichment experiences and practical help needed for college preparation and a career in accounting.
ACAP at Point Park
Recognizing that preparation for a professional career begins in junior and senior high school, NABA designed a one-week summer program for qualified sophomores, juniors and seniors in high school.

During the week, students have the opportunity to attend classes on careers in accounting and business, personal development and college preparation; tour local companies and CPA firms; and invite their parent(s) or guardian(s) to a banquet in commemoration of their completion of the program.
The Accounting Career Awareness Program is held on Point Park University's campus and is led by Edward Scott, C.P.A., M.B.A., George Rowland White Endowed Professor in Accounting and Finance.
Benefits of the ACAP Summer Program
The ACAP Summer Program introduces students to the accounting, business, economics and finance professions through an educational and interactive curriculum involving accounting, business, economics and finance professionals, University faculty and business, government and community mentors.

Other key benefits include:
Preparing students to pursue higher education (college application process, FAFSA, scholarships)
Informing students about career opportunities available in accounting, business and finance
Teaching skill sets relevant to the field of business (interview skills, resume building, dining etiquette, etc.)
Connecting students with accounting and business professionals and mentors
Registration Information for the ACAP Summer Program
Registration for the 2018 ACAP Summer Program is now closed.
For questions or more information, contact ACAP Executive Director Edward Scott, M.B.A., C.P.A., at 412-392-6194 or escott@pointpark.edu.