WPPJ's Rock-A-Thon combines campus fun, community service
Campus radio station raises $2,300 to help kids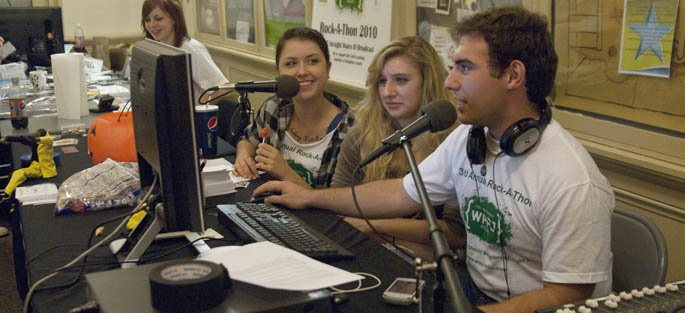 WPPJ's Rock-A-Thon 2010 featured 67 non-stop hours of broadcasting outside the Point Cafe in Lawrence Hall.
November 2010
Point Park students enjoyed three days of continuous music broadcasting outside of the Point Café thanks to WPPJ's 30th annual Rock-A-Thon. From Oct. 26-29, WPPJ, the student-run campus radio station, supplied students with music, activities and an opportunity to give back to others.
"The Rock-A-Thon is WPPJ's yearly charity event," said station general manager and junior political science major Anthony Costulas. "Basically, it's 67 straight hours of broadcast, and the purpose of those 67 hours is to raise money for The Early Learning Institute of Allegheny County, which is a group dedicated to taking young children who are disabled, maybe physically or mentally, and ... getting them ready for kindergarten and elementary school so they can graduate on time with kids their own age."
Photo Gallery:
Pie A CF
Click photo for more images
Related links
This year's Rock-A-Thon offered a new twist - the Last DJ Standing contest, which pitted DJs Nicholas Sperdute, a sophomore broadcasting major, against Josh Frketic, a senior television broadcasting major, to see who could broadcast longer.
"The first Rock-A-Thon, which took place 30 years ago, actually had one guy sitting out there for 67 straight hours all by himself. He only had one shower in all that time. He didn't leave except for that shower and a couple bathroom breaks," said Costulas.
The week also included on-campus events such as a CD sale and throwing a pie at the dean of students. For a $1 donation, students could also throw a pie at various faculty members and community facilitators on the Living and Learning Community floors.
WPPJ also presented "A Night with The Early Learning Institute," an opportunity for students to meet a family helped by TELI.
Kristin Brown, TELI's director of development and marketing, said the organization is grateful for the relationship with WPPJ.
"TELI is happy to collaborate with WPPJ every year because the students are very enthusiastic and passionate about our mission," she said. "Their dedication to TELI's children shines through in every aspect of Rock-A-Thon."
Students also attended the Campus Activities Board Halloween dance that WPPJ co-sponsored. At Club Whim, hundreds of students danced to a DJ's energetic beats while enjoying free Red Bull beverages. Impulse, Point Park's hip-hop dance group, performed a lively routine to a mash-up of hip-hop songs.
The Rock-A-Thon's events concluded with the Acoustic Series, an open microphone night for students and local artists to display their musical talents. Junior cinema major Caitlyn Magarity performed her original music and introduced her friends' band, whose members came from Philadelphia to perform.
"Usually you see the plays and the recitals, and the screenings for cinema, but you never really get to see the people that play music and enjoy writing their own stuff," Magarity said. "An event like this is a way to showcase that."
When all the events were over and done, this year's Rock-A-Thon raised approximately $2,300 and Frketic was declared the Last DJ Standing winner.
"I think that it's the highest amount of money we've ever raised," Costulas said. "All the events went over well. Now we know what works and what doesn't, so we will continue to make it a success for years to come."
Article by Nicole Chynoweth, sophomore journalism major
Photos by Gabrielle Mazza, senior photojournalism major