Point to Yoga: Join us for a FREE yoga class on Monday, Sept. 13 at 7pm.  
Learn more!
Community Classes
Non-credit enrichment opportunities open to the public.

We are so glad you're here! Thanks for your interest in our non-credit community programs. Check back frequently for new offerings and updates.



YogaSix at Point Park University | Monday, Sept. 13 at 7pm

Point Park University and YogaSix at the Galleria of Mt. Lebanon are teaming up to offer a FREE, fun & energizing flow to all current Point Park students. Class will be taught by PPU alumna, Montana Michniak (16'). 


Space is limited. RSVP to reserve your spot today.


We encourage all participants to bring their own yoga mat. Please note, a few lenders will be available if necessary. All participants are required to wear a mask while indoors.
To learn more about YogaSix, please visit: YogaSix.com/South-Hills


---

Future Programs
Summer Registration and Updated Details Coming Soon!
A single image from a film can tell a story. From focus and exposure, to shot size and composition, these fundamental concepts are powerful filmmaking tools. In this session, you'll be introduced to the basic and advanced principles of cinema art and technology, both of which can be implemented using your smartphone! This weekly Thursday class is open to all students ages 14 years and older. Zoom details will be emailed to the address provided prior to the event.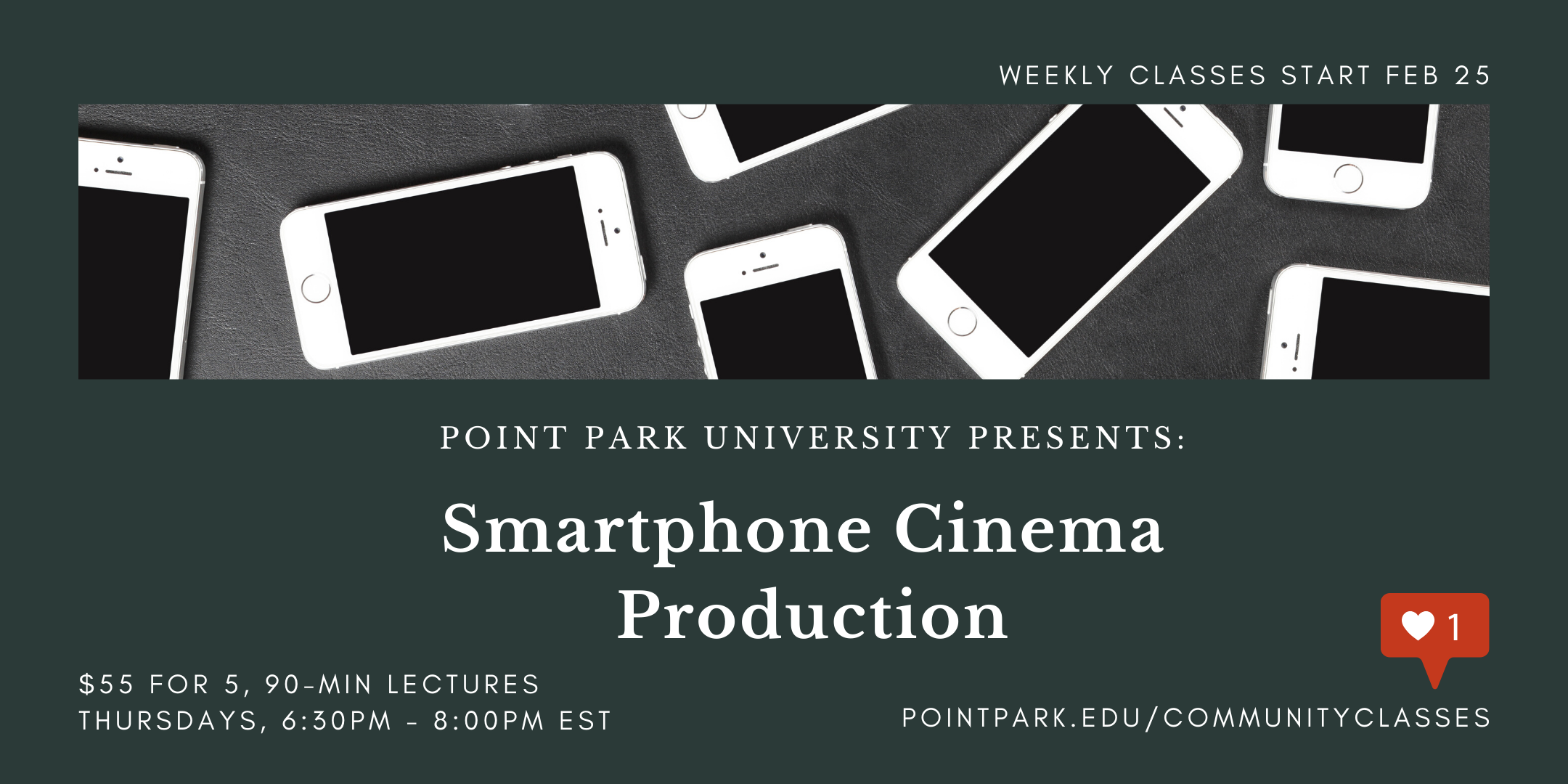 Schedule:
All sessions will be held during Eastern Standard Time. There will be 5, 90-minute Thursday classes.
Dates to be annouced soon!
Topics:
Week #1: Course Introduction 
Week #2: Getting Technical: Focus and Exposure
Week #3: Cinematic Language: The Frame 
Week #4: Directing: Scenes and Coverage
Week #5: Moving Forward: Movement and Sound
Cost:
$54.67 (includes Eventbrite ticketing fees) 

Instructor:
The instructor for this class is Part-Time Cinema Arts Faculty member, John Reilly. 
John Reilly in an Assistant Professor in the Cinema Arts Department at Point Park University. He received his B.A. in Communication Arts from Allegheny College and his M.F.A. in Filmmaking from New York University's Tisch School of the Arts. His short films have screened at film festivals across the country, while his critical work on the horror genre has earned awards at research conferences. John has also appeared in >The Dark Knight Rises (2012),Gus Van Sant's Promised Land (2012), and recently appeared in NBC Universal's Gone (2019).
Summer Registration and Updated Details Coming Soon!
This two-day interactive workshop will walk you through the process of brand building step-by-step with the goal of building the most important brand in the world: Yours! Working with the same creative process used by agencies and companies to build brands, you will be immersed in all the elements it takes to bring your brand to life. By the end of this workshop, you will have a strong understanding of how to effectively present yourself and your personal brand in order to achieve your dreams and goals.
*All participants should plan to engage in meaningful conversations. No experience necessary. All backgrounds welcome!

This webinar is open to all participants ages 14 years and older

Dates:
Workshop, Part 1) TBA
Workshop, Part 2) TBA

Cost:
No fees associated (hooray!). Registration is required. 

Location:
All Zoom details will be emailed after registration. 

Instructor:
The instructor for this class is Co-Founder and President of Oyster Creative Co., Jeff Barton.



Previous Offerings
Brewing Science Academy

Point Park University is offering a new Brewing Science Academy, an eight-week course designed to help provide a trained workforce to beer breweries. It will become the only program of its kind in Western Pennsylvania. Housed in the University's Natural Sciences, Engineering and Technology Department, the inaugural program will be an eight-week course that runs two days a week from June 7 to August 2. The Summer Brewing Academy at Point Park University is made possible through a grant from the Pennsylvania Liquor Control Board.

Course Overview

The Brewing Academy course will be broken into two halves. The first section is a hands-on science course, specifically focused on the science behind beer brewing, taught by Point Park University Scientists in a lab setting. The second will be focused on the art and craft of brewing. For this section, instructors will be beer industry professionals primarily from the Pittsburgh area with a strong representation from MBAA District Pittsburgh. The Brewing Academy will close with a brewing competition where students will design and brew their own beer to be judged in the final session.
This class will be limited to the first 14 students who register and pay. No pre-requisites are required to participate. Students must be at least 21 years of age by the start of the program in order to participate.

Part 1: Hands-On Science Course
Dates: June 7 - 30, 2021  | Times: Monday and Wednesday Evenings, 6:00 - 9:00pm
Introduction to the Brewing Process

Fundamentals of Chemistry for Brewers

Carbon Chemistry

Brewing Water

Barley, Malting and Mashing

Hops and the Boil

Yeast and Fermentation

Brewery Physics

 

Part 2: The Art and Craft of Brewing
Dates: July 7 - 28, 2021
Days and times may vary depending on the availability of our host brewers. Specific details will be determined by mid-April.
Brewhouse Operations

Beer Design I

Beer Design II

Sensory Analysis

Fermentation and Yeast Management

Dry Hopping Techniques

CIP and Packaging

The Business of Beer


Part 3: Competition Tasting
Date and Time: August - Exact details TBA.

Scholarship Opportunities:
Application Deadline - CLOSED
The District Pittsburgh Chapter MBAA is proud to announce the launch of the Point Park University Brewing Academy Diversity Scholarship. The District Pittsburgh Chapter has partnered with Point Park University to offer two (2) full tuition, single use scholarships for the Brewing Science Academy. The brewing academy is a continuing education opportunity with a focus on promoting brewing as a career by fostering an intense interest in the science and art of brewing. 

To apply and learn more, please CLICK HERE. 


Total Cost: $1,269.39
Tuition Fees: $1,195.00
Eventbrite Fees: $74.39
Includes a Certificate of Completion, T-Shirt and Growler


Media Highlights
Here at Point Park, we never miss a chance to dance! Let's move together as we embrace a new year and new chances. Students will receive access to all classes over the two-day workshop. This is an intermediate virtual dance workshop recommended for participants ages 14 years and older. Let's Dance!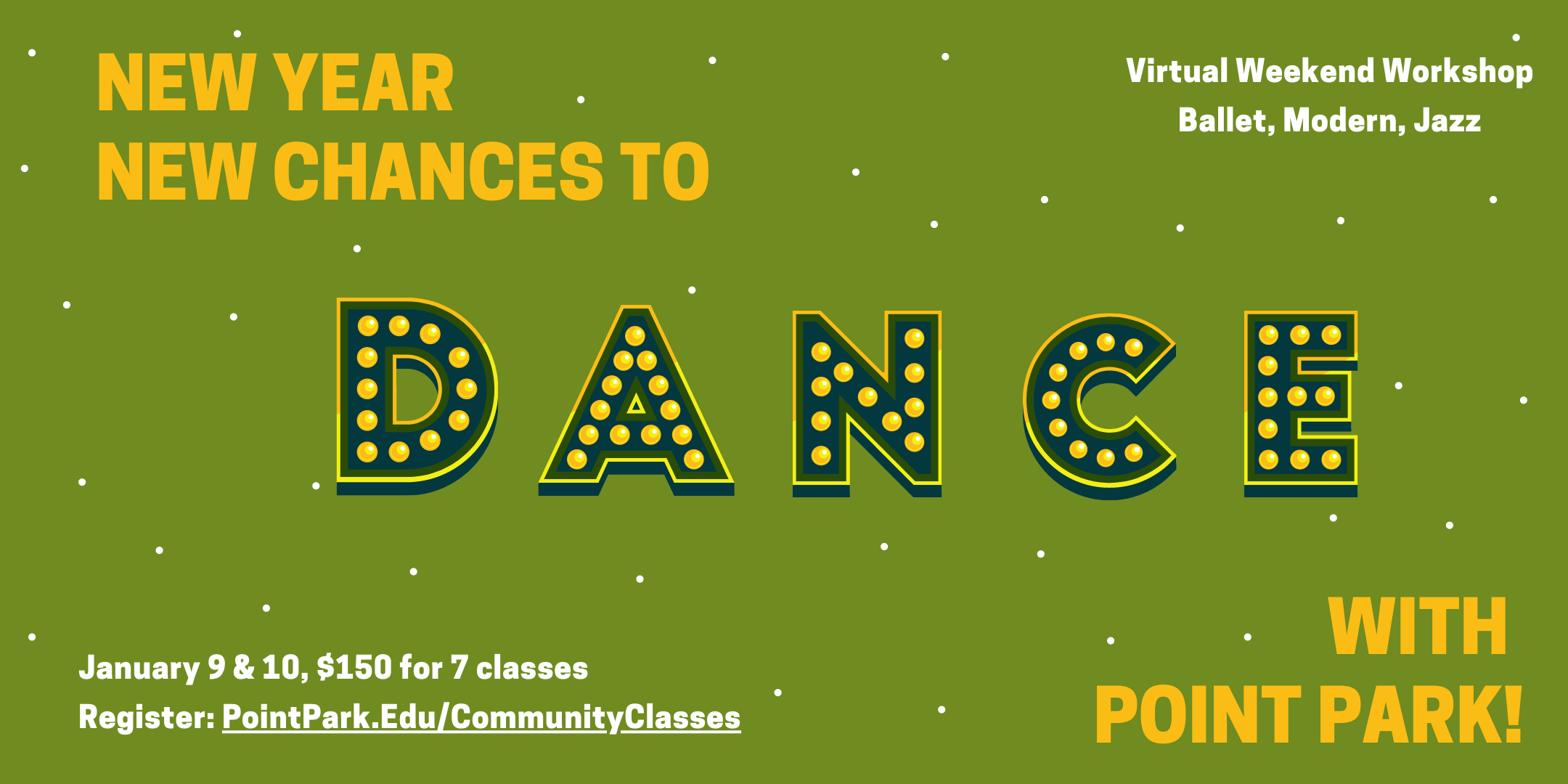 Schedule:
All dance sessions will be held during
Eastern Standard Time
. All classes will occur online via Zoom. All Zoom details will be emailed to the address provided prior to the event.
Saturday, January 9
Day #1
9:00a - 10:00a 
Ballet with 

Accompaniment

10:15a - 11:15a 
Modern with Accompaniment
11:30a - 12:30p
Jazz
1:30p - 2:30p
Bonus Class - TBA!
| | |
| --- | --- |
| Sunday, January 10 | Day #2 |
| 9:00a - 10:00a | Ballet with Accompaniment |
| 10:15a - 11:15a | Modern with Accompaniment |
| 11:30a - 12:30p  | Jazz |
| 12:35p - 12:45p | Closing Celebrations and Raffle! |
 
Cost:
$150.15 (includes Eventbrite ticketing fees)


Discounts:
Point Park affiliated students, alumni, employees and children of alumni/employees receive a $25.00 discount. The PPU rate is only $123.64. * Please enter POINTPARK21 in the promo code section of Eventbrite.


* After your click "Register" you will be able to enter the promo code on the same page where you'll select your ticket. You'll notice "Enter promo code" in the upper left hand corner in blue. Reference a screengrab below:

 
Instructors:
Ballet: Daniel Karasik, Part-Time Professor
Modern: Jason McDole, Associate Professor
Jazz: Kiesha Lalama, Professor
Accompanists: Alexandria "Sandy" Ball and Gordon Nunn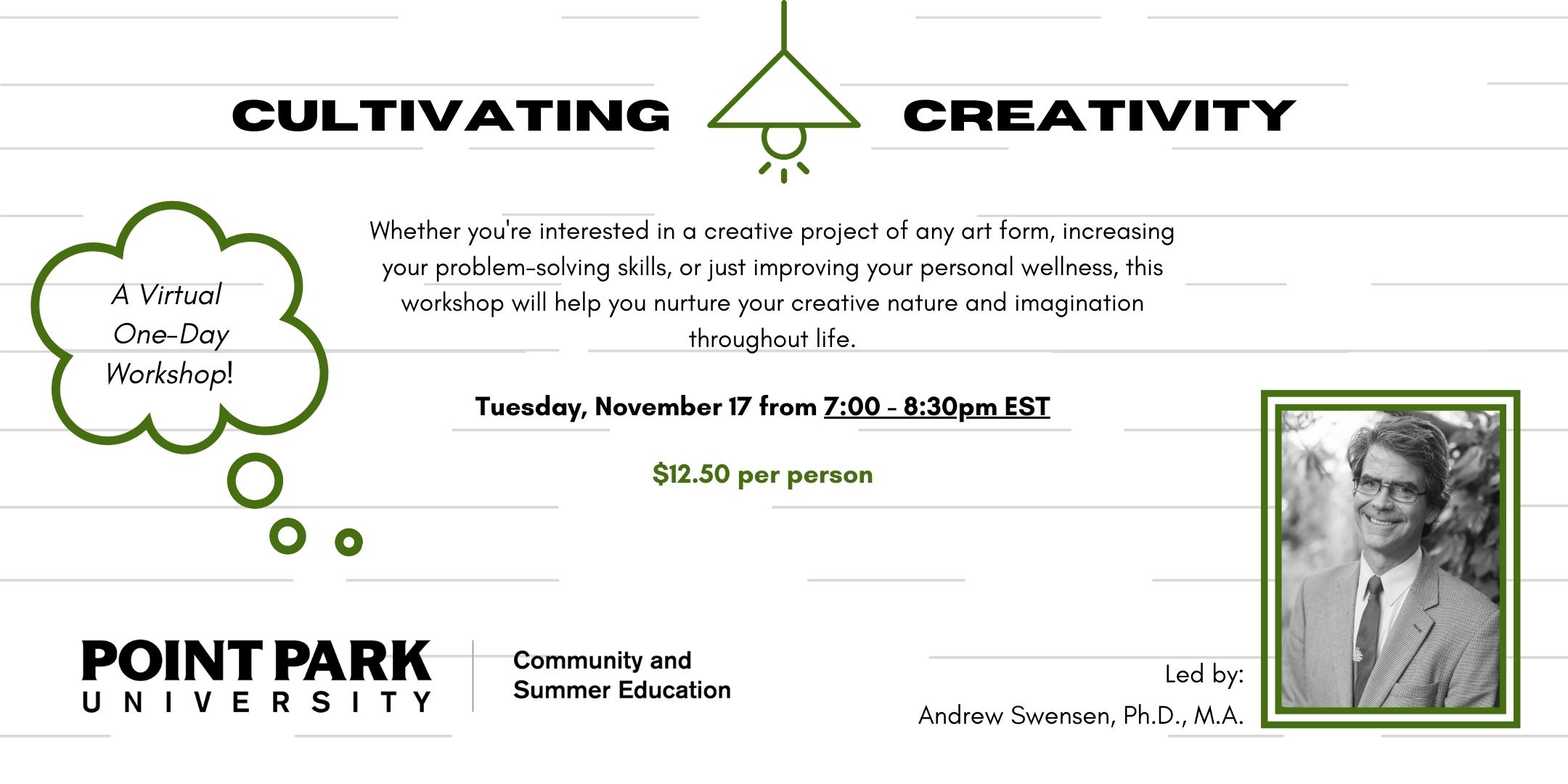 Creativity elevates your health, your effectiveness in the workplace, and your quality of life. Yet too often we do not take the time to develop our creative self, often mistakenly setting aside something that can provide enormous fulfillment and generate benefits in all aspects of life. Creativity is a muscle that we can exercise, and it is also a perspective that affects all aspects of our daily lives. In this course, we will be cultivating our creative side in order to help you meet your own goals, whatever they may be. We will build skills for creativity, and specific topics include:  
Identify and describe patterns of inspiration and creativity  
Learn and employ concrete tools for nurturing creative impulses and coming up with new ideas 
Confront the inherent anxieties of the creative life, including the fear of failure and the fear of others' judgments 
Create strategies for nurturing your creative self in everyday life, in support of your own wellness and happiness. 
Whether you are interested in taking up a creative project in any art form, increase your problem-solving in your profession, or just improve your personal wellness, this workshop will help you nurture your creative nature and imagination throughout your life. 

This webinar is open to all participants ages 18 years +. 

Date:

Tuesday, November 17 from 7:00pm - 8:30pm EST

Cost:
$12.50 plus Eventbrite processing fee. This price includes a 1.5 hour online lecture with professional teaching.
Location:
All Zoom details will be emailed after registration and payment are received. 
Instructor:
The instructor for this class is Andrew J. Swensen, Ph.D., M.A. 
Andrew Swensen has a varied career across the arts, working as an educator, arts management professional, and writer. He holds an adjunct appointment as a Professor at the PPU Conservatory of Performing Arts where he teaches in the MFA program in Writing for the Stage and Screen, the cinema department, and the department of Fine Arts. He also serves as the Executive Director of the Chamber Orchestra of Pittsburgh. In his creative life he is a member of the creative team for the musical The Golden Door, for which he serves as lyricist, book co-author, and producer; and he has three other musicals currently in development.
Previously, Andrew held multiple positions in the nonprofit sector and began his professional career in academic life, and he has held faculty positions at Brandeis University, Hamilton College, Wellesley College and Western Michigan University.  He has taught courses across the humanities and worked in programs of comparative literature, cultural studies, the history of ideas, religious studies, film studies, creative writing, and Russian literature. He received his Ph.D. in 1995 from the University of Wisconsin, his M.A. from the University of Wisconsin in 1991, and his A.B. from the University of Michigan in 1987

Making the Most of the Remaining Year: How to Overcome a Pessimistic View.

Are you tired of 2020, but even more fatigued by the thought of waiting until 2021 for a fresh start in which you'll finally feel hopeful, positive, and empowered again?
Join us for a one-hour conversation with Mindset Coach, Kirsten Kemp, in which she will share powerful yet simple to implement strategies to develop a healthy relationship with our emotions amidst hardship, the desire for control and certainty amidst uncertainty, and regaining hope and empowerment to work towards enriching outcomes in the midst of this year that has largely been defined by negative outcomes. By the end of this conversation, which will conclude with 15 minutes of Q&A, our hope is that you would leave with a weight off your shoulders and a newfound sense of motivation to make the last few months of this year personally meaningful.

This webinar is open to all participants ages 14 years +. 

Date:

Thursday, October 29 from 6:00pm - 7:00pm EST

Cost:
$6.00 plus Eventbrite processing fee. This price includes a 1-hour online lecture with professional coaching.
Discounts:
At this time, there are no discounts. Our goal was to make this lecture affordable to all community members. 

Location:
All Zoom details will be emailed after registration and payment are received.
Instructor:
The instructor for this class is Mindset Coach, Kirsten Kemp. To learn more, please visit her website HERE.
---

Community Classes & Continuing Development Contact Information

| | |
| --- | --- |
| Email | Community@PointPark.Edu |
| Call | 412-392-3456 |
| Connect |        |