Video auditions are open through Accept'd. Incoming Point Park students already accepted into our Conservatory and eligible students accepted into our Intensive from previous years can register automatically when available. Spots are limited to 32 students. If accepted, use code EARLYTHEATRE on CampDoc for $50.00 off early registration before May 21, 2023.
Summer Theatre Intensive
Join us for 2-weeks in our award-winning Pittsburgh Playhouse!

Sunday, June 18 - Saturday, July 1, 2023 | Residents or Commuters
Students at Point Park's High School Summer Theatre Intensive receive comprehensive training in a professionally oriented 2-week program. Our program is based on collaboration, active participation, and personalized instruction offered in a rigorous and supportive environment. 

Students attend classes and workshops five days each week with an emphasis on all aspects of Musical Theatre, including acting and stage management/design/technical theatre. Students receive daily technique classes in acting, voice (both group and private), and dance/musical theatre movement from the highest-quality teachers and industry professionals. The program culminates in a working showcase open to family/friends in the PNC Theatre at The Pittsburgh Playhouse.

Read about our inaugural program! 

Students must be accepted into the program before they can register. 
Awarded scholarships will be manually added by our team after we receive your registration and deposit. 
To participate in this exciting program, students must be entering grades 9-12 as of Fall or are a recent High School graduate. This program is open to the first 32 students who are accepted and pay the required deposit. Acceptance into the program is by audition only. Candidates will be notified on a rolling basis via Accept'd of their acceptance status. Please apply early to ensure a spot!


Further Program Information:
All classes are taught by Point Park Faculty and/or Active Industry Professionals


Acting
Conservatory-style training that offers a strong foundation in the art and craft of acting. These classes emphasize the creative process and include instruction in script analysis, improvisation, scene & monologue work, stage combat, and Shakespeare verse techniques. 
Musical Theatre
Our intensive focuses primarily on acting, dance, voice lessons, interpreting music and lyrics, and audition techniques. These classes are for the serious student of Musical Theatre and emphasize technical skill development and professional preparation.
Stage Management and Design / Technical Theatre
Housed in the award-winning Pittsburgh Playhouse, these classes offer students the unique opportunity to work and study in our world-class facilities, including production & design labs; scenic & prop shops; and light & sound studios. Our students work closely with our professional Playhouse staff members in the area of Technical Theatre; Scenic, Light, Sound and Costume Design; and Stage Management.
Disclaimer: This program is not related to the B.F.A Theatre degree programs at Point Park University. Our Summer Theatre Intensive is an independent educational opportunity offered through Point Park's Department of Community and Summer Education, in cooperation with the Conservatory of Performing Arts (COPA). If you need additional advice on admission to our Theatre Program—or any program in the COPA—please contact our Recruitment Office HERE.
Overview: 
Regardless of medium, all students will be considered for artistic merit scholarships. Even if you do not feel you are proficient in all areas, please do your best. The goal of this program is to welcome students with potential and provide an atomosphere of learning. All auditions will be comprised of:
Standard Song: A Broadway standard song of 32 bars or less. We are looking for something that will best suit your current voice and skill level but which is not a pop song or part of another "external" genre.
Movement Sample: A 1-minute sample of movement or dance representative of skill level. Students are asked to present a professional appearance, however should be prepared to have clothing which will facilitate movement.
Resume: You are encouraged to either bring or upload a resume with or without a headshot.
Candidates will be notified within 2-3 weeks of their acceptance and scholarship status.
In-person, on-campus auditions will be conducted on:
Sunday, March 19, 2023 - 12:30 to 3:30pm

To register for an on-campus audition, please complete the registration form:

 
Video Submissions are due by:

 Friday, May 19, 2023

Incoming Point Park students already accepted into the Conservatory and eligible students accepted from previous years can register automatically and do not have to audition again. Students who have previously been accepted, do not need to audition again unless they wish to be considered for an artistic scholarship.


Audition Fee: 
All video auditions will be charged a $40.00 fee due upon submission. This payment will be collected via Accept'd by debit or credit card. Unable to pay the audition fee? Apply for a fee waiver via Accept'd HERE. 
For in-person auditions, the $40.00 audition fee may be paid in cash or check (made payable to Point Park University) on the day of the audition during registration. 

Program Director: Eileen Grace
Eileen is an award-winning Director and Choreographer and former Broadway performer and Rockette.  She directed and staged the Radio City Christmas Spectacular touring productions for 9 years. Her directing/choreography credits include over 40 musicals including Singin' in the Rain, White Christmas, On Your Toes, Guys and Dolls, Crazy For You, Anything Goes, 42nd Street, Annie Get Your Gun (starring Andrea McArdle), Fiddler on the Roof, Beauty and the Beast, No No Nanette (starring Donna McKechnie), The Drowsy Chaperone and The Boy Friend. She also staged the Rockette appearances on Jay Leno, Donnie and Marie, Oprah, the Columbus Day Parade, and the Today Show.

She served as Artistic Director of the Rockette's Summer Intensive Program and as Associate Producer for the theatre company Reagle Music Theatre of Boston and served as director for the annual Bradley Awards at the Kennedy Center in Wash. D.C.  Eileen was in the Broadway casts of 42nd Street, Will Rogers Follies, and in the international tour of My One And Only (with Tommy Tune). Her television credits include the Grammy Awards, the Tony Awards, One Life to Live, Macys Parade, the Kennedy Center Honors, the Late Show with David Letterman and Oprah. As an instructor she has taught master classes at universities, conventions and workshops around the country. Learn more about Eileen Grace HERE!

Please note, the instructors below are from the 2021 season.
We will update our instructors for the 2023 season as soon as they become finalized. 

Private Voice Instructors: 
Caryn Crozier

Thespina Christulides

Lisa Brovey-Kovatch

Acting Instructors:
Paul Reynolds 

Amy Landis 

Dance Instructors:
Eileen Grace 

LaTrea Rembert 

Rotational + Supplemental Instructors:
Physical Comedy, Paul Reynolds
Stage Combat, Michael Patyak
Audition Techniques, Eileen Grace and Paul Reynolds
Self Taping, Amy Landis
Playwriting, Tammy Ryan
Improv, Jennifer Tober
Musical Theatre History, Emma DeGrange
Production and Stage Management, Kate Pieratt-Webb
Stagecraft, Cat Wilson, Nick Smith and Katie Mikula-Wineman
Health and Wellness, Erika Strasburg


Past Master Class Instructors:
Mary Ann Lamb: NYC Performer and Choreographer
Judine Sommerville: Broadway Performer
Michael Goddard: NYC Talent Agent
Connor Gillooly: Dewey Finn from School of Rock - The Musical
Students must attend all two weeks to participate. Partial weeks are not offered at this time.  

Important Dates:
Residential 

and

 Commuter Check-In: Sunday, June 18 between 9am - 4pm
Orientation (required for all students, optional for parents): Sunday, June 18 at 4:30pm - 6pm
Student & Staff Meet n' Greet: Sunday, June 18 at 7pm - 8pm
Program Runs: Sunday, June 18 - Saturday, July 1, 2023


Working Showcase: Saturday, July 1 | Time: 2:00pm
The intensive culminates in a private showcase presented at the Pittsburgh Playhouse for family and friends during the final week of the program. 
Weekly Class Outlook:



Subject to Change
Times Table
TIMES
Mon. - Fri.

8:20a-8:50a

Breakfast

 

Group A
Group B

9:00a-10:30a 

Acting Class
Dance/Movement

10:40a-12:10p

Dance/Movement
Acting Class

12:15p-1:15p

Lunch & Break

1:30p-2:30p

Convocation - ALL Groups

2:30p-4:00p

Voice Lessons*
Rotational**

4:10p-5:40p

Rotational**
Voice Lessons*

5:40p

Dinner 

7:00p - 9:00p

Rehearsal Time / Evening Activites / Relax
Accepted and registered students will be further divided into smaller groups for the duration of the program. 

*Voice Lessons:
EACH student receives two 45 min private voice lessons per week. Wednesday will be a combined voice class. Students should bring any songs or materials they are currently working on. 


**Rotational:
Classes in supplemental theatre areas will be offered. Visit our Meet Your Instructor tab for previous classes. 


Please take a moment to review our program from the 2021 season.
Please note that each season will be unqiue depending upon the incoming Theatre Intensive group.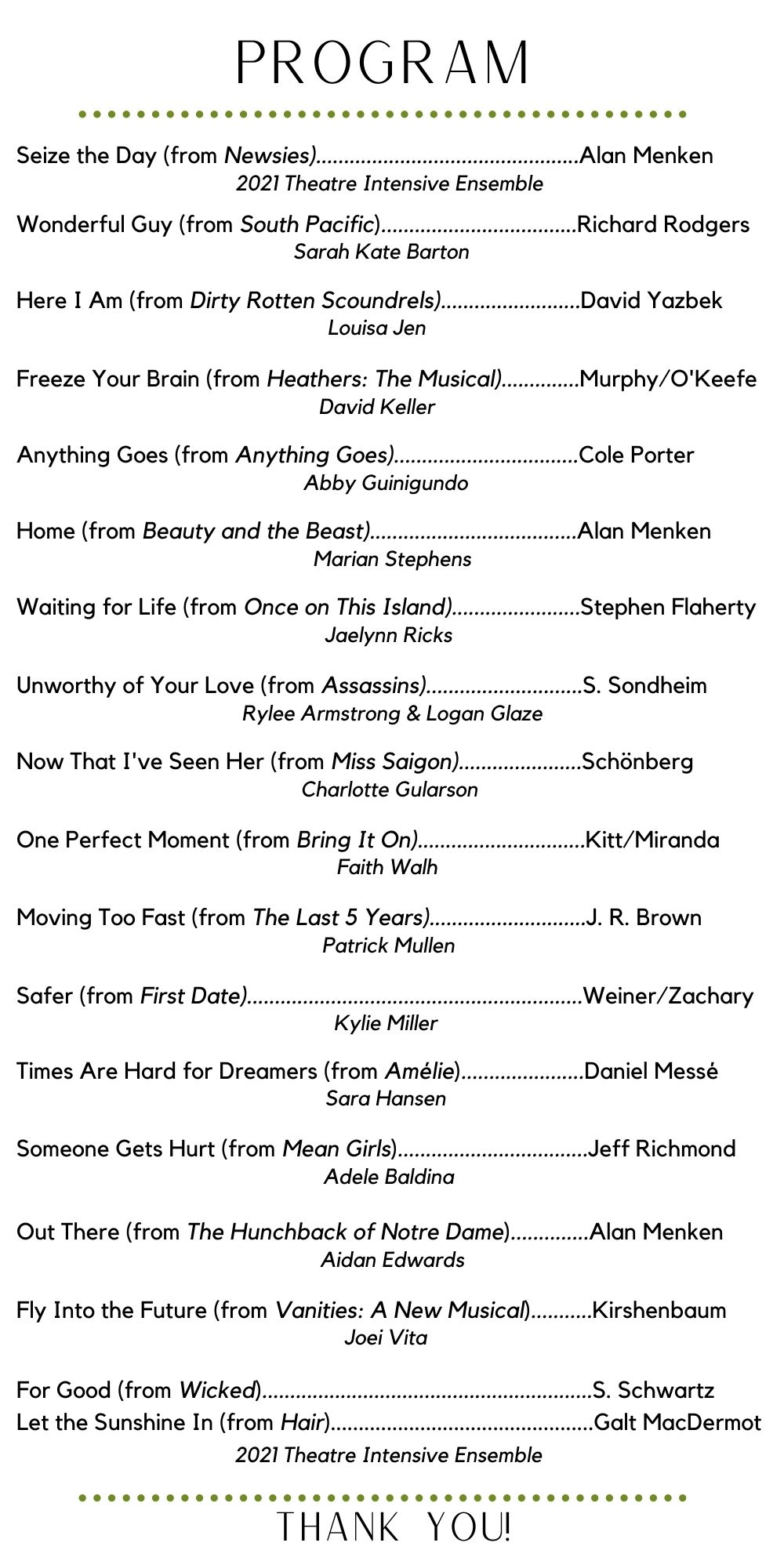 Payment Information:
All payments are due before the start of the program. 


Registration and payments will be handled through our easy, user-friendly online registration platform, CampDoc. Visa, Mastercard, Discover and Electronic Checks are accepted. Payment plans are available. Students receive a t-shirt with seasonal swag and an ID holder with their registration!

Additional Perk! Eligible high school students will receive a pre-screen fee waiver code should they choose to apply to Point Park's Conservatory for their undergraduate. Acting, musical theatre, and theatre arts applicants for our Conservatory may begin to submit pre-screen materials per the schedule available at getaccepted.com/pointpark. Please note that applicants are required to have an application for academic admittance on file BEFORE submitting their pre-screen materials.  For more information regarding the undergraduate application process, please visit our website at www.pointpark.edu/ApplyToCOPA. 


Non-Refundable Deposit: 
A non-refundable deposit of $300.00  is required to reserve your space in the program. Please review our FAQs for the most up-to-date information on cancellations and refunds. 

Room / Board Information:
Residential students receive 3 meals on weekdays and 2 meals on weekends (19 meals total per week). Commuters receive a daily lunch and dinner buffet. All meals take place in our Lawrence Hall Dining Room.


Cost Table

| | |
| --- | --- |
| BREAKDOWN | COST |
| Non-Refundable Deposit | $300 |
| Program Tuition | $1,500 |
| Total Commuter Cost | $1,800.00 |
| Add-On: Room/Board | $1,350 |
| Total Resident Cost | $3,150.00 |
ADDITIONAL PROGRAM ADD-ONS
Arrival Table

| | |
| --- | --- |
| Arriving Airport Shuttle (6/18/23, 9am-3pm) | $20.00 |

Please Note:
Artistic merit scholarships are available. Each student will be considered and evaluated when their application is submitted. Scholarship amounts will range from $250 to $750. Scholarships are good towards tuition costs only. Room and board are not applicable. 
Available Discounts:
1. A 30% tuition discount is currently offered to Point Park University employees, alumni, and their immediate family members. Family is defined as yourself, your spouse, and/or your children. Room and board costs are not available for this discount.
2. Returner students will receive $150.00 off of their tuition cost. Coupon codes will be available during registration. Thank you for your continued interest in our program!  
Welcome to our

 

campus!
All classes will be held on campus at Point Park University in the Pittsburgh Playhouse. Experience downtown's Center for Arts and Entertainment.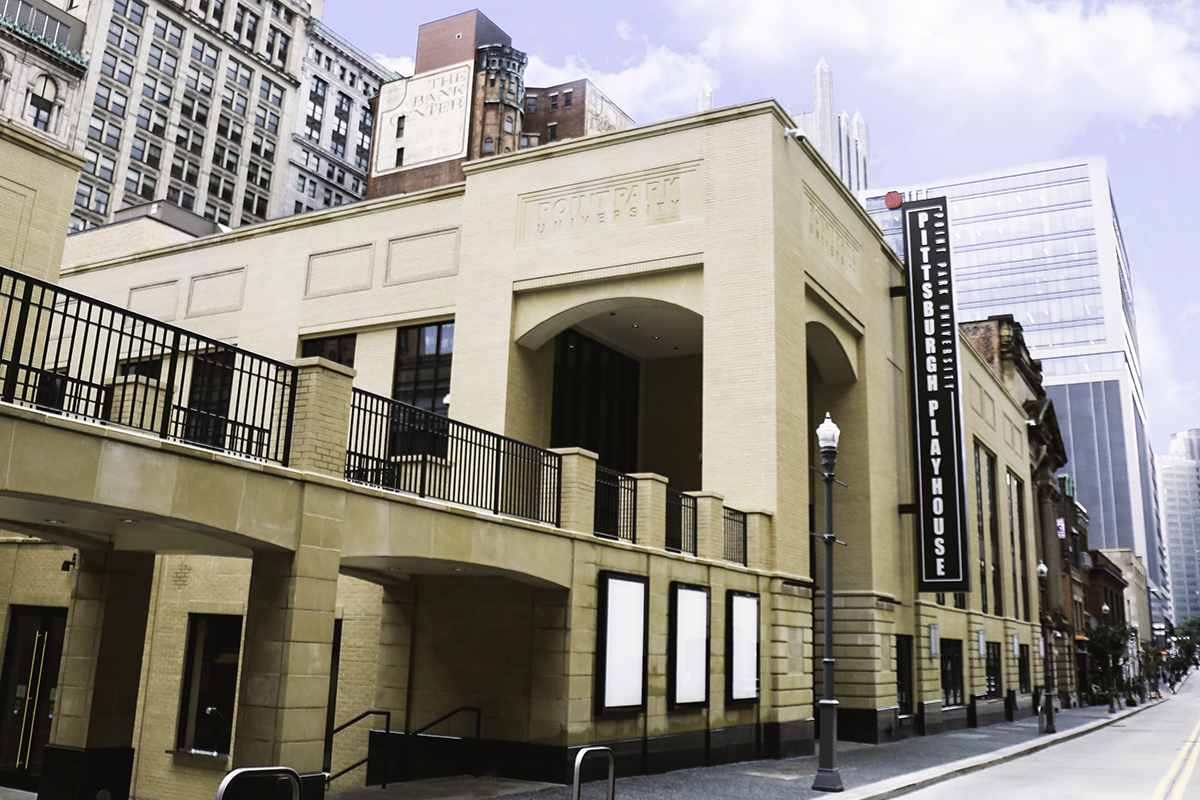 Address:
Point Park University
Pittsburgh Playhouse
350 Forbes Ave
The option to live on campus is available to students at least 14 years old. 
We will do our best to fulfill roommate requests, but requests are NOT guaranteed. Students will have the opportunity to enter requests during the registration process. 
Each residence hall has multiple points of secure access to student living areas, such as keycards, access codes, and lock and key. Laundry is available for free to residential students. 
Adult Resident Assistants live on campus to supervise students who are minors. Each RA is responsible for eight to ten minors. 
As an undergraduate student at Point Park, you'll have access to opportunities only a world-class city can offer — and few universities can match — for a real-world, career-oriented education. 
Consider a B.F.A. degree in theatre arts, acting, musical theatre or theatre production.
To learn more, visit our Theatre Webpage.