Center for Inclusive Excellence
Ensuring that Learning Happens Everywhere.
Point of Change  
Point of Change is Point Park University's first student-run literary magazine, with the theme of Art and Activism. Students in Spring 2021 ENGL 255: Art, Activism, and Publishing created this magazine as a place for Point Park students to share their voices. This digital magazine features visual art, poetry, and essays. 
Access the latest edition of Point of Change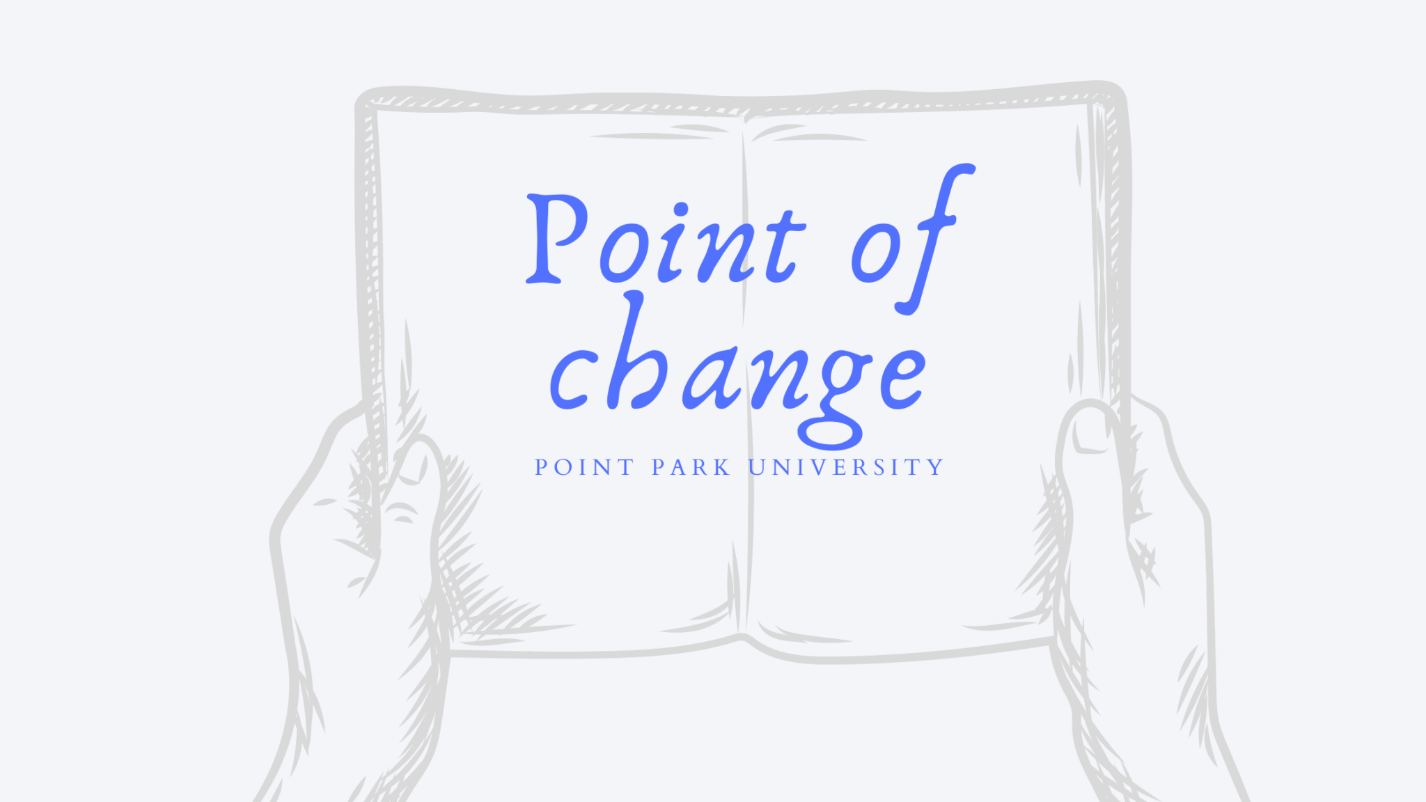 Emergency Broadband Benefit: 
Spring 2021 P/N Option:
Students-
First, I want to thank you for making it through another strange semester. I know that almost all of us are ready for a return to a slightly more normal schedule. As always, learning happens everywhere, and in a wide variety of forms, as you have demonstrated.
Second, the University again has decided to offer all students the choice of taking a Pass/No Credit (P/N) option in their courses. At Point Park, we have Pass / No Credit as defined in the Student Handbook. This is better for students because No Credit does not hurt your GPA the way a Fail would. You will still need to make up the credits, class, or classes that you took an N in, however.
You do not have to choose the P/N option until May 7th. You will see the letter grades that you earned and then make the decision between the 8th and the 22nd of May. Below I've assembled a list of considerations, and I encourage you to talk your decision over with your Student Success advisor, your faculty members, and with me. I'll be available through the entire process to help advise those who struggle with the decision.
Here's how the option will work:
You finish the Spring semester. This point is important.
This policy covers online terms I and II Spring courses and on-ground/hybrid/HyFlex/ or remote Spring semester 2021 courses.
Once faculty post letter grades for the Spring 2021 courses, you will be able to see the letter grades you earned in your courses.
Then you may choose to convert grades of A, B, C, or D to Pass; you may choose to convert a grade of F to N, which means No Credit (see the Student Handbook, page 60, for the University grading policy). Or you may choose to keep the letter grades.
You may opt for P/N for one, some, or all of your courses.
If you take an incomplete in a course, you will not get the option to choose P/NC in the future.
You will have 14 days after grades are posted, from May 8th - through May 22nd, to decide which if any letter grades you wish to convert to Pass / No Credit. You will be able to change your grades through PointWeb.
Once the decision is made and submitted, you cannot change your mind.
If you don't want to change your grade, you don't have to do anything.
Here are the important considerations to weigh as you decide whether to keep the assigned letter grades or switch one or more of them to Pass / No Credit.
Neither Pass nor No Credit affects your GPA. While this rule seems great if you are doing poorly, it is not so great if you need to achieve a certain GPA. If you are hoping to raise your grades to get a scholarship or join Honors or remain eligible for athletics, P/N grades won't help.
If you are on academic probation, Pass (P) grades do not help raise GPA.
It is unclear how P/N grades are going to work for graduate and professional school applications. Many graduate schools and professional schools, such as law and medical schools, might calculate applicant undergraduate GPA themselves, converting a grade of P to a 2.0. Some do not. If you are thinking about applying to graduate or professional school, check with the graduate school where you are applying to see how they are going to handle P/N grades.
P/N grades are historically difficult to transfer. If for some reason you are planning to transfer, check with the institution where you are transferring to confirm if it will accept these credits.
The process for opting to take a P/N is up to you as the student. The default setting for your faculty and the Registrar is that you are accepting the letter grade. You will need to opt-in to the P/N grade.
Once grades are posted at the end of the semester, contact me if you have questions or would like additional information as you make your decision. You'll receive more information at that time about how to take advantage of the P/N option, and this information will remain available online for you until after the deadline has passed.
I'm Jonas Prida, Associate Provost for Academic Excellence and Innovation, and you can contact me at jprida@pointpark.edu
Center for Inclusive Excellence
Point Park University's Center for Inclusive Excellence fosters dynamic pedagogies and co-curricular strategies based on the proposition that learning happens everywhere. By empowering students to discover their own transformative experiences, the CIE emphasizes campus-wide academic excellence, thoughtful implementation of high-impact practices, and yearly measurable outcomes. The CIE reflects Point Park's vision of innovation and diversity, creating strong communities and successful graduates. 
To facilitate the proposition, learning happens everywhere; the CIE ensures the following: 
Incorporate high-impact techniques in the classroom, including co-ops, internships, and Capstone courses. 
Encourage conversations about diversity within all levels of the campus community. 
Facilitate diversified learning styles to link co-curricular and curricular activities. 
Construct effective program assessment plans for faculty by analyzing data and developing creative strategies for assessment. 
Center for Inclusive Excellence Staff
Please contact us at cie@pointpark.edu for assistance with any CIE services. All phone numbers are area code and exchange 412-392.
Staff Members Contact Information

 

Staff Member 

Phone

Dr. Jonas Prida, Associate Provost for Academic Excellence and Innovation

jprida

@

pointpark

.

edu

x4773

Jayme Kerr, Coordinator for Inclusive Excellence

 

jkerr@pointpark.edu
x3880

Kristin Deluca, Director of Grants and Fellowships

kdeluca@pointpark.edu

x3876
To learn more about assessment at Point Park, please visit our Assessment of Student Learning page, or log on to Schoology to visit our Center for Inclusive Excellence or University Assessment pages.