Point Park is a Perfect Fit For Scholar-Athlete Ja'Nia McPhatter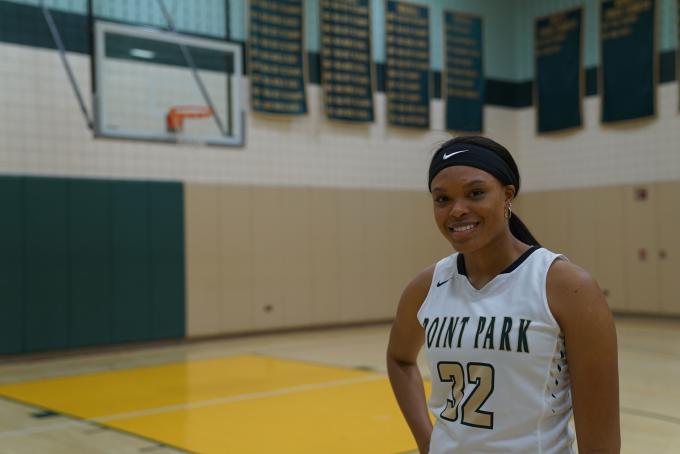 The Point
Spring 2017
To say that Ja'Nia McPhatter has accomplished a lot at Point Park University would be an understatement.
On the court and in the classroom, McPhatter has made her mark. And the University has made an impression on her as well.
"I love it here at Point Park," she said. "The best decision I have ever made."
McPhatter just finished up her playing career with Pioneers women's basketball after the 2016-17 season. During that time, she was a star player and an outstanding student. And she did so while overcoming two different season-ending injuries along the way.
A native of New Castle, Pa., McPhatter was named all-conference first team during her senior season of 2016-17. It was the third time in her career she earned that honor. Also a top student, she compiled a 3.87 grade-point average as a pre-med major during her undergraduate studies.
Stellar Experience
McPhatter is currently working on her M.B.A. with a concentration in health systems management. She will finish up that program later this year, and plans to pursue medical school.
When all is said and done, McPhatter will be leaving Point Park with two degrees, a stellar basketball career, and an overall outstanding experience.
"It has been a really great experience at Point Park," she said. "There were so many people who welcomed me and have been very supportive. It's a place where I was able to achieve highly in academics and athletics."
McPhatter came to campus as a sophomore in 2012-13 after transferring from La Roche College. McPhatter proceeded to put up 1,119 career points for the Pioneers, which ranks 11th in team history. She did all of that in just three seasons, although it took her five years of perseverance.
After leading the Pioneers to the NAIA Division II national tournament as a sophomore, she was injured in the next preseason and missed the entire 2013-14 year.
Overcoming Adversity
She came back strong the next year and again was named all-conference, but she suffered a knee injury late in the season. It was a costly injury as it forced her to miss the entire next season of 2015-16 during her year-long rehab.
"Looking back, I don't know how I did it with the rehabbing," she said. "It was about making up your mind that you are going to come back from this no matter what. It took a lot of perseverance."
While she was rehabbing her second injury, she was an assistant coach on head coach Tony Grenek's staff. Already done with her undergraduate degree and still many months away from being healthy enough to play again, the thought was that she had probably played her last basketball for Point Park.
But still with another year of playing eligibility left, McPhatter decided to give it another go for a final season. In order to do so, it was another year of recovery, something she would be faced with doing for a second time.
She made it back on the court for her senior year of 2016-17, and McPhatter led the Pioneers with 12.6 points per game. She provided a lot of leadership for a team that experienced a lot of injuries to key players. The Pioneers still managed a strong year of 18-12 overall.
Academically, sticking around another year allowed her to pursue the M.B.A. in health systems management at Point Park to advance her education even further. A 4.0 GPA in graduate school continued her strong grades.
"Point Park has taught me so much both in basketball and school," said McPhatter. "To work hard in all I do, about teamwork and dedication. The basketball team is a definitely a family atmosphere as well."
At the Top
The Pioneers have always been at the top of the conference during the five years McPhatter has played for Point Park. They even won the conference title twice during that period of time, although she had to miss the second of those due to injury.
"NAIA is a good, quality level of basketball, I'd say. I will never forget going to the national tournament. We were a really strong team that won our conference. And there were so many good players and teams at nationals that it was impressive."
Add in the academic offerings and the city environment, and Point Park was the perfect fit for McPhatter in the end.
"As far as the school goes, being in the middle of the city has given me such a great experience and [the opportunity] to be in the real world, so to speak," she said. "It has made me feel independent. Majoring in pre-med, and now [completing] my M.B.A., I am surrounded by hospitals where I have volunteered at, shadowed at, and worked at. Being Downtown is such a different experience than the usual campus."
"Downtown life, the atmosphere - you have a feeling of being free and have access to so many different things going on. Athletically, in every sport, not just basketball, we strive to win and be the best we can be."
Text by Kevin Taylor, director of athletic communications
Photo by Sam Reynolds
The Point is the magazine of Point Park University