Centered on Mental Health
New doctorate in psychology anchors expanded campus counseling center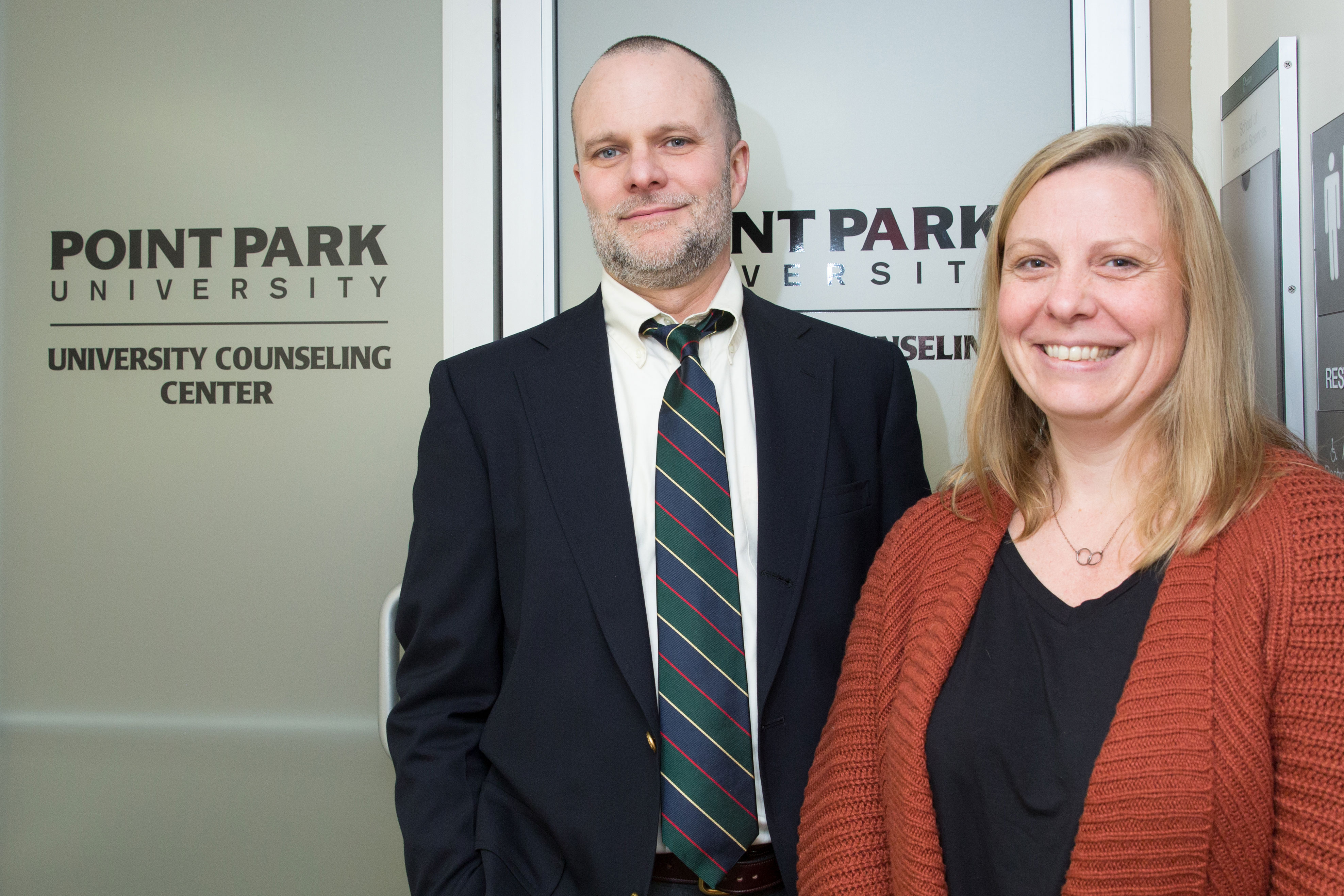 The Point
Winter 2018
At universities nationwide, counselors have reported seeing an increase in mental health issues among college students.
Today's college students may need professional support for everything from minor transition adjustment to anxiety, depression and even more serious psychiatric issues, and Point Park University is no exception, says Matthew Allen, Ph.D., associate professor of psychology and director of the new Psy.D. in clinical-community psychology program.
Allen recently led an effort to expand Point Park's existing University Counseling Services with the addition of 12 new counselors, all of whom are doctoral students in the University's new Psy.D. program. These doctoral trainees, some of whom hold a master's degree and bring years of professional experience to their work with student clients, are supervised by licensed clinical psychologists, says Allen.
As part of the expansion, University Counseling Services has been relocated from its previous space in the Student Center to a larger suite of equipped therapy rooms and conference space on the fifth floor of Lawrence Hall (rooms 508-508-J). The new location enables students to feel more comfortable in reaching out for confidential support.
Safe space
During the fall 2017 semester, the first months in the new location with a larger staff, the number of students who sought support at University Counseling Services has dramatically increased. "In the first month alone, we had about 150 walk-in clients," says Allen. "We believe that is not only because we are offering expanded services, but also because of the enhanced privacy of the new location."
According to Jill Thomas, Ph.D., a licensed psychologist who is an associate professor of psychology and director of clinical training for the Psy.D. in clinical-community psychology program, "It's very important when providing these kinds of services that we are able to offer a private area where students feel safe and comfortable."
Help is geared to each individual's needs and may include a single counseling session, a series of sessions, group counseling, or referral to appropriate professionals. It is free to all full- and part-time students, whether they live on campus or commute. Services are confidential and are governed by the Ethical Code of Conduct for Psychologists licensed in Pennsylvania and the American Psychological Association.
In addiion, "the technology we have here is state-of-the-art," says Thomas. "As part of their training, our doctoral student counselors are observed in their work with student clients. There are cameras and microphones in all of the therapy rooms that enable us, as supervisors, to review their work. This observation ensures that student clients are receiving the highest levels of care."
The doctoral students also staff the center during regular office hours. "They answer the phone, schedule appointments, and talk to walk-in students who might be in crisis," according to Thomas, who previously had a private practice called "Alive and Thriving: Psychological Services for Your Well-Being" in Temple Terrace, Fla., in which she provided individual and couples therapy from a humanistic framework. She also worked as a clinical psychologist providing outpatient services at a VA community-based outpatient clinic and VA home-based psychological care in Tampa, Fla. and served at SUNY Upstate Medical University as assistant director of internship training, assistant professor and co-director of student counseling.
New Psy.D. attracts leaders
Point Park's new Psy.D. program attracted many more applicants than the available 12 spaces in the initial cohort that began in fall 2017, according to Allen, who previously worked in the Department of Psychiatry and the Department of Physical Medicine and Rehabilitation at SUNY Upstate Medical University, and was the lead psychologist for Turtle Creek Valley MH/MR in the Pittsburgh area.
It is one of only a few doctoral-level programs in the nation to teach humanistic psychology, which seeks to better understand and explain human experience and behavior through empathic understanding and appreciation of diverse ways of living in the world, he explains. Unlike many other clinical psychology doctorate programs, Point Park's Psy.D. program emphasizes evidence-based community research and applications. Students will graduate prepared to manage established clinical and community programs — or start their own.
In Point Park's Psy.D. program, students are taught to understand human suffering in its larger social and cultural context, with particular attention to social justice and ethical implications of clinical theory and treatment. Psychology is understood within a framework that serves to preserve the dignity of the persons served.
Improved emotional well-being, for college students as well as members of the broader community, is the overarching vision for both University Counseling Services and the new Psy.D. program. The next step is the appointment of a new Ph.D.-level licensed clinical psychologist as director of Counseling Services, expected in early 2018 according to Allen.
Allen describes the expanded Counseling Services and partnership with new Psy.D. program as "A win-win. This collaboration benefits Point Park's student population as well as our new doctoral students, who have the opportunity to gain experience while serving student clients."
Text By Cheryl Valyo
Photo by John Altdorfer
The Point is the magazine of Point Park University