State-of-the-Art Facilities
From cinema production to forensic science, our students gain hands-on experience in their majors. It takes state-of-the-art facilities for world-class training, and Point Park has them. Explore our facilities by major:
CINEMA | COMMUNICATION | DANCE | FORENSIC SCIENCE | NATURAL SCIENCES & ENGINEERING TECHNOLOGY | SPORTS, ARTS & ENTERTAINMENT MANAGEMENT | THEATRE
Cinema
Cinema arts students use innovative equipment and facilities to produce films and projects starting day one:
Animation facilities
Editing and color facilities
Screening rooms and theaters
Sound facilities
Soundstage and production studios
Writer's room
---
Communication
School of Communication students learn and practice on professional equipment and are prepared to enter the real world already familiar with the same tools used by communication pros. Facilities and equipment include:
Center for Media Innovation, an integrated New York City-style media facility featuring television, radio and photo studios, a multimedia newsroom and a transformational presentation/gallery space
Alternative process lab
Black and white and color darkroom
Mac and PC multimedia labs
Radio station (WPPJ) featuring all digital equipment, and sales, business and management offices
TV studio (U-View) featuring Sony digital studio cameras with teleprompters, a four-seat news desk, a video/engineering control room, an audio board and a live announcer's booth
---
Dance
Dance students train and perform in the $16 million George Rowland White Performance Center. The 44,000-square-foot center includes:
Four floors with extra height ceilings
Eight studios for rehearsals and performances
State-of-the-art heating and cooling systems, ventilation, flooring, lighting, acoustics and equipment
Grand pianos and state-of-the-art sound systems
On-site student lockers, showers, changing spaces and bike racks
In addition, students have the opportunity to perform at the Pittsburgh Playhouse, the performing arts center of Point Park, and at the Byham Theatre, located in the heart of Pittsburgh's Cultural District.
---
Forensic Science
Forensic science majors have the unique opportunity to investigate mock crime scenes in Point Park's crime scene investigation house — located right on campus. The crime scene house is part of a one-of-a-kind National Security Training Center at Point Park with:
A forensics lab where students learn to analyze evidence
A computer lab with the most recent intelligence software so students can train for jobs as intelligence analysts
---
Natural Sciences, Engineering and Technology
Natural sciences and engineering majors gain hands-on experience in Point Park's well-equipped labs and facilities, including the following:
Natural Sciences: Biotechnology and Bioinformatics Computer Laboratory, Chemistry Laboratory, Genetics Laboratory and more
Civil Engineering Technology: R.L. Simmons Materials Laboratory, Simulation Laboratory and a Soils Laboratory
Electrical Engineering: Circuits Laboratory, Digital Electronics Laboratory, Electrical Power Laboratory and a Radio Laboratory
Mechanical Engineering: 

Heat Transfer Laboratory, Fluid Mechanics Laboratory, 

R.L. Simmons Materials Laboratory and Finite Element Analysis with ANSYS
---

Pioneer Records is a University-operated record label managed by the SAEM program, and housed at Red Caiman Media, a commercial recording studio in Pittsburgh's Uptown section.
Students have a classroom space at Red Caiman Media, along with access to the studio's recording and production rooms, allowing them to acquire first-hand experience on the various aspects of a record label.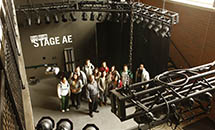 Stage AE
Stage AE
Point Park and Stage AE, one of Pittsburgh's newest concert venues, have an academic partnership to offer students in the SAEM major with an opportunity to learn about the entertainment industry from a dedicated classroom space at Stage AE on Pittsburgh's North Shore.
---
Theatre
Theatre majors train in the award-winning Pittsburgh Playhouse, the performing arts center of Point Park University, which features:
Three academic/theatre spaces
Scene/prop/costume shops
A sound stage
Large windows provide access for the Downtown community to watch artistic productions in the making
Learn more about this interdisciplinary space for our students.