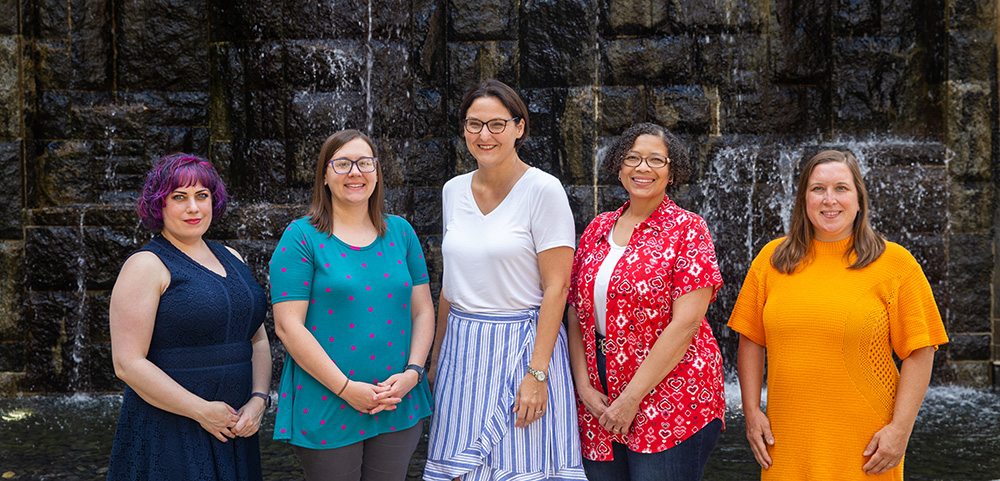 Pictured above: Point Park University's Fall 2021 low-residency cohort II. Photo by Randall Coleman.
Meet Our Ph.D. in Community Engagement Students
Meet some of our Ph.D. students and learn about their prior education, research interests and career goals.
Prior education: B.S. in Psychology, Minors in Biology & Religious Studies, St. Vincent College; M.S. in Special Education, St. Vincent College; M.S. in Administration & Supervision, St. Vincent College; Superintendent's Letter of Eligibility, California University of PA (now PennWest)
Research interests: Family and school partnerships; special education; diversity, equity and inclusion
Career goals: To make a positive impact on students and their families.
 


Prior education: B.A. in Mathematics, Wake Forest University; B.A. in Biology University of North Carolina at Greensboro; M.S. in Community Engaged Medicine, Furman University
Research interests: Using mindfulness methods as a practice to build sustainable resilience among youth who have and continue to face trauma within their lives due to social constraints and social determinants of health that keep positive outcomes out of reach to build healthy futures.
Career goals: Develop a mentorship program for youth in underserved communities who have and continue to experience trauma within their lives to restructure their path to incorporate healthy decision-making, relationships and coping skills to build a better future for their tomorrow.
Prior education:B.A. in Psychology, Ashford University;Human Services Management Certificate; MSW, University of Pittsburgh
Research interests: First-generation students and post-secondary career options/trajectory
Career goals: Education administration, professor, public policy
Selected Student Conference Presentations
Jennifer Bailey and Michael Harding: "Starting Down the Path of The Carnegie Foundation for the Advancement of Teaching Elective Community Engagement Classification," Coalition of Urban and Metropolitan Universities Charting the Future of Metropolitan Universities Conference.
LaWana Butler: "Community Impact," Healthy Start Board, Metro Community Health Center Board, WQED Advisory Committee, Center for Urban Biblical Ministry Board.
Andrew Conte: "Media Oasis: Forming a University and Community Organization," Community Engagement Pathways and Strategies, Engagement Scholarship Consortium Conference. 
Ryan Cummings, Tammy Washington and Melissa Rossiter: 

"Recommendations for Equitable Urban Redevelopment Without Resulting in Gentrification," Engaged Scholarship Consortium.

Rikell Ford

: "Creating Safe Spaces: Empowering Others to Use Their Voice," TCOM.

Trisha Gadson, Heather Starr-Fiedler and Brett Marcoux: "A Social Labs Impact on Race, Equality and Social Injustice Curricular/Pedagogical Models," National Conference for Race and Ethnicity in Higher Education.
Olivia Hartle

:

"Improvisation, Pedagogy and Education: Comedic Improvisation as a Pedagogy for Civic Engagement," Global Improvisation Initiative Symposium.
"Improvisation as a Pedagogy for Community Engagement," Engagement Scholarship Consortium.
Meggan Lloyd and Jonas Prida:  "Provider Scholarship Program: A Case Study in Student Access and Affordability," Engagement Scholarship Consortium Conference. 
Patrick Maher: 

"Diversity Issues in the STEM Labor Market," Point Park University Graduate Student Conference.

Brittany McDonald

: "Establishing Cultural and Racial Diversity in Student Leadership as the Standard: A Call to Transformation," NCORE 2018.

Veronika Panagiotou:

"Inspiring Socially Responsible Students with Human Centered Design Thinking to Support Solutions," Association of American Colleges and Universities, Diversity, Equity, and Student Success Conference.
"The Pittsburgh Social Lab: An Experiment in Innovative Social Change," Engagement Scholarship Consortium Annual Conference.
Kendra Ross:

"When and Where We Gather: The (Un)Certain Future of Womanism," Roundtable Participant, National Women's Studies Association.
"Freedom Dreams: A Black Feminist Exploration of Cultural Work in the Hill District of Pittsburgh," Presenter, Association for the Study of African American Life and History.
"Intersection*ology - Feminist Art, Technology and Community Engagement," International Symposium on Electronic Art, Durban, South Africa.
"Black Feminist Thought and Critical Race Theory as Engaged Scholarship and Praxis," Association for the Study of African American Life and History. 
Check out some of our faculty presentation and publications.