Take The Hill Leadership Podcast Series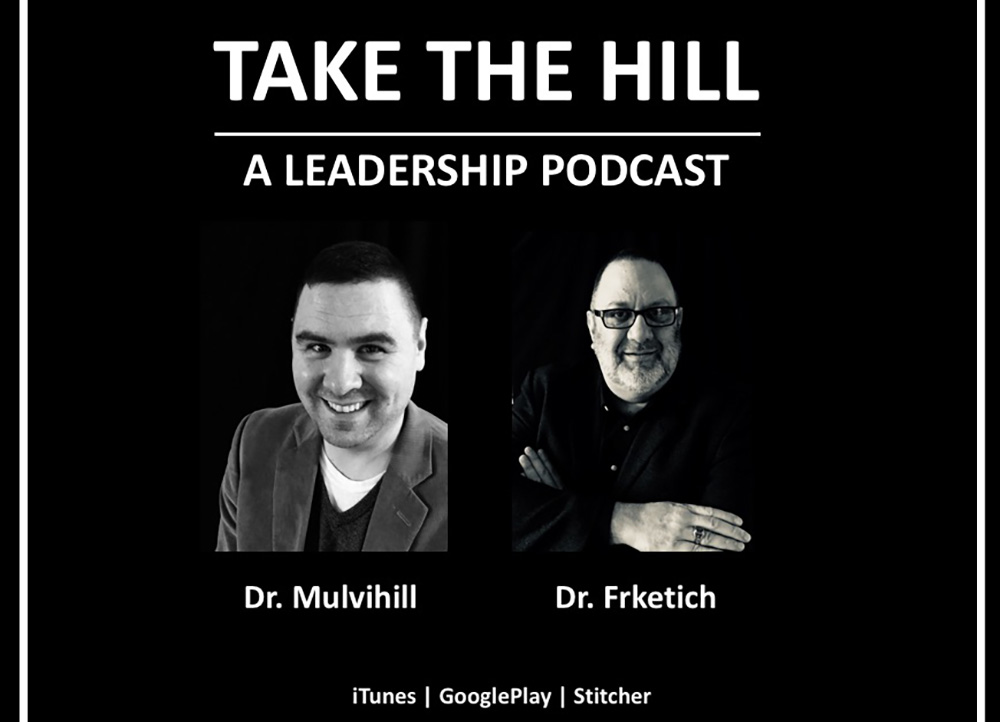 Take The Hill is a leadership podcast series aimed to connect members of the Rowland School of Business, as well as the University community, to individuals who are demonstrating leadership excellence within their respective spheres of influence.
The series is hosted by Patrick Mulvihill, D.Ed., assistant professor and chair of the Department of Management in the Rowland School of Business, and Dennis Frketich, D.Ed., Point Park business management alumnus and part-time business faculty member.


Episodes
New Year's Resolutions featuring Dr. Britney Brinkman: Patrick, Dennis and Angelo are excited to return to the studio to speak with Britney Brinkman, Ph.D., about New Year's Resolutions as well as answer student questions related to internships, moving beyond the pandemic, and the great pizza debate.
TTH Live! Point Park Students Leading the Way: Take The Hill Live! returns in person to Point Cafe at Point Park University to host conversations with students about what they are most excited about, what they've learned over the last year and much more! Nov. 19, 2021
Youngest Solo Pilot World Record, featuring Travis Ludlow: On May 29th, Travis Ludlow will embark upon the journey of a lifetime while seeking the opportunity to become the youngest pilot to circumnavigate the globe. Join us in the studio to talk with Travis about his upcoming adventure. April 30, 2021
Aviation and Purpose in Papua, New Guinea, featuring missionary bush pilot Ryan Farran: Missionary bush pilot Ryan Farran has blended his desire to serve others with his love of aviation. Join us in the studio to learn more about his background and journey that has taken him to the beautiful Melanesian island of Papua New Guinea. April 1, 2021
Leadership, Music and Perspective, featuring Dr. Jonas Prida: Dr. Jonas Prida, acting provost at Point Park University, joins us to talk about leadership, perspective and musical influences. March 29, 2021
Reflections of Leadership, featuring Dr. Paul Hennigan: Join us in studio with Dr. Paul Hennigan, President of Point Park University, to reflect upon Leadership, Courage, Advice for Students, and a peek into songs that are on his playlist. Feb. 16, 2021
GameStop, Robinhood and Reddit, featuring Steve Adelkoff: We welcome back to the podcast Steve Adelkoff to break down retail investing, Reddit, GameStop, Robinhood and exactly what is a short squeeze. Feb. 2, 2021
I for Italia, featuring Stefano Paris: Stefano Paris, Founder of I for Italia, enables you to dream, plan, and travel in Italy with their passionate, local experts. His team delivers Live Virtual Tours that are interactive and immersive experiences that offer insight into Italy's authentic lifestyle without leaving the comfort of your home. Jan. 14, 2021
Appalachian Fare and Personal Narratives, featuring Katherine Schuler: Located in Lawrenceville, just outside of downtown Pittsburgh, Rolling Pepperoni serves up personal narratives woven within delicious Appalachian Fare. Her vision for Rolling Pepperoni invites us to break bread across Appalachia while uniting rural and urban communities through an impactful business model. Dec. 18, 2020
Invitation to a Brave Space, featuring Michael Goldberg: Michael Goldberg is an alchemist of spirits and founder of Brave Hospitality. Join us for a conversation with this introspective leader who is reshaping the hospitality industry in Pittsburgh and beyond. Dec. 11, 2020
2020 Leadership Q&A: It has been a few episodes since we opened the electronic mailbag and pulled out some listener-submitted questions. Angelo has taken the reigns and has selected a few of the most relevant and challenging questions to throw out for discussion. Dec. 6, 2020
Passion, Energy and the Pursuit of Happiness, featuring Kiesha Lalama: Kiesha represents the fusion and integration of energy, vision and drive to impact the world in a positive way through the performing arts. She is a choreographer and educator who has created more than 40 works to date. Her conceived and choreographed full-length dance theatre production, The Bench, received rave reviews and was honored to be named to the Pittsburgh Post-Gazette's "Best of Dance" Top Ten list. Nov. 2, 2020
Strength, Faith and Purpose, featuring Dr. Atiya Abdelmalik: Dr. Atiya Abdelmalik could have allowed life to bury her under a mountain of heartache, illness and trauma. Learn how she used her life experiences to awaken her purpose as shares her journey through life-threatening illnesses, the loss of her son, and the redemptive power of love and forgiveness. Oct. 25, 2020
Live Q&A with Lee Cockerell: Two students interview Lee Cockerell, the former executive vice president of operations for the Walt Disney World® Resort. Oct. 18, 2020
Steve Adelkoff - TikTok, WeChat and Deglobalization: This episode welcomes back to the show Steve Adelkoff to talk about the dynamic landscape underpinning the latest happenings with TikTok and WeChat.  We illuminate the major players, the political arena, legal and market precedent and conclude with our best guess at what may play out in the coming months. Sept. 29, 2020
Amanda Schwartz: COVID-19 Employer Preparation Course: During this episode Dennis and Patrick speak with Amanda Schwartz about the COVID-19 course she has developed to help employers meet standards of safety within a highly dynamic operating environment. Sept. 23, 2020
Vigor, Vibe + Venture Challenge: 

J

ennifer Ferris-Glick, co-principal of the Pittsburgh-based

consulting company Above to Below, 

and Steve Tanzilli, J.D., dean of the Rowland School of Business talk about how the V3 challenge

 

is intended to make a meaningful impact upon an organization's life story. Aug. 4, 2020.
Leading Through Uncertainty: Drs. Mulvihill and Frketich explore an approach designed to help you focus your thoughts while leading your organization through uncertainty. July 10, 2020
HR Perspectives and the New Normal: Professors Sandy Mervosh and Dennis Frketich offer insight and advice from an HR perspective for organizations seeking to find a new normal and turn the corner post-COVID19. July 6, 2020
Dr. Sarabeth Berk - More Than My Title: Dr. Berk is a hybrid professional who combines her artist/researcher/educator/designer identities to be more than her job title. July 1, 2020
John Valentine Innovation & Recovery of Hospitality Industry in Downtown Pittsburgh: Valentine is executive director of the Pittsburgh Downtown Community Development Corporation. June 16, 2020
#3 Things: Exploring Jordan with Dana Daas: Daas shares her home country of Jordan's rich tradition of hospitality, family, culture and more incredible food than you can imagine. May 18, 2020
Steve Adelkoff: Over the Horizon: Adelkoff shares his wisdom and insight embedded in stories of economic behavior, prospect theory, deglobalization and off-balance sheet deals he has brokered around the world.

 

May 11, 2020
Looking Forward: Student guests illuminate the importance of human relationships. May 7, 2020
Leading Through Uncertainty (Student Narratives): Point Park students focus on the capacity for hope. April 13, 2020
Change My Perspective: This special episode is the first in a series of "Pop-Up" podcasts featuring students from the Point Park University community. Our guests and their topics are not prescreened, so the conversations are authentic. Feb. 5, 2020
Megan Livingston, manager of talent development for Highmark Health, Jan. 12, 2019
Marissa Colclasure, airline pilot, mom and dreamer, Oct. 27, 2018
Dave Berke, retired Marine Corps. officer and combat veteran, Feb. 27, 2018
Reflection: Conversation with Lee Cockerell, Feb. 14, 2018
Lee Cockerell, former executive vice president of operations for Walt Disney World Resort, Jan. 24, 2018
Listen Here
Podcasts can be accessed on the Take The Hill website or downloaded through iTunes, Spotify, GooglePlay, iHeart and Sticher.
Read about the launch of the podcast series: "Business Professor Interviews Disney's Former Executive VP of Operations."
Follow us on Instagram