Take The Hill Leadership Podcast Series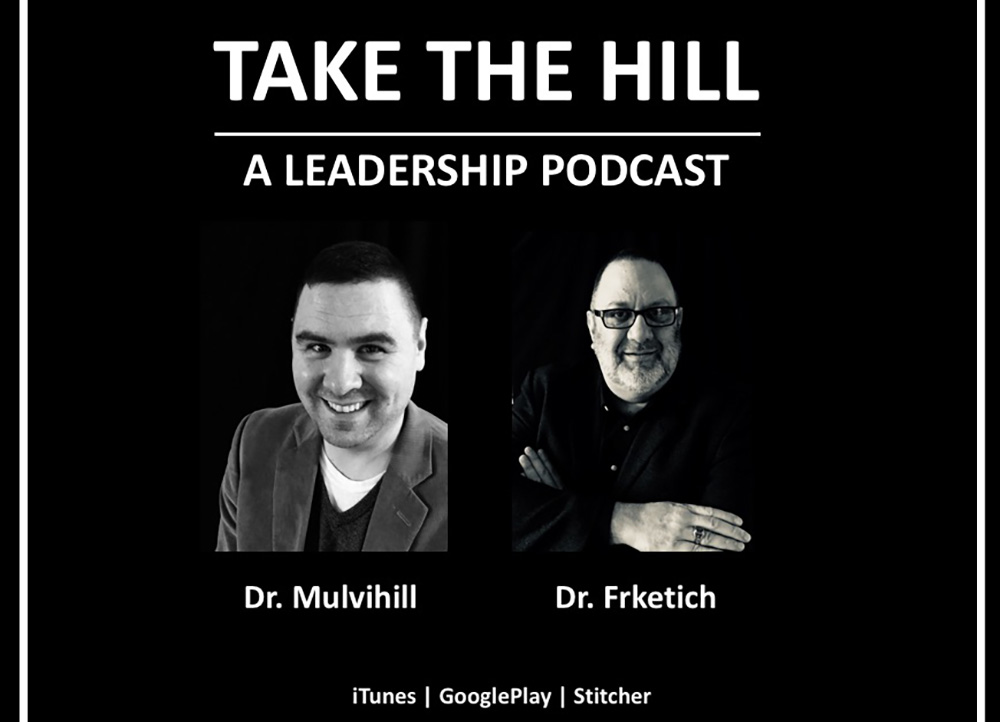 Take The Hill is a leadership podcast series aimed to connect members of the Rowland School of Business, as well as the University community, to individuals who are demonstrating leadership excellence within their respective spheres of influence.
The series is hosted by Patrick Mulvihill, D.Ed., assistant professor and chair of the Department of Management in the Rowland School of Business, and Dennis Frketich, D.Ed., Point Park business management alumnus and part-time business faculty member.


Previous Podcasts
015: Vigor, Vibe +Venture Challenge: 

J

ennifer Ferris-Glick, co-principal of the Pittsburgh-based

 consutling company Above to Below, 

and Steve Tanzilli, J.D., dean of the Rowland School of Business talk about how the V3 challenge

 

is intended to make a meaningful impact upon an organization's life story. Aug. 4, 2020
014: Leading Through Uncertainty: Drs. Mulvihill and Frketich explore an approach designed to help you focus your thoughts while leading your organization through uncertainty. July 10, 2020
013: HR Perspectives and the New Normal: Professors Sandy Mervosh and Dennis Frketich offer insight and advice from an HR perspective for organizations seeking to find a new normal and turn the corner post-COVID19. July 6, 2020
012: Dr. Sarabeth Berk - More Than My Title: Dr. Berk is a hybrid professional who combines her artist/researcher/educator/designer identities to be more than her job title. July 1, 2020
011: John Valentine Innovation & Recovery of Hospitality Industry in Downtown Pittsburgh: Valentine is executive director of the Pittsburgh Downtown Community Development Corporation. June 16, 2020
010: #3 Things: Exploring Jordan with Dana Daas: Daas shares her home country of Jordan's rich tradition of hospitality, family, culture and more incredible food than you can imagine. May 18, 2020
009: Steve Adelkoff: Over the Horizon: Adelkoff shares his wisdom and insight embedded in stories of economic behavior, prospect theory, deglobalization and off-balance sheet deals he has brokered around the world.

 

May 11, 2020
008: Looking Forward: Student guests illuminate the importance of human relationships. May 7, 2020
007: Leading Through Uncertainty (Student Narratives): Point Park students focus on the capacity for hope. April 13, 2020
006: Change My Perspective: This special episode is the first in a series of "Pop-Up" podcasts featuring students from the Point Park University community. Our guests and their topics are not prescreened, so the conversations are authentic. Feb. 5, 2020
005: Megan Livingston, manager of talent development for Highmark Health, Jan. 12, 2019
004: Marissa Colclasure, airline pilot, mom and dreamer, Oct. 27, 2018
003: Dave Berke, retired Marine Corps. officer and combat veteran, Feb. 27, 2018
002: Reflection: Conversation with Lee Cockerell, Feb. 14, 2018
001: Lee Cockerell, former executive vice president of operations for Walt Disney World Resort, Jan. 24, 2018
Listen Here
Podcasts can be accessed on the Take The Hill website or downloaded through iTunes, Spotify, GooglePlay and Sticher.
Read about the launch of the podcast series: "Business Professor Interviews Disney's Former Executive VP of Operations."
Follow us on Instagram