more news
Business Professor Interviews Disney's Former Executive VP of Operations
Monday, November 20, 2017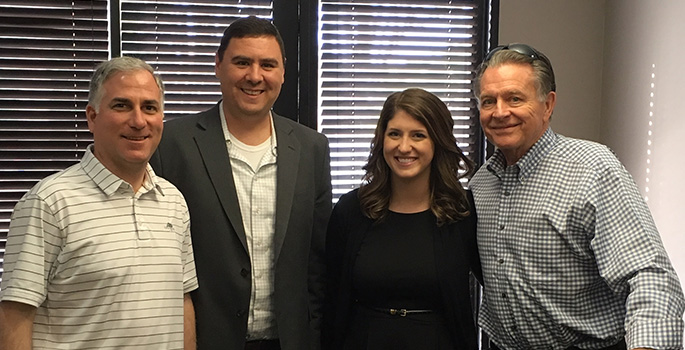 L to R: Steve Tanzilli, J.D., Patrick Mulvihill, D.Ed., Ashley Dobransky, M.B.A., and Lee Cockerell

As part of his upcoming leadership-focused podcast "Take the Hill," Assistant Professor of Management Patrick Mulvihill, D.Ed., interviewed Lee Cockerell, retired executive vice president of operations for the Walt Disney World Resort in Orlando, Fla., where he led a team of 40,000 Disney cast members.
Since retiring, Cockerell has authored five books and speaks around the world about leadership.
Steve Tanzilli, J.D., dean of Point Park University's Rowland School of Business and SAEM and M.B.A. alumna Ashley Dobransky, assistant to the dean and former Disney College Program intern, joined Mulvhill on the trip to Orlando.
"Throughout our time with Mr. Cockerell, we really got a sense of the core leadership ideals found within his books and seminars. It didn't take long to realize why he was so successful at improving the already high standards of leadership at Disney," Mulvihill explained.
Mulvihill's leadership podcast series is set to launch in January 2018 with co-host Dennis Frketich, D.Ed., Point Park business management alumnus and part-time business faculty member.
Each episode will run 30 to 45 minutes and will include interviews with prominent individuals throughout the nation who have demonstrated significant leadership skills in their respective fields.
"Though this podcast focused on leadership, the real underlying message was really about time management. Mr. Cockerell believes that the quality of your life is directly affected by how and where you spend your time," Mulvihill said.

Mulvihill added: "Mr. Cockerell explains that if you want to get something done, become a great leader or improve some aspect of your professional or personal life by making the decision to invest the time to do so. His message and tone were quite motivational!"
More About: Rowland School of Business, organizational leadership, M.B.A., sports, arts and entertainment management, business management, faculty