Accelerating Women in Industry International Women's Day Event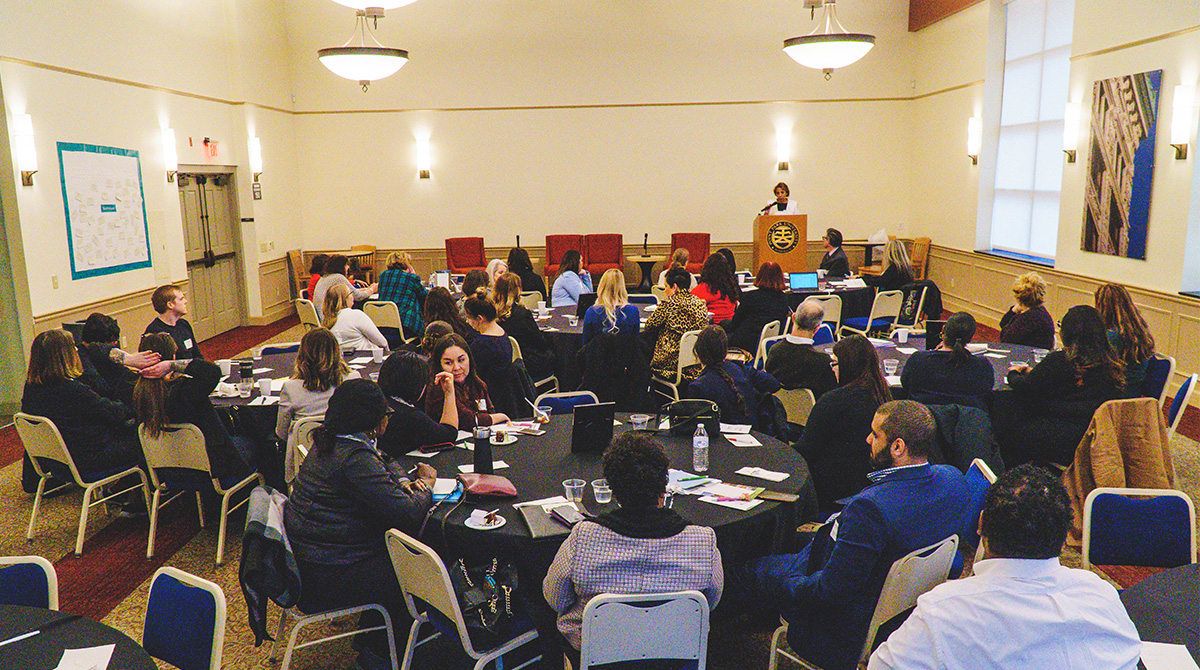 Join Women in Industry to recognize the impact women have and challenge and empower each other to accelerate success and the success of women-identified students and professionals through mentorship and resilience at AWIN 2021: Holistic Resilience on Friday, March 5, 8:30 a.m.-12:30 p.m. The virtual event will be hosted on Zoom.
In this half-day workshop, learn about modern mentoring, the importance of personal and professional resilience and how to facilitate workplace resilience while being challenged to build and empower resilience. Participants can earn up to four continuing education credits from the Society for Human Resource Management.
Register at AcceleratingWIN.org. Presented by Point Park University's Rowland School of Business.
Learn about the annual event below and read the 2020 event recap story. 
8:15 am - Opening remarks
8:30 to 9:15 a.m. – Keynote speaker Jayme Goldberg, founder of Consequential Flowers, a modern mentoring network, and former CEO of SilverLine Global, Inc.
"More Than This" - Tumultuous times for society, and for each of us individually, are also rich with potential to build new and better. A resilient mindset fueled by belief in each other and in ourselves powers our ability to improve and to find joy in the process. How do we realize opportunities through a resilient mindset and actions? How do we find "more than this?" What does "this" even mean?
9:20 to 10:20 a.m. - Workshop #1 - "Holistic Resilience: Taking Care of YOU"
Jennifer Ferris-Glick, Above to Below Consulting

Christy Stuber, Christy Stuber Coaching

Define stress and the impact of stress on the body and brain.

Explore five keys to a more resilient and healthy brain, including exercise, sleep, nutrition, novelty and mindfulness.

Define mindfulness and meditation.

Explore how the impact of mindfulness in resiliency.

Discover seven ways to use mindfulness in business and leadership practices.
The workshop will end with a self-exploration exercise to identify ways to reduce stress in the moment and look at the larger impact we can have in our own lives and the lives of those we lead.
10:25 to 11:25 a.m. - Workshop #2 - "Holistic Resilience: YOU as a Resilient Professional"
Sandra Mervosh, M.S., SHRM-SCP, SPHR, assistant professor and director of Point Park's human resources management program
Dorene Ciletti, Ph.D., H.J. Heinz Company Endowed Chair in Business Management, associate professor and director of the marketing and sales program 

Define the resilient workplace including the impact of organizational leadership, structure, processes and culture.

Explore transformative resilience.

Understand what it means to be a resilient professional and support resilience in others.

Assess professional resilience through mapping of personal values with job congruence and boundaries.

Challenge yourself to commit to building professional and workplace resilience and empowering others to do the same.
11:30 a.m. to 12:15 p.m. - Discussion panel - Manifesting Resilience in the Workplace
Angela Reynolds, Ph.D., executive director, YWCA Pittsburgh

Myah Moore Irick, senior vice president, The Irick Group, Merrill Private Wealth Management

Janet Manuel, director, human resources, EEO, diversity and inclusion, City of Pittsburgh

Elesha Ruminski, Ph.D., associate professor, communication and leadership, Frostburg State University
12:20 –12:30 p.m. - Closing remarks
Jayme Ann Goldberg
Jayme Anne Goldberg is the founder of Consequential Flowers, a private social media network devoted to cultivating and empowering transformational women leaders. As a visionary with demonstrated success creating value in fragmented industries and growing organizations, Goldberg speaks regularly on topics such as leadership and entrepreneurship. Prior to starting Consequential Flowers, she co-founded SilverLine Athletics, a consumer data analytics company. She served as chief strategy officer for CenterSquare Investment Management and also as an investment analyst at General Motors Asset Management. She served three terms on the external advisory board of Penn State Schreyer Honors College. She is an active mentor for college students and is former vice-chairperson for the Cadence Cycling Foundation. Goldberg holds a B.S. in business with honors in finance from Penn State Smeal College of Business and Schreyer Honors College. She has an MBA from Columbia Business School and is a graduate of the LEADERSHIP Philadelphia Core Program.   
Christy Stuber
, MSW, ACC
Christy Stuber, MSW, ACC, is a certified life coach who works with clients to stress less and live their lives with more clarity.  She helps her clients identify and rewire patterns in their brain that may take them habitually in directions they do not want to go to develop tremendous capacity and effectiveness to go in the directions they do want to go.  Her ultimate goal is for her clients to live happier, more meaningful lives. Interested in her coaching? Visit her website for more information. 
Jennifer Ferris-Glick
Jennifer Ferris-Glick is owner of Above to Below, a boutique consulting company. She transformed from an academic cognitive-neuroscience researcher to mindfulness and business consultant over the last two decades. She helps executives and leaders become more aware of themselves through scientific and experiential methods. When not working with corporations and individual clients, she is running around and wrangling her three sons, reading, learning, meditating and doing yoga, sometimes all at once. Curious about how you can grow? Set up a free consultation at abovetobelow.com. 
Sandra Mervosh, M.S., SHRM-SCP, SPHR, is an assistant professor of human resources and director of the human resource management program in the Rowland School of Business at Point Park University. She has also served as president, CEO and owner of Venture Graphics, a project management company specializing in the printing industry. Prior to becoming a full-time faculty member at Point Park, Mervosh served as a part-time instructor for the Rowland School of Business and the Department of Humanities and Social Sciences within the School of Arts and Sciences. In 2015, Mervosh founded the networking organization, Pittsburgh Women Succeeding Together.  
Dorene Ciletti, Ph.D., is an associate professor and director of the marketing and sales program and H.J. Heinz Company Endowed Chair in the Rowland School of Business at Point Park. Before joining Point Park, Ciletti was an assistant professor of marketing and acting director of the Center for Leadership in Professional Sales at Duquesne University. At Duquesne, Ciletti also served in the roles of program coordinator, curriculum designer, faculty advisor and director of the Marketing Honors Institute. In addition to teaching, Ciletti has worked in marketing and sales in the health care and financial services industries. She has organized and moderated several major conferences and has served as an ad hoc journal reviewer and author for a variety of scholarly publications. Her teaching centers on action learning, including experiential service learning, design thinking and collaboration with community and government organizations.  
Janet Manuel, 

MS, SHRM-CP, PHR
Janet Manuel, MS, SHRM-CP, PHR, leads the City of Pittsburgh's Department of Human Resources and Civil Service and EEO/Diversity and Inclusion initiatives. Manuel's team is responsible for overseeing the hiring process, employee benefits, payroll and pension deferment and more for the 3,500 city employees. Manuel leads employment and training opportunities for city residents through the Pittsburgh Partnership and in conjunction with the Pennsylvania Department of Human Services Employment and Retention Network. Prior to her position with the City of Pittsburgh, Manuel served as vice president, director, regional manager and manager of human resources for various organizations, including Fortune 500 for-profit companies and a nonprofit. Additionally, she is the immediate past president of the Pittsburgh Human Resource Association.
Myah Moore Irick
Myah Moore Irick joined Merrill Private Wealth Management in 2020. She focuses on providing wealth planning strategies to successful executives, individuals and families navigating sudden wealth. Moore Irick possesses a deep understanding of the psychology of wealth, including the challenges that executives, individuals, seasoned professionals and even up-and-coming athletes face when making decisions about their financial futures. With this knowledge, Irick is able to help her clients identify what they really want their money to do for their lives, families and communities and create a wealth plan for achieving that.​
​
For Moore Irick, being a great advisor means going above and beyond the numbers. It means being a resourceful collaborator and trusted advisor who digs deep into how clients approach saving, spending and sustaining wealth. It means coming up with creative strategies to help them achieve their unique ambitions. It also means utilizing the vast resources of her firm to maximize their financial potential, provide for their loved ones and help them give back to their communities. ​
​
She serves on the boards of Carnegie Science Center, Pittsburgh Symphony Orchestra and the Energy Innovation Center Institute. Her experience as Miss Oregon with the Miss Universe organization in 2003 inspired her ongoing commitment to promoting educational opportunities for women. Prior to joining Merrill, she was an executive director at JPMorgan Private Bank and also worked at PNC Wealth Management. She has held several senior roles at Columbia University where she advised families on philanthropy and estate planning solutions. She received a B.A. from Lewis & Clark College, an M.A. from Columbia University and a joint international MBA with honors from Brown University and Instituto de Empresa.​ 
Angela Reynolds, Ph.D.
Angela Reynolds, Ph.D., a native of New Haven, Conn., is committed to racial justice and gender equity. For 12 years, she was an assistant professor at the Graduate School of Public and International Affairs at the University of Pittsburgh where she taught statistics and performed research on housing policy, specifically affordable housing and fair housing. In 2012, she changed careers and joined the United Way of Southwestern PA where she most recently served as the senior director of United for Families and 2-1-1. Under her leadership, 2-1-1 expanded to cover 30 counties in Pennsylvania and provided coverage for Southern Kentucky. She served on Pennsylvania's state 2-1-1 board and 2-1-1 national steering committee. On Feb. 24, 2020, Reynolds transitioned to the YWCA of Greater Pittsburgh where she serves as chief executive officer. The YWCA aims to eliminate racism, empower women, and promote peace and justice in our region. 
She is a mother of three adult children and a 6th grader and associate pastor of her church. She resides in the Windgap neighborhood of Pittsburgh with her husband, youngest child and her mother. Reynolds is the 2020 ATHENA award recipient and has received awards for her community and housing work, including a proclamation from Pittsburgh City Council declaring Thursday, Oct. 22, 2020 as Dr. Angela Reynolds Day. She holds a Ph.D. in public policy analysis from the Heinz School at Carnegie Mellon University, an M.S. in statistics from Carnegie Mellon and a B.A. in mathematics with a sociology minor from Bryn Mawr College.
Elesha Ruminski, Ph.D.
Elesha L. Ruminski, Ph.D., is a professor of communication studies and coordinator of leadership studies at Frostburg State University in Frostburg, Md. Ruminski researches, teaches and supports facilitation of communication strategies within organizations and communities. In addition to authoring chapters, articles and encyclopedia entries on a range of communication topics, she co-edited "Communicative Understandings of Women's Leadership Development: From Ceilings of Glass to Labyrinth Paths." Ruminski, a past chair of the National Communication Association's Public Dialogue and Deliberation Division, served as the project manager of the Sustaining Campus and Community in Frostburg dialogue series, funded by the Maryland judiciary's Mediation and Conflict Resolution Office. She also participated in a Kettering Foundation research exchange to support the development of Frostburg State University's Communication Leadership Lab. 
An advocate for diversity, equity and inclusion, as well as democratic engagement, she is a steering committee member of the Choose Civility chapter of Allegany County, Md. and was recognized in 2016 by the Allegany County NAACP branch for "Building the Community that Empowers Us." In 2019, she was appointed to serve as a member of both the Allegany County Commission for Women and the Western Maryland Advisory Council of the Maryland Commission on Civil Rights.