Students interested in reserving your spot at Point Park University for Fall 2022 should pay a tuition deposit by August 1. Paying your deposit allows you to take advantage of class registration and housing options.
Pay your deposit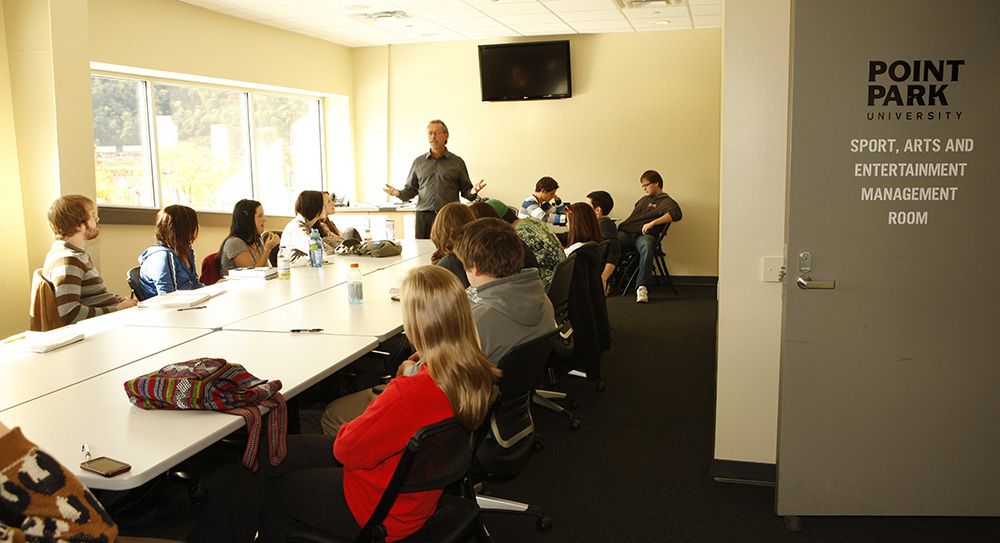 In every class, our SAEM faculty bring a solid background in business as well as real-life work experiences in sports, arts and entertainment management.
With connections to internships and hands-on course work, you can expect to be challenged and guided by these passionate business professionals.
Meet the Full-Time Faculty in the SAEM Department


Steve Tanzilli, J.D., is the co-founder of the SAEM program at Point Park University, in which he served as professor and chair. Currently, he is the dean of Point Park's Rowland School of Business.
Tanzilli ran his own sports talent agency, Sports Legends Group, a full-service marketing, finance and law firm for professional athletes. He has worked with players from the Pittsburgh Steelers and other high profile clients. His background includes 12 years of experience with 141 Worldwide Sports and Entertainment where he worked closely with clients such as Coca-Cola, 84 Lumber, Sunoco, TOPPS, ESPN, and Kraft Foods. In addition, Tanzilli has worked with the Pittsburgh Pirates, Johnston Steel Baseball Club, International Sports Marketing and Communicator Sports Marketing.
---
SAEM Associate Professor and Chair Robert Derda brings 12 years of teaching experience and more than 25 years in professional sports experience to his position. His teaching includes graduate and undergraduate as well as guest speaking in the Rowland School of Business at Point Park University, the A.J. Palumbo School of Business at Duquesne and the University of Pittsburgh College of Business Administration. 
Derda's professional background includes full-time work and consultant roles most recently as general manager at Learfield Sports, as well as previously with the Pittsburgh Pirates, Duquesne University athletics, the National Basketball Association, the Women's National Basketball Association, Clear Channel Communications, the Pittsburgh Riverhounds, International Sports Marketing and others. Additionally, he has been invited to present at the National Sports Forum and other conferences and events on sales and career development topics. 
---
The common thread in Associate Professor Paige Beal's business career is entertainment media technology. Her business career includes media marketing and management in radio (Clear Channel - 3WS), TV (Comcast Spotlight - ESPN, USA, TNT, AMC, CNN, MTV, etc.) and Internet (WPXI - Cox). Her multimedia expertise translated into the success of Moxie Marketing Media Consultancy conducting training programs for media sales.
That training experience foreshadowed a teaching career at Point Park University in the sports, arts and entertainment management department of the School of Business. Beal took a three-year hiatus from Point Park University to rejoin Comcast — and has now come full circle to bring her professional connections and experience back into the classroom. She is also co-founder of I'llgo2!, a social platform connecting people to the arts.
---
Over her 25-year career in arts and higher education, Associate Professor Teresa Gregory, M.F.A., has been a high-level, results-oriented fundraiser and administrator with extensive expertise in all aspects of development and non-profit management. She has been part of the leadership team on campaigns ranging in size from $200,000 to $40 million for a wide variety of organizations.
Gregory has been a team member of such arts organizations as the California Theatre Council, the Los Angeles Theater Center, Stamford Center for the Arts, StageWest (MA), Tennessee Repertory Theatre and Yale Repertory Theatre/Yale School of Drama. In Pittsburgh, she has worked at the Green Building Alliance and at Robert Morris University.
---
Professor Ed Traversari has more than 30 years of live entertainment management expertise including being partner in the local Pittsburgh concert promotion company, DiCesare Engler Productions. DiCesare Engler produced concerts at the Stanley Theatre (which they later sold to the Cultural District to become The Benedum Center), the Syria Mosque, A.J. Palumbo Center, Mellon Arena and Heinz Field among others. His duties at DiCesare Engler included talent buyer, director of marketing, production manager and general manager of the Chevrolet Amphitheatre at Station Square. In 1999, DiCesare Engler Productions was purchased by SFX Entertainment, which was later sold to Clear Channel Entertainment and most recently spun off to Live Nation, the largest producer of live entertainment events in the United States.
In addition to teaching, Traversari consults on various projects including working with PBS-TV producers TJ Lubinsky and Henry DeLuca producing concerts for PBS television, and producing culture festivals at Sandcastle. Traversari has been interviewed by KDKA radio and KDKA-TV and was featured as guest on the PCNC show "Night Talk."
---
Connect With Us