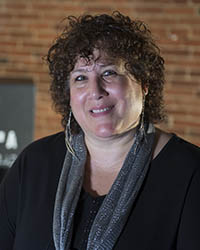 Professor
Director of Musical Theatre
Contact Information
Education
M.F.A., Acting, University of Illinois Urbana-Champaign
B.F.A., Acting and Directing, Ithaca College
Courses Taught
Acting
Musical Theatre Techniques/Acting Through Song
Stage Movement
Voice and Speech
Background
Zeva Barzell, in addition to her degree programs, has trained in New York City and London, England. Prior to joining Point Park, she taught in the acting programs at the University of Illinois and Bradley University. She was ranked twice as an "Outstanding Teacher" at the University of Illinois' Directory of Teachers Ranked as Excellent and is listed in Who's Who Among American Teachers (1998, 1999). She was named Most Outstanding Teacher by the senior class at Point Park University in 2006 and 2007 and special mention in 2009.
Professional credits include Off and Off Off Broadway (where among other roles she originated the Great Lady in Robert Patrick's Orpheus and Amerika), regional theater, summer stock, dinner theater, daytime television, industrials and national voice-over work.
Barzell was trained and mentored by Tony Award winner Daniel Sullivan. She also trained with Robin McFarquhar, Henson Keys, Brennan Murphy, Chuck Kelly, Phil Black, Frank Hatchett, Louis Falco, Andrezej Szozueski (Warsaw Mime Troupe), Ronald Hedlund, Joan Kobin, Bill Reed (Circle in the Square). Supplemental training includes Anne Bogart (SITI Company), Royal Shakespeare Company, Aquila Shakespeare Company, Struan Leslie, and Bill Mason (Chicago Shakespeare Company).
Professional Memberships
Actor's Equity Association
Screen Actors Guild-American Federation of Television and Radio Artists
Selected Artistic Works
Pride and Prejudice, Director
Dracula, Director
Once Upon a Mattress, Director/choreographer
You're a Good Man Charlie Brown, Director/choreographer
Bye Bye Birdie, Director/choreographer
Hello, Dolly!, Director/choreographer
Peter Pan, Director/choreographer
Godspell, Director/choreographer
Parade, Associate director (directed by Michael Rupert)
Alice in Wonderland, Director
Ragtime, Choreographer
Kiss Me Kate, Director/choreographer
Urinetown, Director/choreographer
Into the Woods, Director/choreographer
Cabaret, Director/choreographer
The Who's Tommy, Director/choreographer
Selected Performances
"Mrs. Lovett" in Sweeney Todd with Maestro Eduardo Diazmunoz
"Lillian Rice" in Broadway, directed by Sue Lawless
"Madame Parole" in My Three Angels, directed by Bill Martin
"Bilbo" in Dennis Cleveland, directed by Mikel Rouse (Midwest premiere)
"Laverne" in Mercy Drop, directed by Robert Patrick
"Annie" in Annie Get Your Gun, directed by Vincent Telesco
"Dolly" in Hello, Dolly!, directed by Vincent Telesco
"Reno" in Anything Goes with choreographer Craig North
"Margo" in Applause, directed by Christian Saint-Girard
"Miss Hannigan" in Annie, directed by Biff Baron
Selected Awards and Honors
Recognized actor/combatant by the Society of American Fight Directors (2002, 2003)
Examiners Award for Excellence in unarmed combat
Point Park Feature