Meet our 4+1 Psychology Program Students
Explore the 144-credit, dual B.A. in psychology and M.A. in community psychology program at Point Park University. Designed to be completed in five years, this program is for undergraduate psychology or behavioral sciences students at Point Park who are interested in earning both a bachelor's and a master's degree while expanding their career options in the psychology field.
Meet some of our 4+1 psychology students and recent graduates and read about their experiences with the 4+1 program, community practicum work and projects they have completed and their career goals. 
---

Dan Flint
Background: Graduate of Bentworth High School, Bentleyville, Pa., and a Navy veteran
4+1 Program Experience: "As a non-traditional student, the 4+1 psychology program has been great for me. I've enjoyed being able to quickly pursue my M.A. degree while not missing out on anything I wanted to learn."
Community Practicum Work: "I have done practicum work at Bridge to the Mountains, a nonprofit organization that works with the street community, and the Thriving Respite, which was run by Point Park students to help individuals of the Pittsburgh street community."
Career Goals: "After I finish my M.A. degree, I plan to continue working at a nonprofit doing street outreach."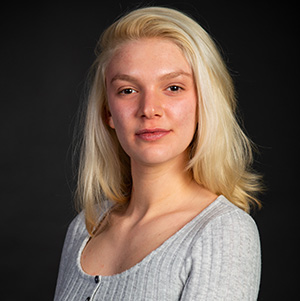 Teal French-Levine
Background: Graduate of Pittsburgh Creative and Performing Arts 6-12 High School, Pittsburgh, Pa.
4+1 Program Experience: "My experience in the 4+1 program has been very beneficial. I was excited to start the program because I liked the idea of obtaining a master's degree in such a short amount of time. The master's program had everything that I loved about the bachelor's program. This program has such great professors (though some may have missed their calling with Monty Python) who always welcome their students because they care about learning and our academic growth."
Community Practicum Work: "I was part of the Mobile Thriving Respite. It was a great experience. I got to meet members of Pittsburgh's homeless community, spend time with them and hear their stories. It was a true one-of-a-kind experience. Every day was something new and exciting and I loved catching up with the same people and developing friendships based on love and a warm heart."
Career Goals: "My career goals are pretty open-ended at this point in my life. I'd like to go wherever I'm needed and that's the beauty of this program. It prepares you for a plethora of opportunities. I know I'd like to have some form of art in my life. With this type of a program, I can do so much in the field of psychology and beyond."

Tyler Maurer
Background: Graduate of The Pennsylvania Cyber Charter School and a native of Dalmatia, Pa.
4+1 Program Experience: "I have bonded with several of my professors and have developed close relationships with them and my fellow classmates over the past five years. Dr. Bob McInerney and Dr. Sarah Schulz were incredibly helpful with advising and setting up classes for the following semester, along with providing advice and counseling for plans after school, stress management and helpful tips for procrastination. Taking graduate level classes as an undergrad was interesting. The adjustment came quick and we all adapted smoothly in my opinion, although it was slightly different in terms of course material and other students in the class. I was 19 taking classes with individuals in their mid 40s so that was a surprise to me. Taking these higher level courses during undergrad helped me immensely for when I actually became a true graduate student. I was prepared and knew what was expected of me in terms of coursework and expectations."
Projects: "I completed a several hundred page qualitative research project on the experience of recreational drug use. My project focused on a wide rage of psychoactive substances and how they differentiate and correlate. It took me seven to eight months to complete and demanded rigorous practice and training in proper interviewing techniques, APA style and professional styles in terms of writing the literature review, methodology and methods, results and interpretation sections. I also wrote a grant proposal for the University Counseling Center. The proposal was for another position in the UCC to help Dr. Kurt Kumler in counseling and managing the training of doctoral students and the students seeking help from the UCC. Thirdly, a classmate and I worked together on a paper and presentation on the discrimination against women in academia. We focused on our own school, Point Park University. We emailed, interviewed and met with several female faculty members and had questions and discussions with them about their experiences in the world of academia. I was happy and proud to present our work to develop awareness on this problem."
Career Goals: "My career goals are somewhat all over the place. I have worked in human resources for several years so I have debated working as an industrial organizational psychologist.  Also, I have passion for activism for women and have done numerous projects, reports and research papers on the discrimination, oppression and dehumanization women face every single day. I would like to further my research on this particular topic and possibly focus on it while pursuing my doctorate degree. I have also been applying to hospitals for employment in their psychiatric department."
Javon Jazz Nelson
Background: Graduate of Bluestone High School, Skipwith, Va., and transfer student from Southside Virginia Community College
4+1 Program Experience: "I have enjoyed this program! It is immersed in community work and relatable professors. The coursework is rigorous, engaging and fun. We have looked at a multitude of research studies and in-class scenarios of different situations in order to better understand material. Additionally, I love the mix between conventional and unconventional classes that the program provides!"
Community Practicum Work: "I worked with the Mobile Thriving Respite during my last semester. In this practicum, we worked closely with the street community in order to provide and encourage a sense of thriving instead of just surviving. We did this by partnering with different churches and having a variety of different events for members of the street community. These events and activities included game nights, movie nights, arts and crafts, karaoke and more. I have also done a qualitative phenomenological research thesis on masculinity within the African-American community and helped Operation Safety Net with their homelessness counts within Allegheny County."
Career Goals: "My career goals are to work for nonprofit organizations that specialize in homelessness, displaced LGBTQAI+ youth and/or battered women's shelters."

Isabella Yobbagy
Background: Graduate of Bishop Carroll Catholic High School, Ebensburg, Pa.
4+1 Program Experience: "My experiences taking graduate-level courses during my senior year were difficult, but feasible. Luckily, I have great advisors who worked with the classes I already completed. Due to taking summer classes and credits that had transferred from high school, I was still able to fit grad courses into my schedule without it being extremely overwhelming. We are very fortunate to have professors who understand the workload we have as B.A./M.A. students. While we are still given a heavy course load, the professors are certainly understanding of and work with us since we have to simultaneously write our senior thesis paper and complete other coursework. In this program, one must stay motivated and on top of things in order to get their work done. I really pride myself with the growth I developed over the past four years at Point Park. I wouldn't have become the person I am today without many people who have come into my life and a handful of those influential people are my professors. In the end, it has been a great learning opportunity and I am excited to see what I will learn next year."
Community Practicum Work: "In the summer of 2019, I was extremely blessed to earn an internship with a UPMC-affiliated nonprofit organization near my hometown. I interned at Lexington Clubhouse, an establishment where individuals who have a mental health diagnosis are able to acquire life and work skills in order to function independently within their communities. I absolutely adored all the people I met (both staff and members) and I wouldn't have wanted my first internship to be anywhere else. Also, I aspire to attain a practicum with Pittsburgh Action Against Rape. With my minor in criminal justice, I was able to take a course titled Sex Crimes Investigation. Due to the material I learned, it created a passion in me to work in this specific area. Another project I am currently working on and almost finished with is my senior thesis. I am doing my qualitative thesis on the phenomenological experience of being raised by people who abused alcohol."
Career Goals: "In life so far, I have learned while it is important to have goals and strive for those goals, one cannot be concrete, but rather, fluid with the opportunities and path that life might take them. As I mentioned above, I would like to work with sexual assault victims. I have been doing some personal research as to what career path I may want to go into or more specifically, what area of psychology in which I would like to potentially earn a Ph.D. As of now, a potential career goal of mine revolves around earning a Ph.D. in clinical psychology with an emphasis/speciality in trauma psychology."