Pittsburgh Downtown Media Hub
Pittsburgh Downtown Media Hub — 9 images

Presented by Point Park University's Center for Media Innovation, the Pittsburgh Downtown Media Hub serves as a shared newsroom for local journalism.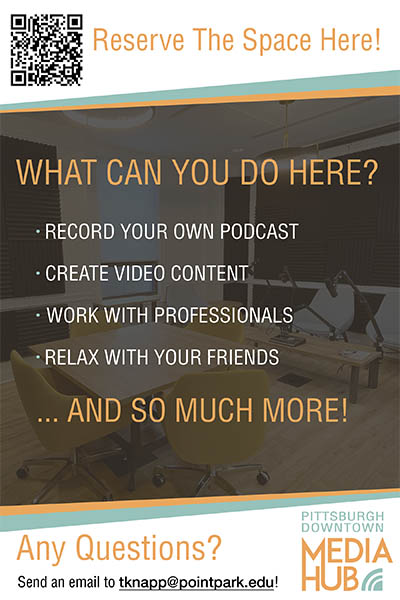 Located within walking distance to campus at 223 Fourth Avenue in Downtown Pittsburgh, the Media Hub houses six news outlets:
Plus, it houses the Pittsburgh Women's Press Club, and offers a daily drop-in space for others.
Point Park University students are invited to use the hub as a creative space for their own projects and network with industry professionals.
Students can use the QR code (pictured at right) to reserve the podcast studio, which offers audio and video equipment. Additionally, there is a lounge space for students to work and study.
Contact Us
Tanner Knapp, media hub coordinator