DEGREE REQUIREMENTS | COURSE DESCRIPTIONS | FACULTY | SCHEDULE OF COURSES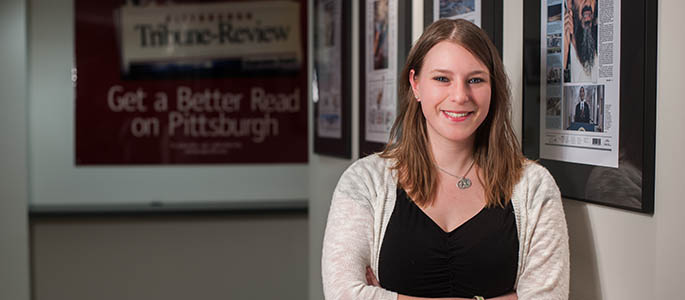 As a graduate student, Megan Guza (above) investigated crime rates in former Mon Valley steel towns. Her full report published on 90.5 WESA: In Mon Valley Steel Towns, Shrunken Communities and an Increase in Crime.

Pursue a Specialization in Documentary in Downtown Pittsburgh
Watchdog journalism. Independent filmmaking. Documentary. Reporting. Storytelling. Social justice. In the age of Netflix, independent documentary has become one of the most effective ways to tell important stories about the world we live in.
Students pursuing the 36-credit M.A. in Media Communication program with a specialization in documentary will report on political, social and cultural issues to produce compelling audio, photo and/or video documentaries and explore best practices in funding, distributing and marketing their work.
Students have the opportunity to submit work for publication through partner news organizations and the Point Park News Service.
Expert faculty who teach in the media communication program include current and former documentary producers, broadcast professionals, investigative journalists and multimedia designers, as well as experienced researchers and theorists.
Documentary Specialization Program Structure
The media communication program specializing in documentary-format journalism offers a balanced combination of course work and practical experience broken out into four parts:
Core courses: writing and editing in the journalistic style, communication theory, research methods, communication law and media ethics
Specialization requirements: courses including investigative reporting, history of documentary cinema, business of photography, documentary photography and multimedia production
Documentary thesis: students will spend two semesters creating documentary-format journalism with an industry professional who will guide them through the process
Electives: social media, broadcast copywriting, web publishing, mass communication history, international media and special topics
For a comprehensive list of program requirements, see the degree requirements and course descriptions.
Equipment and Facilities
Students will have access to Point Park's professional audio, video and photographic equipment to create their documentaries. Explore our facilities and equipment.