Master of Arts Journalism and Mass Communication
DEGREE REQUIREMENTS | COURSE DESCRIPTIONS | FACULTY | SCHEDULE OF COURSES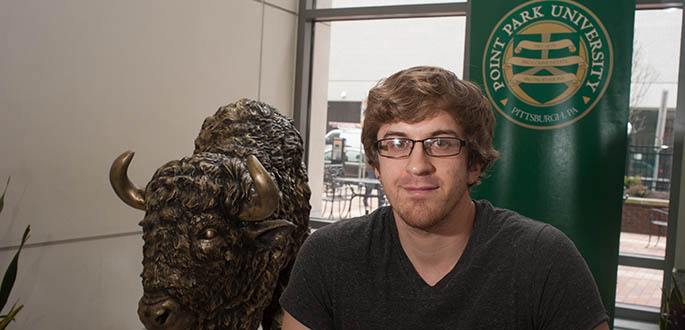 Grad student profile: Brandon Gdula creates long-form journalism published by WHIRL magazine and Pittsburgh Post-Gazette.

Pursue a Specialization in Journalism in Downtown Pittsburgh
Students pursuing the Master of Arts in Media Communication who specialize in journalism can choose from one of three tracks of study: the journalism initiative track with concentrations, the professional track or the thesis track. Students who wish to simultaneously earn an M.B.A. can pursue the concurrent Master of Arts/M.B.A.
Journalism Initiative Track with Concentrations
In an ever-changing media landscape, journalists can find a career edge by developing an expertise in specific subject areas. Pursuing this journalism initiative track, you will graduate with an extensive portfolio of journalism or public relations work directly related to the concentration.
Students choosing to focus on journalism research write long-form works such as magazine-length pieces, a series of in-depth newspaper stories or a book.
Students choosing to focus on public relations complete integrated marketing campaigns of the caliber of the region's top public relations and advertising agencies.

All students have the opportunity to submit work for publication through partner news organizations and the Point Park News Service.
The concentrations within the journalism initiative track can help you gain that expertise, to complement your professional skills, in one of the following areas:
Environmental studies
Education
Criminal Justice
Business
Within the business concentration, students can further specialize in one of four areas to target their career path toward a specific industry, such as Pittsburgh's dynamic health care field:
Health systems
General management
International business
Accounting/finance/economics
Professional Track in Journalism
Students who are not looking to choose a concentration can consider Point Park's professional track within the master's program. This long-established program offers students the opportunity to design their own area of study. Students take five core courses, then select communication courses that directly relate to their areas of professional interest, including advertising, broadcast journalism, broadcast production, digital media, integrated marketing communications, media relations, photojournalism, print journalism and communication technology. Students also have the opportunity to submit work for publication through partner media organizations and the Point Park News Service.
Journalism Thesis Track
The journalism thesis track option provides the opportunity for students to take additional courses to prepare for admission to a Ph.D. program.
Concurrent Master of Arts/M.B.A. Program
The School of Communication also offers, in conjunction with the School of Business, a 54-credit M.A. in Media Communication/Master of Business Administration program with concentrations in public relations and advertising management, print/digital media management and broadcast/digital media management.