Pittsburgh Center for Sports Media and Marketing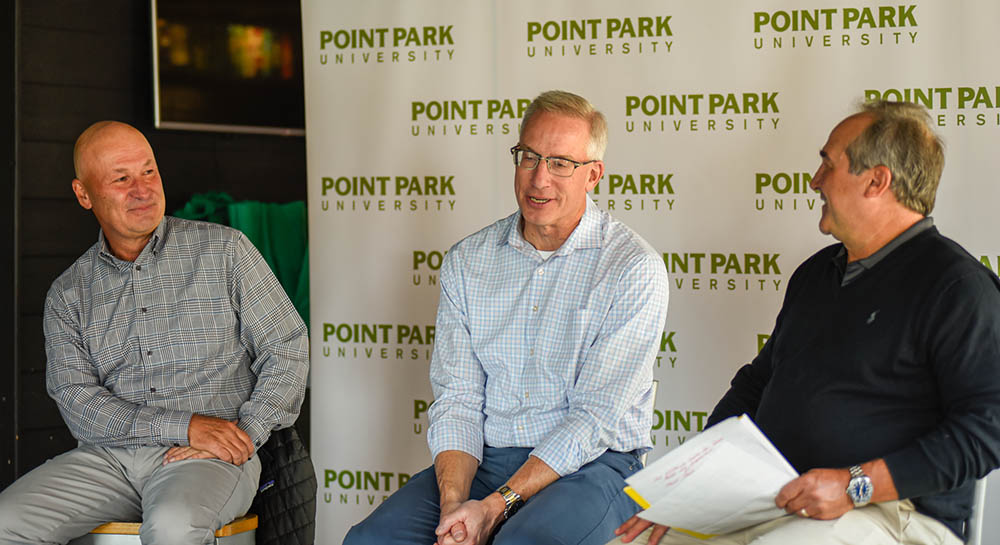 Pictured above: Mark Gross, senior vice president, production and remote events at ESPN, Sean Hanrahan, marketing/media strategy advisor at BBTHD and Jeff Gregor, former CMO at Turner Sports during the Magic of Monday Night Football seminar for students at Stage AE.
Bringing Sports Industry Expertise to Point Park
Once upon a time, two future major league sports executives were starting their career at Point Park University. One day they decided to give back to their alma mater and The Pittsburgh Center for Sports Media and Marketing was born.
Mike Fetchko, owner and managing director of ISM-USA, and Tom McMillan, vice president of communications for the Pittsburgh Penguins, launched The Pittsburgh Center for Sports Media and Marketing in 2011 at Point Park.
The center focuses on regional, national and international topics and trends in the fast growing sports industry. The center brings leading executives from all facets of the sports and entertainment industries to the Point Park campus to speak at workshops and seminars.
These events give Point Park students the opportunity to hear from top industry professionals about best practices and principles within sports media and marketing, and to make networking connections that can be vital to pursuing a career in the sports industry.
Over the past several years, the center brought the following sports professionals to Point Park:
Bob and Celina Pompeani, KDKA-TV personalities
Mike "Doc" Emrick, former NBC Sports play-by-play announcer
Chris Eames, VP of Multimedia Sales and Marketing, ESPN
Jamie Kerr, director of corporate sponsorship, AT&T
Chris Jadick, former director, Bright House Sports Network
Stephanie Walston, former senior marketing producer, Bright House Sports Network
David Flora, former producer, PGA Tour Entertainment
Terry Lefton, editor-at-large, SportsBusiness Journal
John Ourand, staff writer, SportsBusiness Journal
Leah Brown, senior manager of government and public affairs, Bright House Networks
Alan Mason, former corporate vice president, local programming, Bright House Networks
Terry Kalna, former senior vice president of sales and broadcasting, Pittsburgh Penguins
Mike Tasevski, former senior vice president, U.S. sponsorship, MasterCard
Adrienne Jonas, vice president, U.S. sponsorship team sports, MasterCard
Bob Walsh, director of mobile engineering, NEP Broadcasting
Nicole Letourneau, human resources director, NEP Broadcasting
Chris Gage, former human resources generalist, NEP Broadcasting
Krystin Roczko, former U.S. field marketing manager, Reebok-CCM Hockey
Bentley Weiner, former director and coordinating producer, HBO Sports 24/7
Chris Ciaccio, former VP of Marketing for IMG, a global leader in sports, fashion and media
Sean Hanrahan, former senior VP of Global Marketing Solutions for ESPN, the worldwide leader in sports
Carrie Brzezinksi, VP of Marketing Solutions for ESPN, the worldwide leader in sports
Dejan Kovacevic, sports columnist and entrepreneur to present "The New Age of Sports Journalism"
Merril Hoge, NFL analyst, ESPN
Ed Haberle, vice president of North America Sporting Goods, Nike
Laura Kosmalski, senior director of retail brand presentation, Nike
Dan Potash, reporter, ROOT Sports
Rob King, studio host and play-by-play announcer, ROOT Sports
Shawn McClintock, senior vice president and general manager, ROOT Sports
Tom Kayser, former president of the Texas League
Ryan Ellis, former manager, St. Lucie Mets
Don Kelly, former player, Detroit Tigers
Bill Hillgrove, play-by-play announcer, Pittsburgh Steelers
Paul Steigerwald, former play-by-play announcer, Pittsburgh Penguins
Greg Brown, play-by-play announcer, Pittsburgh Pirates
Michael DeCourcy, college basketball columnist, Sporting News
Cindy Freed, former vice president, sales marketing, ESPN
Terry Rodgers, former social media coordinator, Pittsburgh Pirates
Jennifer Bullano Ridgley, chief communications officer, Pittsburgh Penguins
Jeff Gregor, former executive vice president and chief marketing officer, TNT and TBS
Frank Coonelly, former president, Pittsburgh Pirates
David Morehouse, former CEO, Pittsburgh Penguins
Lyndsay Signor, senior VP of consumer engagement and marketing, NBC Sports Group
Dan Hart, director of media relations, Pittsburgh Pirates
Burt Lauten, senior director of communications, Pittsburgh Steelers
Field Yates, American sportswriter and analyst, ESPN
Mallom Liggon, executive director of strategy and insight, Turner Sports
David Koonin, agent, Creative Artists Agency
Mark Gross, senior vice president, production and remote events, ESPN
Contact Us
The center is located in the Point Park University Student Center, Room 704. Learn more about the center's student advisory board and co-directors. For more information, please contact:
Get Social
Facebook | Twitter | Instagram
In Photos: Center Events