Giving Opportunities
Whether you choose to support a Student Organization that is close to your heart or give to the Student Need Fund, make it a point to impact a student's life at Point Park today!
How Can You Give?
Student Organization Allocations Fund: provides critical financial support to help student organizations host campus events, attend conferences, recruit members, and enhance their outside-of-the-classroom learning experience.
Student Need Fund: provides students with financial assistance during unexpected or emergency situations to support essential needs such as food, medicine, housing, or utility bills.
Amazon Wish List: Not ready to make a financial gift just yet? Send students a little something on our Amazon Wish List by selecting the item(s) that you would like to purchase, proceed to check out and add a new shipping address. Please ship to:
Point Park University Alumni
201 Wood Street
Pittsburgh, PA 15222
Delivery instructions: 3rd Ave receiving
*Deselect weekend delivery
AmazonSmile: Amazon will donate 0.5% of the price of your purchases to Point Park University when you use this AmazonSmile link.
Buy a brick or a seat: You can leave your legacy at Point Park with a brick in Alumni Park or a seat in the PNC Theatre.
Covid-19 Response Fund: provides critical financial support for the

 increased

 expenses involved in keeping our campus community safe, from restocking hand sanitizing stations to providing face masks, to the need for additional cleaning supplies.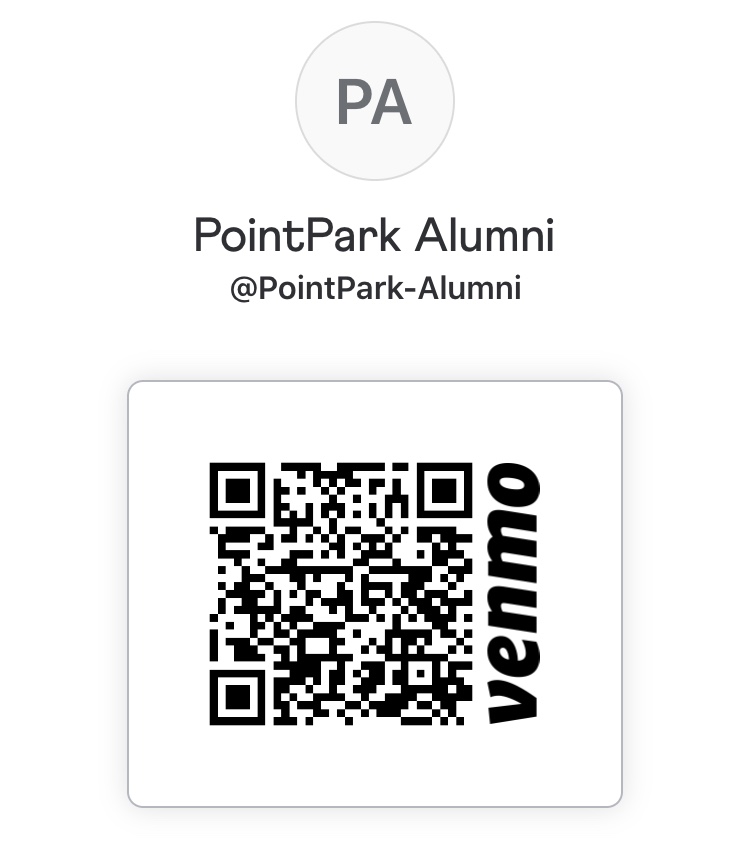 Venmo: Make your contribution to Point Park University via our secure Venmo account. Send donations to @PointPark-Alumni or use the QR code shown at the right.
Online gifts: are fast, easy and secure. Point Park accepts Visa, MasterCard, Discover and American Express. You can also make your credit card donation by calling us at 412-392-4205. Point Park's Office of Alumni Engagement and Giving is Payment Card Industry Compliant, ensuring that credit card donations received through any method are safely and securely processed.
To make a gift by check: please make your check payable to Point Park University and mail to:
Point Park University
Office of Alumni Engagement & Giving
201 Wood Street
Pittsburgh, PA 15222
Non-Monetary Gifts
Interested in donating resources to support student success? You can make a positive impact in the life of a student today by:
Donating to the Pioneer Pantry and help combat food insecurity for our students on campus.
Donating your gently used professional clothes to the Point Closet and help students dress for success.
Donating your old course materials to the Textbook Library and help students succeed in the classroom. For more information, email The Office of Alumni Engagement and Giving at alumni@pointpark.edu.
Phonathon and Mailings
You may receive a phone call or mailing from Point Park asking for your support of student success with a tax-deductible gift. For more information, please contact us at 412-392-4205 or alumni@pointpark.edu.
Matching Gifts
Many companies participate in matching gift programs. Some will even match gifts made by retirees and spouses. Want to double the impact of your gift? Contact your human resources department today and ask for a matching gift form.
Legacy Giving
Learn how you can include Point Park in your will, donate stock or make a charitable gift that provides you with income for life. For more information, contact Kristin DeLuca at 412-392-4777 or kdeluca@pointpark.edu.
Have any questions? Reach out to The Office of Alumni Engagement and Giving at alumni@pointpark.edu or by calling 412-392-4205.