more news
Confluence Psychology Alliance Spreads Awareness about Homelessness in Pittsburgh
Thursday, December 3, 2015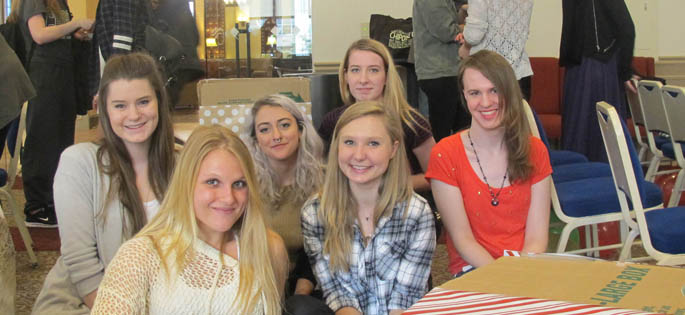 Expanding upon their annual blanket and coat drive, the Confluence Psychology Alliance student group at Point Park University held a donation kick-off party Nov. 17 to collect coats, blankets, hats, gloves, socks, hygiene products and more for Operation Safety Net.
OSN is a nonprofit organization that provides hundreds of men and women living on the streets of Pittsburgh with access to health care and other services through drop-in centers, soup kitchens and medical vans.
At the kick-off party, students decorated donation boxes and made 100 peanut butter and jelly sandwiches for OSN to distribute to those in need.

During these activities, attendees listened to graduate students Alexandria Bright, Calla Kainaroi and Jeremy Northup from the M.A. in clinical-community psychology program discuss their work with OSN and the reality of homelessness in Pittsburgh.
"Learning about homelessness can be an eye opener. It can happen to anyone," said Lyric Cooper, a freshman psychology major.
"Our graduate students are remarkable as they have synthesized theoretical knowledge with regard to community, ethical engagement and hands-on activism," said Robert McInerney, Ph.D., associate professor of psychology and Confluence's faculty advisor. "Likewise, our undergraduate students donated and helped energize the event."
Angie White, a freshman sports, arts and entertainment management major, said she learned about the kick-off party through her City-University Life class and became inspired to help.
Kylie Williams, a senior dance major, heard about the event in her sociology class with Sarah Schulz, Ph.D. "I stayed longer than I expected at the kick-off party because I became genuinely interested in what was being discussed," remarked Williams.
"I came to this event to help out and learn more about Operation Safety Net," added Denis Kostic, a sophomore psychology major.
"Operation Safety Net is wonderful. I think everyone was touched and inspired by the stories and mission of this beautiful organization," said Aidan Daughenbaugh, junior psychology major and co-chair of Confluence.
Emily Jamison, also a junior psychology major and co-chair of Confluence, added: "I think it's really important for students to attend Confluence events because it makes them more aware of opportunities to give back on campus and within the community. It also educates them on homelessness in our area, a subject that is often ignored."
Confluence members have set up donation boxes in the lobbies of Academic Hall, Lawrence Hall and West Penn Hall. Donations will be collected through the end of February 2016. For more information about donating, contact rmcinerney@pointpark.edu.




Photos by Victoria A. Mikula, junior mass communication major
More About: Confluence Psychology Alliance, psychology, M.A. in clinical-community psychology, student presentations