more news
Criminal Justice Club Honors Pittsburgh Police Chief Scott Schubert
Tuesday, May 2, 2017


Culminating their focus on police appreciation this year, the Criminal Justice Club at Point Park University recently held a dinner honoring new Pittsburgh Police Chief and Point Park alumnus Scott Schubert.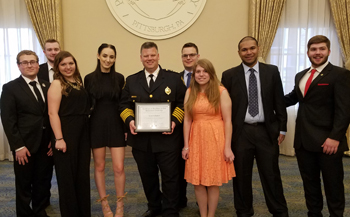 "When we heard that Scott Schubert was officially named chief of Pittsburgh Police, we knew we wanted to center our year-end event around him, especially because he is both an undergraduate and graduate alumnus of Point Park University," explained Carlin Diachun, a senior criminal justice major from Livonia, Mich., and president of the Criminal Justice Club.
Schubert was also the keynote speaker at Point Park's Hooding and Degree Conferral Ceremony this year.
"I was truly humbled to be honored by the Criminal Justice Club and thankful for the opportunity to spend time with the students. The event brought back fond memories of my time spent at Point Park University and it was nice to share some of my experiences from law enforcement with the group," Schubert said.
"With the help of CJIS Department Chair Mike Botta, Dean Keith Paylo, Chief Jeff Besong and the Alumni Association, the students were able to create a really beautiful and memorable event with Chief Schubert, who is one of our own criminal justice graduates," said Sean Elliot Martin, Ph.D., instructor of criminal justice and intelligence studies, director of undergraduate intelligence studies, co-advisor of Point Park's Alpha Phi Sigma National Criminal Justice Honor Society and advisor of the Criminal Justice Club.
"Police appreciation is a passion of ours. Point Park has helped me through two internships with the Pittsburgh Police, where I gained experience working alongside officers in different zones and with detectives in special units such as homicide and narcotics," explained Amar Shiwlochan, a 2017 Bachelor of Science in criminal justice graduate from Flushing High School in Queens, N.Y.
The club hosted several "Cake for Cops" events throughout the academic year by visiting many Pittsburgh Police zones with cakes and cards to show appreciation for the city's police officers.
"I have really enjoyed the faculty in the criminal justice and intelligence studies department here and I am seeing first hand how relevant the education we are being taught is to the field," said Justin Stocklas, a junior intelligence and national security major.
Schubert added: "These students are the future of the criminal justice field and I am extremely proud of them for their continued commitment to selfless service and helping others. I wish them nothing but success and happiness with their future endeavors."

Photos by Kaylee Kearns, sophomore sports, arts and entertainment management major
More About: alumni, School of Arts and Sciences, criminal justice, Pittsburgh, intelligence and national security