more news
Engineering Technology Classes Prepared 2015 Graduate to Work With Nuclear Submarines
Friday, November 13, 2015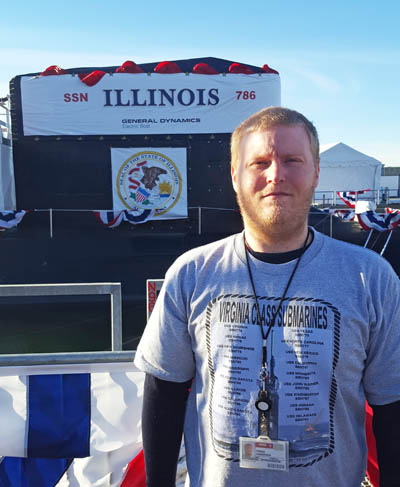 Pictured is Anderson at General Dynamics' shipyard
Oct. 10 when the Navy submarine 'Illinois' was
christened by First Lady Michelle Obama.
Meet Chad Anderson
Job title: Engineer I
Employer: General Dynamics Electric Boat
Degrees earned: B.S. in Electrical Engineering Technology, Point Park University, 2015; and A.S. in Electrical Maintenance Technology, Triangle Technical Institute, 2011
College activities: Tutor on campus helping students with math, science and engineering technology course work
Scholarships from Point Park: Transfer Presidential Scholarship
Hometown: Knox, Pa.
High school: Penn Foster High School
Now living in: Groton, Conn.
Hobbies/interests: Fishing, camping, video games and playing/conducting maintenance work on anything electrical
What factors made you choose Point Park?
Triangle Tech had a page on their website with schools, Point Park being one of them, that accepted their credits. I called Point Park and talked with Dr. Donald Keller, who discussed in great detail the classes available and the work involved. I also took a campus tour and spoke with the Financial Aid Office and found out I was eligible for the Transfer Presidential Scholarship since I earned a 4.0 G.P.A. at Triangle Tech. All these things led me to choose Point Park.
How did the Career Development Center help you land your engineering position?
The Career Development Center helped me create my resume and assisted me with how to organize and format it. They gave me information about websites to place my new resume on and where to search for job positions. Also, they told me about the WestPACS Job Fair (watch a video interview with Anderson about the job fair) and gave me a list of all the companies and organizations attending. I was given advice on what to do and what to take with me. It was at this job fair that I met with representatives from General Dynamics Electric Boat. I started my paperwork with the company right there at the booth.
How did our electrical engineering technology program prepare you?
The classes introduced me to a wide variety of topics in the engineering field. My job has me working on various systems so being versatile is a must. Working in a group environment on projects and lab assignments helped prepare me for working within my engineering group. The job assignments given to those in my group are peer reviewed by fellow engineers so being able to relay information back and forth and assist others is a highly-needed skill.
Writing lab reports for nearly every engineering technology class I took at Point Park helped prepare me for all the paperwork required for nuclear submarines. Every little thing gets recorded with reports, sometimes in multiple forms. In addition, the ability to analyze circuit drawings was a skill I learned over again and again in the engineering technology classes at Point Park. My job at Electric Boat has me looking at drawings and schematics for everything I do, which has been made easier with the techniques I learned in class. Some job tasks require quick responses. I work in installation and repair and having the ability to pull out a drawing and quickly analyze what could be wrong is something my group values.
What's one of your favorite Point Park memories?
My overall time spent tutoring all kinds of students, from engineering technology to dance and theatre majors, is a favorite memory. Working with the people in the tutoring department was one of the best experiences and memories one could ask for as a student.
What are your career goals?
My career goals are to advance within General Dynamics Electric Boat. Working on nuclear submarines from start to finish has been a dream job of mine. I am currently in the process of applying for admission to college to obtain my master's degree to help further myself within the company. I wish to retire from Electric Boat after a long and lucrative career.
Your final thoughts?
To all the soon-to-be engineers out there, start your job search as early as possible. It can take months to go through all the paperwork and interviews.

I would like to thank Dr. Keller for helping me to choose and get started at Point Park. His lesson plans were always quite detailed and informative.
Also, I would like to thank Dr. Johnson for being so helpful and supportive in all of his classes and for making the lesson plans straightforward and relevant to what one should expect in the real world. His Differential Equations class, although quite difficult, was always fun.
Lastly, I would like to thank Leslie Fronczak, adjunct faculty member in the Department of Natural Sciences and Engineering Technology and former coordinator of math and science tutoring, for providing such a great work environment along with all her support and help throughout all of my classes.


More About: Penn Foster High School, scholarships, success story, electrical engineering technology, engineering technology, Career Development Center, transfer, alumni, Internship and Job Fair