more news
Faculty Profile: Meet Barbara Barrow, Ph.D., Assistant Professor of British Literature
Tuesday, October 7, 2014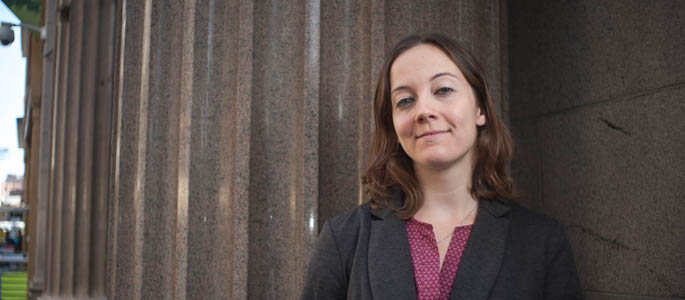 Barbara Barrow, Ph.D., recently joined Point Park University as an assistant professor of British literature. Prior to joining Point Park's faculty, Barrow taught, co-taught and served as a teaching assistant for courses in literature, composition and film at Washington University, where she received her Ph.D. in August 2014. She also taught English as a Second Language at Tsinghua University in Beijing and at the International Institute of St. Louis. Barrow speaks German and studied abroad at Friedrich–Alexander University Erlangen–Nürnberg and Philipps-Universität Marburg.
What brought you to Point Park University?
I liked the prospect of working in a liberal arts university in a downtown setting and getting to work with students and faculty from a variety of fields and disciplines. I also really like the emphasis on the arts here on campus. Having so many students involved with theatre and cinema production makes for interesting discussions in my lit courses about adaptation and the ways stories get told through different mediums.
What inspired your passion for literature?
I've loved to read ever since I can remember! My parents encouraged me to read from an early age. We always struggled for money and my parents worked multiple jobs, but there was a kind of unofficial rule in the house that if I really wanted a book the money would somehow be put aside for it. I remember reading children's books and getting so worked up about them that I wrote to the authors and sent them alternative endings I had composed. (Some of them even wrote back!)

When I got to middle school, someone donated our class a huge load of books and I had a teacher who used to give me some of these books to read in addition to the work for class. I remember reading Cervantes's Don Quixote, Samuel Richardson's Pamela, and Jamaica Kincaid's Annie John because of this teacher. When I got to college, my English professors encouraged me to think about graduate school and I suppose I've been a kind of professional bookworm ever since.
What have you enjoyed about Point Park so far?
I've really been enjoying the time in the classroom. We're finishing Jane Eyre and starting Wide Sargasso Sea in my world literature classes and we're just wrapping up a unit on food production and factory farming in my composition classes. Those texts and topics have led to some very lively discussions.
Is there anything else you'd like to add?
I encourage our students to consider submitting work for the annual undergraduate symposium in the spring. And, regardless of whether you submit or not, please plan to attend!
More About: faculty, English, Department of Literary Arts