more news
High School Students Visit Point Park for Black Men Teaching Conference
Wednesday, June 10, 2015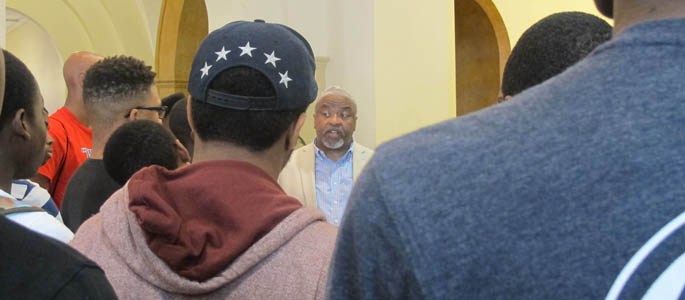 Stanley Denton, Ph.D., associate professor of education at Point Park, talks with local high school
students about the teaching profession.

Held at Point Park University again this year, the Second Annual "Ever Consider Teaching?" Black Men Teaching Conference May 28 addressed the need for more black male teachers in America's elementary, middle and high schools.

The conference is part of the Black Men Teaching Initiative, a consortium made up of faculty and staff representatives from Point Park University, Indiana University of Pennsylvania, California University of Pennsylvania and the Community College of Allegheny County.
"Having diversity in the teaching profession is very important. We need more black male teachers in our classrooms for students to identify with and look up to," explained Stanley Denton, Ph.D., associate professor of education at Point Park.

Students from Pittsburgh Allderdice, Pittsburgh Brashear, Pittsburgh Carrick, Pittsburgh Milliones University Preparatory, Pittsburgh Science and Technology Academy, Propel Andrew Street and Propel Braddock Hills high schools learned about the many benefits and opportunities a career in teaching affords.

"This conference was very beneficial to me. It made me think about a lot of things in my life and was an eye-opening experience. I left the seminar inspired and motivated for higher goals and dreams," said Odell Minniefield, a student at Pittsburgh Allderdice High School.
Representatives from the Pittsburgh Federation of Teachers including Nina Esposito-Visgitis, PFT president, also attended the conference.
"I was really pleased we had such a large turnout from Pittsburgh Public Schools in addition to the other schools. We deeply appreciate the assistance of Mr. Janard Pendleton for his help in securing the involvement of Pittsburgh Public Schools," said Denton. "I'll be following up with visits to these schools to continue to encourage black male students to pursue teaching," added Denton.
Coordinated by Daniell Matthews, Point Park's senior associate registrar, this year's conference began with a welcoming reception, followed by a keynote address from Jason Edwards, senior associate for the American Federation of Teachers.

Students then attended breakout sessions where they could ask questions about the pros and cons of teaching and learn about the steps to earning an undergraduate degree in education.
Rev. Darryl T. Canady, D. Min., pastor of Rodman Street Missionary Baptist Church in Pittsburgh, inspired the students with his closing message about the positive impact of teachers.

"Reverend Canady discussed how a conversation with just one of his high school teachers changed the trajectory of his life," remarked Denton. "His message emphasized that teachers really do make a difference in people's lives."
Additional students from Pittsburgh Allderdice High School provided feedback about the event.
"I really liked the passion that all the speakers had. They were not only passionate about teaching but also the future of young black males." - Terrell Galloway
"The program offered me more than just education on teaching. I learned about overcoming obstacles and that I can have a promising future ahead of me." - Jordan Rawls
More About: elementary education, Pittsburgh Promise, Pittsburgh Taylor Allderdice High School, secondary education, faculty, Carrick High School, Propel Braddock Hills High School, Pittsburgh Brashear High School, Pittsburgh Science and Technology Academy, Pittsburgh Public Schools, education, Propel Andrew Street High School