more news
Meet Alumna Elisabeth Jensen, Third Grade Teacher
Wednesday, November 28, 2012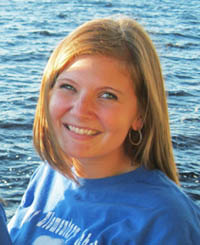 Meet Elisabeth Jensen
Degree earned: Bachelor of Arts in Elementary Education
Graduated: Dec. 2011
College activities: Orientation Leader and Assistant Coordinator for Pioneer Experience
Hometown: Williamsport, Pa.
High School: Montgomery Area High School
Now living in: Port Charlotte, Fla.
Hobbies/interests: Shopping
Who inspired you to become an elementary teacher?
When my mother was 40 she made the decision to go back to college to pursue her lifetime dream of becoming a teacher. I watched her establish a classroom, fall in love with her students and become a fantastic teacher.
Working with children is something that comes naturally to me, so moving into a classroom was an easy transition. I am so thankful to have found a career that I find so gratifying and makes me so happy.
What has been your favorite part so far about teaching third grade?
Of course my students make my job worth it every day. They are so enthusiastic about learning and excited about new things. One of my students said to me, "Miss Jensen, you are teaching us real good." I have my work cut out for me, but I am so excited to be in the classroom.
How has Point Park's education program prepared you for your career?
During my sophomore and junior year at Point Park I participated in Pioneer Experience where I was an orientation leader and later an assistant coordinator. I am so thankful that I was able to participate in this event. I was able to express my leadership skills and make some great friends in the process.
Also, I am so thankful to professors like Dr. Suzanne Miller and Dr. Christal Chaney. They both gave me a practical look into education and allowed for first-hand experiences in their classes. Their knowledge was irreplaceable and they were both great inspirations. Another fantastic component of my education was my student teaching experience. I student taught second and fourth grade at South Fayette Elementary School. It was such a fantastic experience! I quote my cooperating teacher, Robin Sciotto, on a daily basis. She was such an inspiration and I learned so much in her classroom.
College was such a great experience. I'm so glad I went to Point Park. I got a practical education and had so many fantastic experiences on the way!
More About: education, elementary education, success story, alumni, Montgomery Area High School