more news
Ocean City Police Officers Share Summer Opportunities with Criminal Justice and Forensic Science Students
Friday, November 5, 2021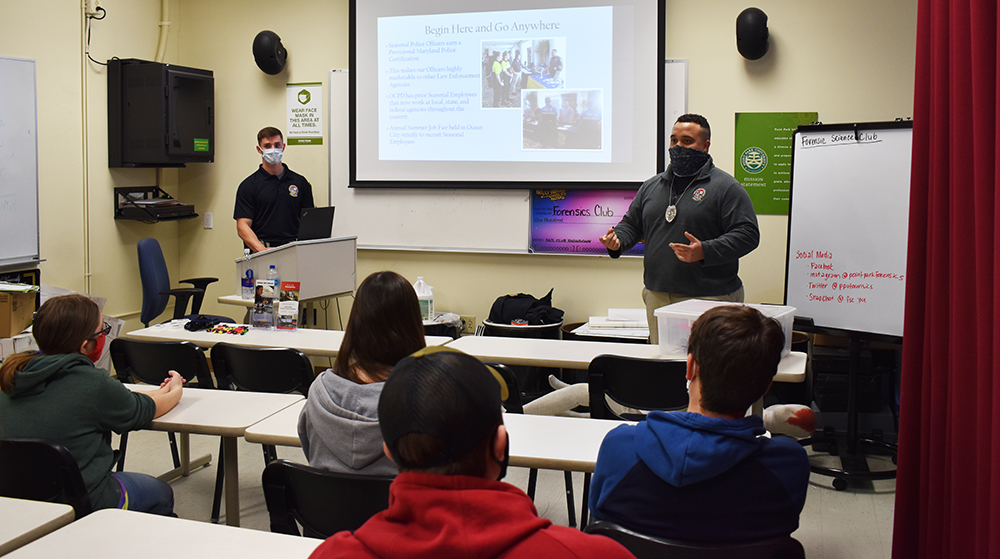 Students in several criminal justice and forensic science classes learned about summer internship and job opportunities available at the Ocean City Police Department as Officers Justin Koser and Yovanny Ramirez visited Point Park University's campus to discuss seasonal openings for police officers, public safety aids and 911 communication operators. 
"This experience will make you a marketable candidate no matter where you go," Ramirez said. 
Ocean City, Maryland has approximately 15,000 residents in the winter, but that number jumps to 300,000 during the summer, the officers said. OCPD is looking to hire 100 police officers, 50 public safety aids and 20 communication operators for the peak season. The positions are paid, but the department also works with Point Park to provide interested students with college credit as they gain experience in the field. 
Ramirez, who grew up in Pennsylvania, always wanted to be a state trooper. He worked for the OCPD during the summer as a college student, and the opportunity gave him first-hand police work experience, without the commitment of a contract like other law enforcement jobs. 
"That summer experience assured me that this is what I wanted to do for my career," he said.
Edward Strimlan, M.D., associate professor and coordinator of the forensic science program, said Point Park's partnership with the OCPD gives students the opportunity to talk with professionals working in the field and provides great hands-on experience. 
The Department of Criminal Justice and Intelligence Studies faculty are committed to connecting students with real-world opportunities while they complete their degree. The U.S. Supreme Court Police Department and Allegheny County Jail are among the numerous organizations that visit campus to discuss internships with students.
Read about Point Park alumni who worked with the Ocean City Police Department:
More About: forensic science, criminal justice, internships, School of Arts and Sciences