more news
Point Park Alumni and Student are Building Their Careers at IMS Systems
Monday, January 11, 2021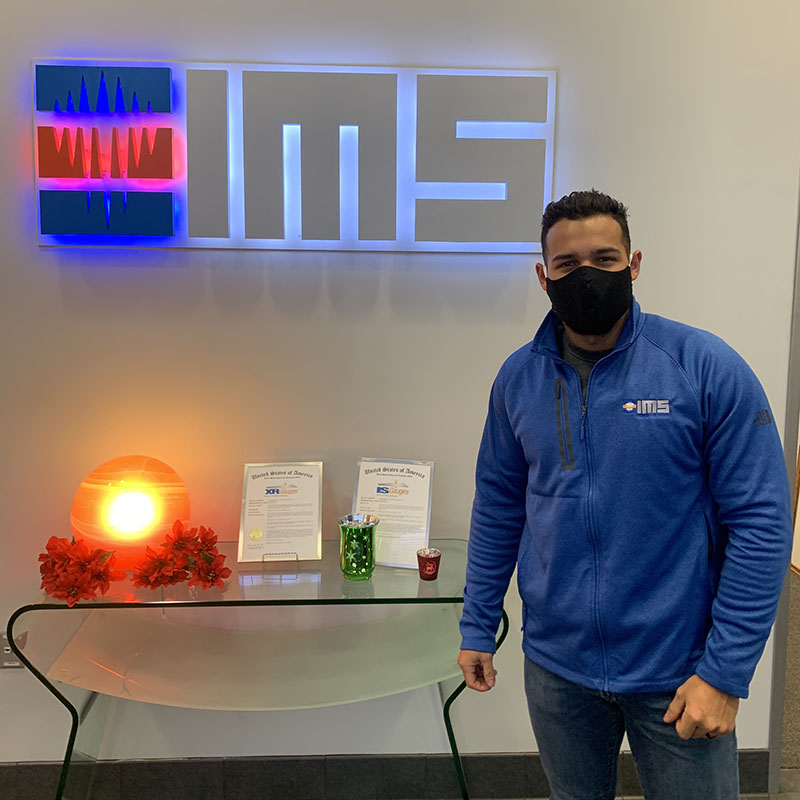 Edberg Dominguez '18 is an accountant at IMS Systems.
"Point Park University lays a very solid foundation regarding technical skills and the respective subject matters. It has become obvious to our organization that Point Park graduates have learned to extrapolate their knowledge and to apply it in neighboring fields and disciplines, which is very important when systematic troubleshooting is required. They work very independently and actively push to learn more and take on more responsibility. This shows that Point Park has managed to form well-rounded young professionals who have a lot to offer to the industry."
Markus Forsch, Director of Sales & Service, North American Operations, IMS Systems
Point Park University alumni Edberg Dominguez, Angel Melendez and current student Joshua Jackson work for IMS Systems, a manufacturer of measurement solutions for steel and aluminum mills. In this Q&A, learn how Point Park prepared them for their careers.
Edberg Dominguez '18
Job title: Accountant
Degree earned from Point Park: B.S. in economics and finance; MBA with a concentration in sports, arts and entertainment management
College activity: Baseball
Hometown: Caracas, Venezuela
Now living in: Pittsburgh, Pa.
Hobbies/interests: Baseball, sports, fitness and biking
Why did you choose Point Park?
I chose to come to Point Park in 2014 in order to continue my education as well as play baseball for one of the best NAIA programs in the U.S. Baseball was the main reason I decided to attend the University, but I was also fortunate enough to really enjoy the economics and finance program, too, which was a plus. 
How did your experience at Point Park help prepare you for the work you're doing at IMS?
All of the different classes I took helped me to gain the fundamental skills I needed in order to become an accountant and build my finance knowledge. The stressed importance of completing an internship was also something that helped me gain relevant experience in the industry and prepared me for the job I have today. It also helped me with other aspects of being successful such as time management, professionalism, etc.
Aside from the education you received within the classroom, what other aspects of the Point Park experience prepared you for your career?
All of the tools that Point Park made available to me throughout my time there were very important. I never felt alone in my experience and struggles. There was always a resource available to help whenever needed. Being an international student comes with its own challenges, and the International Students Office specifically was very critical in helping me succeed at Point Park. I am grateful for all the ways they helped me.
Is there anything else you would like to add? 
Pittsburgh is an amazing city that welcomed me with open arms and taught me so many great things about American culture. I can officially say that after living here for almost seven years I feel like a true Pittsburgher and am now a Pittsburgh sports fan for life. I also met my wife at Point Park and many great, lifelong friends.
Angel Melendez '17
Job title: Field Service Engineer (Level 3)
Degree earned from Point Park: ​B.S. in electrical engineering technology
Minor: Mathematics
College activity: Baseball
Hometown: Morovis, Puerto Rico
Now living in: Mars, Pa.
Hobbies/interests: Travel and sports
What work are you doing at IMS Systems?
IMS is a leading manufacturer of non-contact X-ray, isotope and optical measuring systems that gauge multiple dimensions of ferrous and non-ferrous metals. Some of my responsibilities as a field service engineer include hardware and software commissioning of new IMS measuring systems, installation supervision of electrical and mechanical contractors on site, providing consulting services to optimize customers' metals process needs, providing technical training to customer operators and new service employees and revising systems documentation and drawings. 
What do you enjoy about it?
There are three major points that makes this job very special: constantly learning new and innovative technologies, exponential professional growth and networking throughout the U.S., Canada, Mexico and Germany.
Aside from the education you received within the classroom, what other aspects of the Point Park experience prepared you for your career?
Point Park's diversity allowed me to experience and learn other cultures, which helps me tremendously in my career path. Diversity expands the range of talent, creating a more varied team based on their culture and education.
What career advice do you have for current students interested in the same or similar field of study?
Take risks and see mistakes as learning opportunities, not things to be avoided at all costs.
Joshua Jackson '21
Job title: Service Engineer
Major: Electrical engineering
Hometown: Port St. Lucie, Fla.
Now living in: Pittsburgh, Pa.
Hobbies/interests: Computers, e-sports and binge-watching shows on Netflix
How did you land your job at IMS Systems?
I was connected with IMS by Dr. Gregg Johnson from the NSET department. He told me about the position, and it sounded like my ideal first job as an engineer. As a service engineer, my job requires travel to many different states commissioning, repairing and maintaining IMS measurement systems.
What do you enjoy about it?
I get to travel and see places all across America while working in my chosen field. IMS has been great about working around my school schedule, as well, which has been a tremendous help in completing my classes.
What is it like working in your chosen field before you graduate?
It's wonderful to be able to gain real-world experience working while simultaneously learning the theoretical side at Point Park.
Why did you choose Point Park?
I love living and going to school in Downtown Pittsburgh. The city truly feels like my campus.
More About: Pittsburgh, student athletes, alumni, athletics, faculty, electrical engineering, accounting, internships, Rowland School of Business, economics and finance, success story