more news
Psychology Professor Recognized for Receiving Carmi Harari Mid-Career Award
Monday, April 16, 2018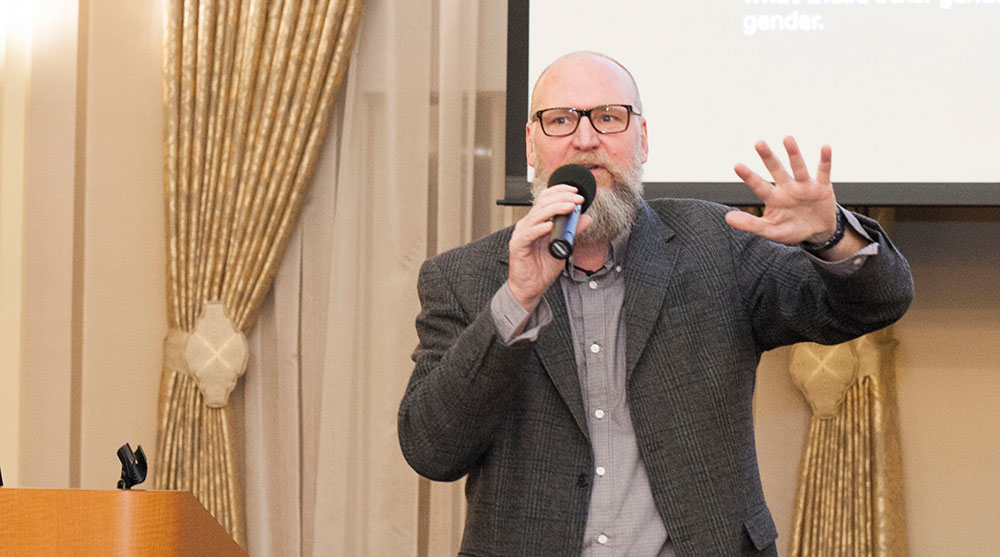 Robert McInerney, Ph.D., associate professor in the Department of Psychology, was featured in the Society for Humanistic Psychology's April 2018 newsletter for receiving the Carmi Harari Mid-Career Award for his work with Point Park University's Confluence Psychology Alliance student group.
The article was written by alumnus Kevin Gallagher '15, '16, and titled "Robert McInerney: Bringing Zombie Education to Life." 
According to Gallagher, McInerney received a standing ovation at the 10th Annual Conference of the Society for Humanistic Psychology held last year at Point Park, when Brent Robbins, Ph.D., presented him with the Carmi Harari Mid-Career Award for his work with Confluence. 
"Even then, during his speech, he did not talk of his accomplishments, insisting the credit go to past and current members of Confluence," Gallagher wrote.
Gallager added: "Bob is an exemplar of walking the shaky ground of truly being with the other. He embodies the spirit of community — sometimes threatening bodily harm to himself in the process, by jumping up on desks or rolling across the room — and because of this, his students, his university and even the world, are better off."
Learn More
Point Park University offers a Bachelor of Arts in psychology, a Master of Arts in clinical-community psychology and a Psy.D. in clinical-community psychology.
Request information, schedule a campus visit or apply online.
More About: psychology, School of Arts and Sciences, faculty