more news
Accounting Majors Win 2018 Outstanding Student Achievement Awards
Friday, February 2, 2018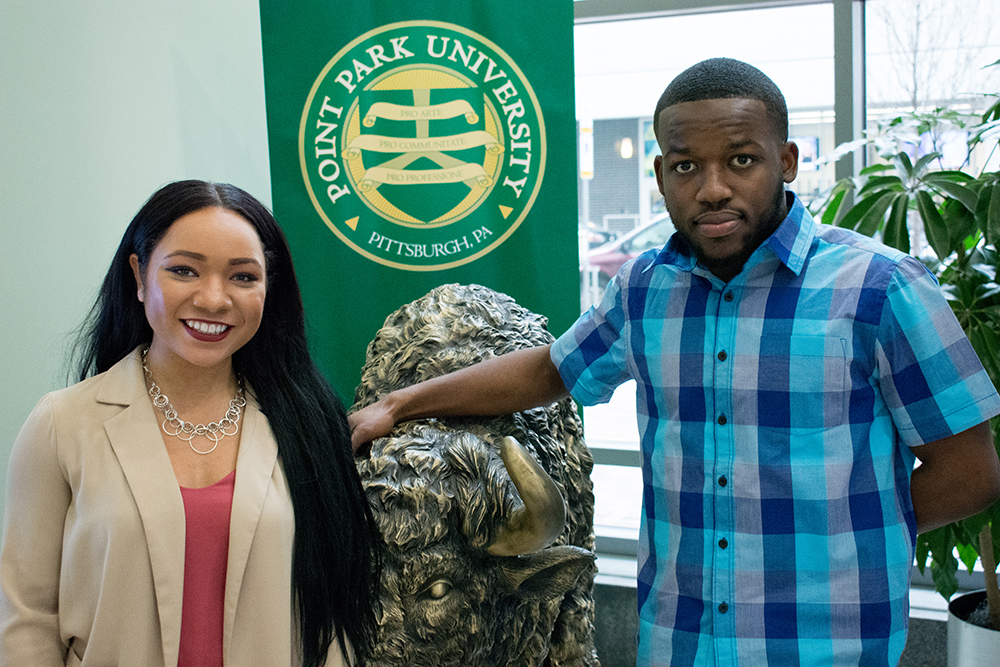 Point Park University accounting students Chereese Langley and Andre Bennett both won 2018 Outstanding Accounting Student Achievement Awards from the Pittsburgh Chapter of The Institute of Internal Auditors.
Each year, the IIA Pittsburgh Chapter honors three students with a $2,000 scholarship who have made substantive contributions to their university and/or the community while maintaining academic excellence in accounting and demonstrating leadership.  
"We are so incredibly proud of Chereese and Andre! The fact that two of the three awardees are Point Park students really demonstrates the talent, commitment and hard work of our amazing group of accounting students," said Margaret Gilfillan, M.B.A., CPA, Point Park professor of accounting and chair of the Department of Accounting, Economics and Finance and Information Technology in the Rowland School of Business.
"I can't really put into words the feeling I have knowing my hard work is paying off and was recognized by the Institute of Internal Auditors," said Langley, a senior accounting major from DuBois Area High School in DuBois, Pa.
"Point Park has opened so many doors to opportunities for me. All of my accounting professors have played a huge role in my accomplishments," she added.
Langley is currently interning in the risk advisory services department for Schneider Downs. After graduation, she plans to work in internal auditing and earn both certified public accountant and certified internal auditor licenses.
"After learning I won the award, my first reaction was to reach out to Chereese to see if she also won. I was even more excited when she told me that she won the award too," said Bennett, a junior accounting major from Cornwall College High School in Montego Bay, Jamaica.
He added: "Point Park and its faculty have exposed me to many professional organizations. I am sincerely grateful to the Institute of Internal Auditors for recognizing me as an Outstanding Accounting Student."
Bennett's career goals are to work in public accounting and earn a CPA license.
"I will get a feel of what public accounting is like in the real world when I do my internship with PwC this summer," he said.
Photo by Brandy Richey, junior multimedia major
More About: accounting, internships, Rowland School of Business, student competition, economics and finance, Schneider Downs