more news
Accounting Students Win Case Study Competition Second Year in A Row
Tuesday, November 18, 2014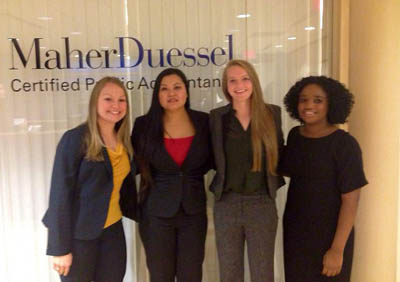 Left to right: King, Krueger, Mikolay and Acrie

For the second year in a row, Point Park University accounting students captured first place in the Third Annual Pittsburgh Institute of Internal Auditors/Pennsylvania Institute of Certified Public Accountants Case Study Competition Nov. 6.
The Point Park winning team - "Four Profiteers" - was made up of students Channel Acrie, Marcy King, Khouanchay (Kay) Krueger and Amanda Mikolay.
Five Point Park teams from Adjunct Instructor Richard Neish's auditing and forensic accounting courses competed against students from Carlow University, Duquesne University, Robert Morris University and the University of Pittsburgh, among others.
"The competition was fierce. After reading all of the submissions from the five Point Park teams, I believe they all could have been selected as finalists," remarked Neish, who is also associate vice president, corporate risk management, PNC Bank.
"Professor Neish mentored us the whole way through and ensured we stayed on track and on target. Without his expertise, we wouldn't have been able to pull it off as well as we did," said Krueger, a senior accounting major.
According to Mikolay, also a senior accounting major, all of her accounting courses helped her succeed in the competition because they gave her not only a general understanding of accounting principles but also the knowledge to know how to apply these concepts to the real world.

"We knew how to determine controls and risks of the company and how to mitigate those risks, which was a major chunk of this case study," explained Mikolay.

"The auditing course at Point Park gave me the knowledge I needed to identify the company's top risk and concerns," added Acrie.
This year's case study competition was held at the Pittsburgh office of Maher Duessel, a leading regional public accounting firm with more than 70 professionals.
"The instructors I've had and the courses I have taken at Park Point have been wonderful. I have been able to strengthen my knowledge and grow as an individual," said Marcy King, a junior accounting major.
Cheryl Clark, M.B.A., C.P.A., associate professor of accounting, added: "I know we all feel privileged to be teaching these talented and hardworking accounting students."
More About: accounting, Rowland School of Business, student competition