more news
PA Institute of CPAs Awards Scholarships to Point Park Accounting Students
Wednesday, July 2, 2014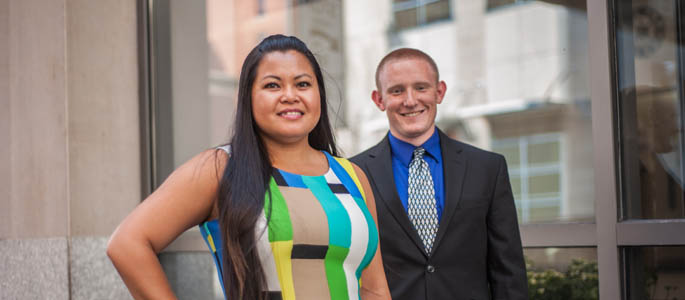 Point Park University accounting students Khouanchay (Kay) Krueger and Christopher Cerda were awarded $3,000 multi-year scholarships from the Pennsylvania Institute of Certified Public Accountants.
"We are fortunate at Point Park University to have some very talented and motivated accounting students. Chris Cerda and Kay Krueger definitely fall into this category," remarked Cheryl Clark, M.B.A., C.P.A., associate professor of accounting. "I am pleased beyond words when our hard-working students get recognition as prestigious as this from the PICPA."
According to Clark, PICPA scholarships are awarded to qualifying full-time students who have completed a minimum of 36 credit hours, have a declared major in accounting with a minimum 3.0 GPA and are preparing to take the CPA exam. Additionally, students must answer essay questions and submit faculty recommendations.
"After graduation, I hope to work at a C.P.A. firm, pursue my M.B.A. degree at Point Park and study for the C.P.A. exam," said Krueger, who serves as president of the Student Accounting Association. "Professors like Amy Cesario, Cheryl Clark and Margaret Gillifan have been extremely supportive of the Student Accounting Association and are always there to help students stay updated on scholarships, internships, jobs and more," added Krueger.
Cerda also plans to take the C.P.A. exam and pursue a position at a public accounting firm after graduation.
"Professors Edward Scott and Cheryl Clark have been a tremendous help to me. The real-world experience that Point Park's accounting professors have not only impacts the classroom experience but also gives students the opportunities to make connections in the industry," remarked Cerda.
"I think my colleagues would agree with me that Point Park's accounting program is staffed by a motivated and passionate group of accounting faculty. We work together to give our students every advantage we can so they are knowledgeable in the field, understand their opportunities and are ready to hit the ground running in the profession upon graduation," explained Clark.

Point Park accounting students have landed internships and full-time jobs at a variety of leading companies such as Bank of New York Mellon, Exico, Inc., KPMG, Maher Duessel, Pricewaterhouse Coopers and Schneider Downs.
"Being that I work full time, Point Park's flexibility and online classes have been very conducive to my schedule. I wouldn't have been able to reach my career goals without the flexibility that Point Park offers," explained Krueger.
More About: student competition, Rowland School of Business, accounting