more news
Accounting/SAEM Student Named Financial Executive Scholar
Monday, April 4, 2011
Double majoring in accounting and sport, arts and entertainment (SAEM) management has not only put Josh Forrester, a Marine Corps veteran, on a solid path toward his career goals but also led to his recent designation as a 2011 Financial Executives International (FEI) Scholar.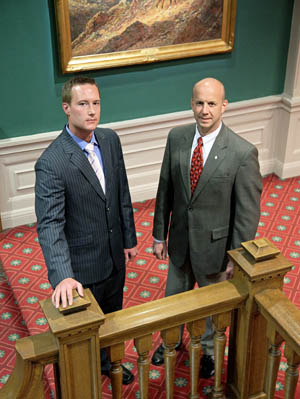 Josh Forrester joins Mark Murtha, a board
member of the Pittsburgh chapter of Financial
Executives International.

Based on his high academic achievement, community involvement and aspirations to work in finance, Forrester was selected to receive a $1,000 scholarship from the Pittsburgh chapter of FEI.
Mark Murtha, FEI board member and scholarship committee chair, presented Forrester with the scholarship in March. Murtha is also chief financial officer of Willis of Pennsylvania, Inc., a leading global insurance broker.
"I was impressed with Josh's maturity, military service and strong academic background," remarked Murtha.
Cheryl Clark, C.P.A., associate professor of accounting, nominated Forrester for the scholarship. "Josh has a strong work ethic and the willingness to put in the study time that is necessary to learn accounting."

Forrester, 28, took what he describes as a "scenic detour" before entering college.
After graduating from high school in South Bend, Ind., Forrester joined the U.S. Marine Corps infantry and spent several years on active duty in Iraq, Indonesia and the Philippines. Forrester also served in Japan where he taught Japanese students the English language.
"When my contract with the Marine Corps was completed, higher learning quickly became the next logical step toward reaching my career goals," explained Forrester, who at the time was living in San Diego, California.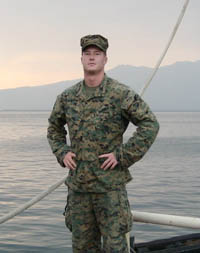 Josh Forrester on active duty
in Japan

Forrester was offered scholarship money from several universities. He chose to move to Pittsburgh and attend Point Park for its small class sizes and unique offering of a sport, arts and entertainment management major.
Having the opportunity to dual major in accounting and SAEM gave Forrester the opportunity to target both of his career goals - working in the financial department of a sports organization or in forensic accounting for the FBI.
Forrester described learning from professors who work in the fields they are teaching as another key advantage of Point Park.

"They have the experience of actually doing the work rather than just teaching it," said Forrester.
According to Clark, professors in the School of Business make it a priority to bring their real world experiences into the classroom.

"Our main focus is on preparing students for the work force," she said.
Forrester takes 18 credits every semester in order to meet his goal of graduating in four years. Soon after graduation, he plans to get a certified public accountant license.
As a double major, Forrester will already have earned the required 150 credits hours to take the CPA exam.
"All organizations need accountants especially those in the sports industry," explained Clark. "Josh's strong foundation in accounting will give him a real advantage."
More About: accounting