more news
Advanced Accounting Students Tour PNC Tower and Network with Executives
Tuesday, April 23, 2019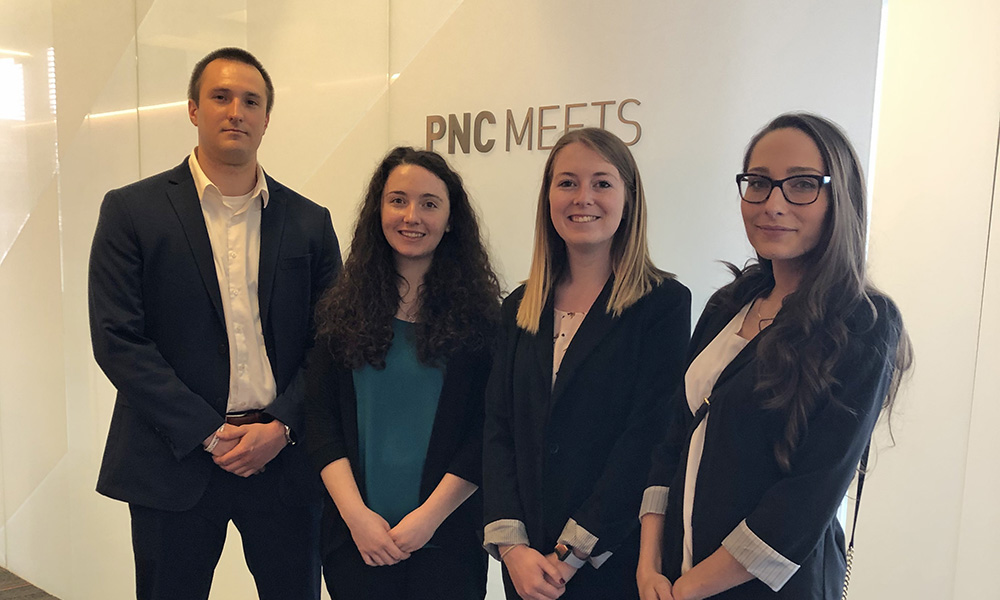 L to R: Ryan Bytzura, Jenna Herman, Madeline King and Lynn Gasiorowski
"It was rewarding for our class to see the processes we vigorously study being used by one of America's finest financial institutions."
Ryan Bytzura, senior accounting major
Point Park University students from the Advanced Accounting Theory class recently met with PNC executives Katy Reeping, vice president of financial reporting and analysis, and John (J.J.) Matthews, director of finance governance and SEC reporting, among other PNC accounting professionals.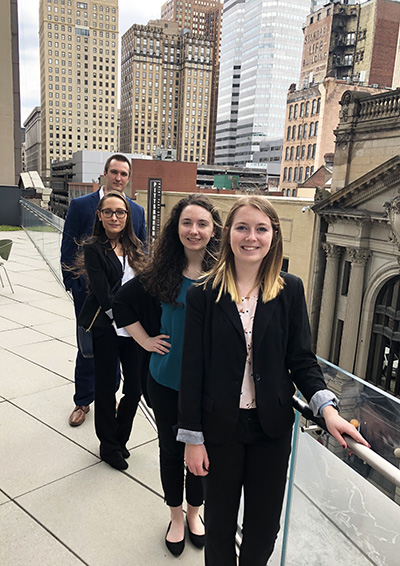 Taught by Assistant Professor Jayne Olshanski, MBA, CPA, the Advanced Accounting Theory course focuses on acquisition accounting and SEC reporting.
According to Olshanski, students apply course concepts in cases that require financial analysis and accounting policy verification of SEC reports of real companies.
"Our PNC visit allowed the students to witness accountants working on the job with these complex accounting concepts. I was impressed to see these PNC executives take the time to review the organization's entire Form 10-K with our students during a very sensitive time period for them," Olshanski said.
One those students was accounting senior Ryan Bytzura — who will be joining PNC full time in their finance and accounting development program in June.
"This opportunity afforded us the unique ability to connect with PNC's top-level management while gaining valuable insight into the highly regulated work that they are responsible for completing each day," explained Bytzura, a graduate of West Mifflin Area High School in West Mifflin, Pa.
"It was rewarding for our class to see the processes we vigorously study being used by one of America's finest financial institutions. This further emphasized the importance of our work in maintaining America's transparent capital markets functions," Bytzura added.
Jenna Herman, a senior from Neshannock Jr./Sr. High School in New Castle, Pa., found PNC's environment very welcoming and liked how the company focuses on giving employees a great space to work.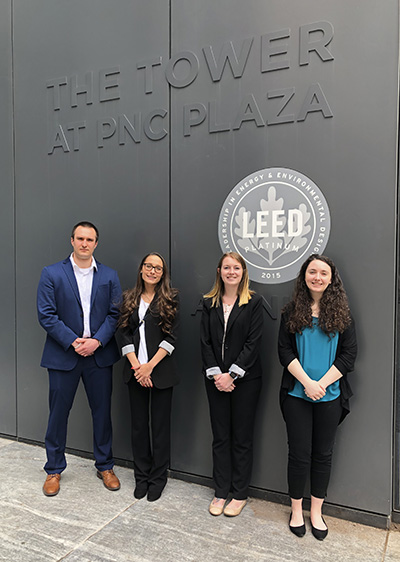 "Having so many prominent companies like PNC just a few blocks away from campus is so beneficial for us," Herman said.
Senior Madeline King from South Allegheny High School in McKeesport, Pa., added: "It was rewarding meeting with professionals in the banking industry, talking with them about SEC reporting and making real-world connections with what we've been learning in the classroom."
Prior to meeting with PNC's accounting executives, the students toured The Tower at PNC Plaza and learned about its LEED green building certification.
"Our tour guide pointed out the view of the Pittsburgh Playhouse from PNC's third floor outside café. We truly felt a neighborly connection with PNC employees," Olshanski said.
Olshanski added: "Beyond the theory and practice of higher-level accounting concepts, Advanced Accounting is a sort of bridge course — a course designed to help students link classroom accounting knowledge to real-world accounting applications. The visit to PNC definitely helped build that bridge."
More About: student trips, PNC, accounting, West Mifflin Area High School, Rowland School of Business, Downtown Pittsburgh, South Allegheny High School