more news
Alumna, Professor Serve on Disaster Medical Team During State of the Union
Monday, February 1, 2016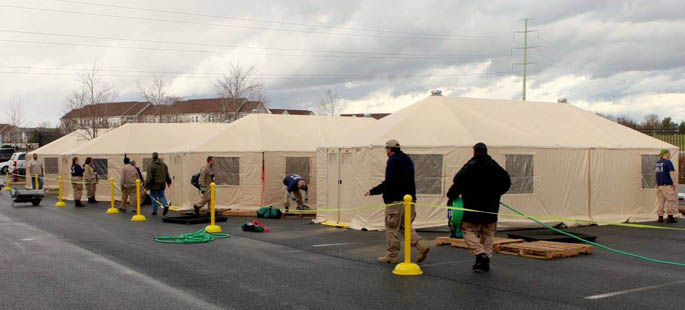 During President Barack Obama's last State of the Union address Jan. 12, Point Park University 2015 public administration alumna Kate Jones and Associate Professor Robert Skertich, Ph.D., were on standby, ready to respond in the event of a federal emergency.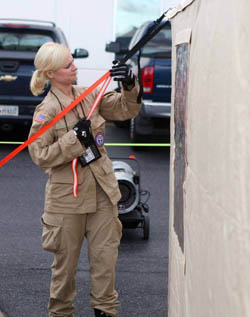 Public administration 2015 grad Kate Jones
As members of a U.S. Department of Health & Human Services' Disaster Medical Assistance Team based in Pittsburgh, Jones and Skertich traveled to Frederick, Md., prior to the president's address to prepare for a possible emergency that would require expanded medical care in the Washington, D.C., area.
Jones served as a paramedic on the DMAT PA-1 team while Skertich was the deputy commander for the deployment.

"On this deployment, we were in an austere environment and had to set up our operations tents as well as our sleeping tents outside in the cold," explained Jones, a prehospital coordinator for West Penn Hospital and paramedic for West Deer EMS and Parkview Volunteer Fire Department and EMS.

The team performed training exercises on setting up disaster triage and medical care, personnel safety and security, and learned how to use computer medical records systems to track disaster patients.

"We have an amazing team of highly-trained professionals including nurses, doctors, EMTs, paramedics, mental health professionals and others. The team does great work and has made a difference in the lives of the people they've served in disaster situations such as Hurricane Katrina and Hurricane Sandy," said Jones.

"In my mind, there is nothing greater we can do in life than serve each other in times of need," she added.
According to Jones, this experience prepared her to work for long periods of time in cold weather and provided her with the opportunity to see the high level of coordination and planning that goes into disaster preparedness training for events like the State of the Union Address.
"Kate came to Point Park with a terrific background in emergency medical services, and quickly became interested in the public policy process. Her skills and experience as a practitioner, enhanced by her public administration education, have given her a strong set of tools to build a great career," said Skertich.
Jones, who is currently pursuing a master's degree in public policy and management from the University of Pittsburgh, felt Point Park prepared her well for graduate school.
"My professors at Point Park consistently encouraged me to apply my learning to my own professional experience. I was able to see almost immediately the positive impact my studies were having on my career," she remarked. "I'm very proud to be a Point Park alum."
Learn More
Visit Point Park University's public administration page to learn about the variety of degrees, concentrations and certificates the program offers and meet the instructors.
More About: faculty, alumni, EMS administration, public administration, Rowland School of Business