more news
Bruce Springsteen's Stage Manager Meets with SAEM Students During Concert Setup
Wednesday, May 7, 2014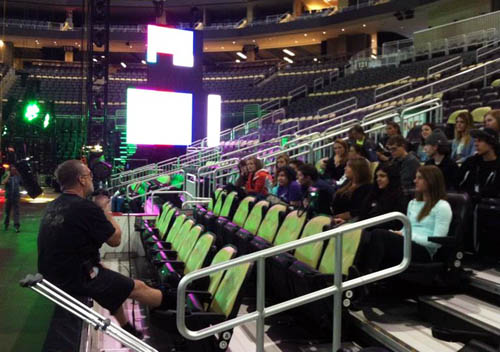 Just hours before Bruce Springsteen took the stage in Pittsburgh April 22, SAEM Associate Professor Ed Traversari brought a class of students to the CONSOL Energy Center to see what it takes to set up for a show of this magnitude.
"The students watched as trucks with band gear, staging, sound, lights and monitors were unloaded and placed in position by many stage hands and band roadies in preparation for the concert," explained Traversari.
Students in the Business of Concert Promotion and Touring class also met with Springsteen's stage manager, Sean McGovern.

He gave his perspective on what it takes to succeed in the live entertainment business.
"This is just one of many instances of Ed using his numerous contacts in the music industry in order to give us amazing learning opportunities," said SAEM junior Madison Lescallette.
According to Liz Cook, also a junior SAEM major and president of the SAEM Club, the SAEM program has given her many great experiences.
"Every class isn't just us sitting there listening to a lecture. There are trips to venues and guest speakers that give us extra insight to the class material and help us understand the business better. We have been able to participate in activities that will directly help us in our future careers," remarked Cook.
Junior SAEM major Tyler McLaughlin agrees.
"My SAEM experience has been great. My professors, especially Ed, have helped me to engage in the awesome entertainment scene around us and gain real-world insight and experience that your average professor could not provide," said McLaughlin.
More About: faculty, student trips, sports, arts and entertainment management