more news
Business Management Major Leads Homeless Children Awareness Event
Monday, December 9, 2013
Meet Erika Mangual
Major: Business Management with a concentration in management
Minor: Accounting
Expected Graduation: May 2016
Hometown: Pittsburgh, Pa.
High School: Pittsburgh Obama Academy
College Activities: Strong Women Strong Girls, team counselor for the Accounting Career Awareness Program and volunteer for the Homeless Children's Education Fund
Hobbies/Interests: Makeup application (certified), movies, learning, traveling and hanging out with friends
Mangual recently organized a "Stand Up for Homeless Children: A Performance Art Installation" on Point Park University's campus to raise awareness about homelessness in Allegheny Country. Donations from the event went toward school supplies for the Homeless Children's Education Fund. Mangual, who was featured in The Globe and Pittsburgh Obama Academy's online newspaper for her efforts, plans to hold another art installation on campus in the spring.
How did you become involved with the Homeless Children's Education Fund?
After searching several websites for different types of volunteer opportunities, I discovered HCEF and thought it was perfect. I love kids and knew helping homeless children was something I wanted to do.
Describe the type of volunteer work you do.
I volunteer on Fridays at Sojouner House MOMS, which provides safe housing and supportive services for homeless, single women (and their children) in recovery. Sojourner House is a partner of the Homeless Children's Education Fund. As a volunteer, I spend time with the kids and show them the attention they need. I read or draw pictures with them, help them with their math homework or just hang out with them. By spending one-on-one time with the kids, I get to know their strengths and weaknesses and can really develop a personal relationship with each of them.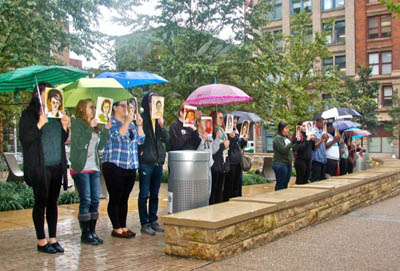 Point Park students brave the rain to participate in the
homeless children awareness event
organized by Mangual.

What factors made you choose Point Park?
It's in the heart of the city. We are around so many businesses and have so many networking opportunities. The small class sizes also attracted me. My largest class has 30 students in it. I love it here. It's so artsy, free-spirited, fun, urban and modern.
What's been your favorite college experience so far?
Being able to talk to my advisor, Soren Hogsgaard, has been great. He has been very helpful in guiding me on how I can fit accounting in as a minor and still graduate on time.

The professors at Point Park are so supportive. They actually care about you and really try to help students on their paths to success. Point Park's professors are engineers, accountants and other types of professionals who have actually worked in the fields they teach. Not only are they teaching you from the book, but they are also sharing with you their first-hand experiences in the workforce.
Other favorite experiences I've had at Point Park have been attending the cool dances and events hosted by the different organizations here. All the events are amazing and so welcoming.
Is there anything else you'd like to add?
Volunteering has been such an eye-opening experience for me. It really makes me happy. Each week, I can't wait for Fridays to come so I can volunteer. I absolutely adore the work I do.
As for being a business management major, I love it. I enjoy all of my business classes and professors. Point Park is a wonderful school and just a really great place to be.
More About: The Globe, Strong Women Strong Girls, ACAP, volunteer work, accounting, business management