more news
Point Park Hosts First Accounting Career Awareness Program
Thursday, August 1, 2013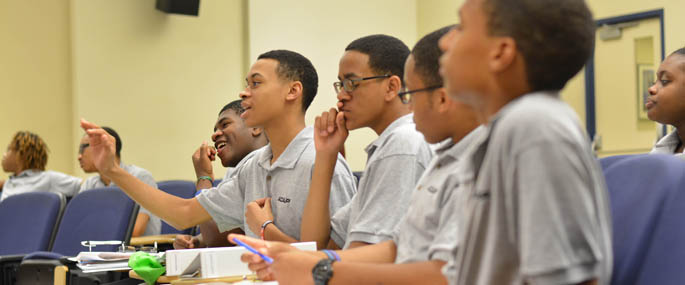 High school students attend an ACAP session on public speaking. 

Point Park University recently hosted its first Accounting Career Awareness Program, welcoming 22 students from a variety of high schools across the Pittsburgh region.
As part of the National Association of Black Accountants, Inc., ACAP's goal is to increase understanding among high school students in underrepresented minority groups about the field of accounting and its career opportunities.
Edward Scott, C.P.A., M.B.A, Point Park's George Rowland White Endowed Professor of Accounting and Finance, led the six-day program, which included a full schedule of educational, networking and recreational activities.

According to Scott, the major benefits of ACAP are that the students learn about the significant number of well-paying jobs in the accounting field and begin to develop their network with various professionals and organizations.

"Students see professionals who look like them and that exposure sparks their interest in the field and lets them know they can become well-paid certified public accountants," explained Scott.

Throughout the week, students heard from guest speakers presenting on a variety of topics from financial literacy and accounting careers to public speaking and essay writing. Students also attended a business etiquette workshop dinner with local business professionals and toured several public accounting firms in the city.

Other activities during the week included laser tag, bowling and a trip to PNC Park for a Pittsburgh Pirates baseball game. Point Park's ACAP week wrapped up with a closing ceremony featuring student presentations and awards.

"Point Park is perfect for hosting ACAP because of the mission of its Urban Accounting Initiative, which is to bring awareness to women and minorities about the career opportunities in accounting and finance. Also, our Downtown Pittsburgh location provides great access to PNC and to the Big Four, regional and local public accounting firms," remarked Scott.

Point Park plans to host ACAP again next summer.
Check out what some of the students (and Professor Scott) had to say about ACAP on social media and in person.


"All the speakers were fun, exciting and engaging. They really care about us and have helped us to learn about financial literacy, the accounting field and college planning. It's also been great to do team building activities with the other students."
- Jesse Council, Beaver Area High School
"I enjoyed the presentation on the language of business. It really taught us about the field of accounting and gave us the formula for it."
- Patrice Council, Beaver Area High School
"I didn't really know what accounting was about. This program was a great introduction to the field."
- Aneia Dutrieuille, Boyce Middle College High School
"I'm so excited to be here. It's been an amazing mind-blowing experience."
- Erika Mangual, Point Park business management student and ACAP team counselor
"I liked working on the accounting problems and plan to major in accounting in college."
- Teiona Taylor, Urban Pathways Charter High School
"Professor Scott told us about his personal experiences and how it is possible to go on to college and be successful regardless of struggles we may be going through in high school."
- Kendall Whitener, Propel Andrew Street High School
"My favorite part of ACAP was the session on public speaking. It was very engaging."
- Israel Williams, Sewickley Academy
Photos by Connor Mulvaney, junior photojournalism major
More About: ACAP, accounting, Downtown Pittsburgh