more news
Business Management, M.B.A. International Alumnus is an Analyst for UPMC Health Plan
Wednesday, June 24, 2015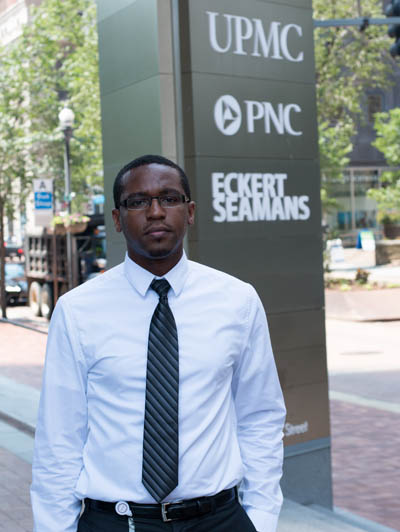 Meet Kazoza Mazzuki
Job title: Ancillary Analyst
Employer: UPMC Health Plan
Degrees earned: B.S. in business management, 2013, and M.B.A. with a concentration in health systems management, 2014, Point Park University
Hometown: Dar-es-Salaam, Tanzania
High school: Kabojja Secondary School in Kampala, Uganda
Now living in: Pittsburgh, Pa.
Hobbies/interests: Sports, ancient history and travel
LinkedIn: Kazoza Mazzuki
Why did you choose Point Park for both your undergrad and grad degrees?
Fast-track programs offering the flexibility to go to school over the weekend and still maintain full-time employment; small class sizes that allow students to interact and delve into deep discussions on subject matters and industry-experienced professors were all huge factors for me in choosing Point Park University.

The Downtown Pittsburgh location also played a huge role, since I was able to use the library after work. Student and faculty diversity at Point Park was another deciding factor since it makes for different perspectives in class discussions (which is a good thing).
How did you land your current position with UPMC Health Plan?
After completing the M.B.A. program, I targeted health care organizations in the area. When UPMC held a job fair, I took full advantage of the opportunity to market myself. It was not only a chance to hand out my resume in person but an opportunity for me to interact with a potential employer, which turned out to be a good decision in my case.
What do you enjoy most about working in Downtown Pittsburgh?
It gives you a chance to network and keep a pulse on what's happening. Most of my colleagues work Downtown, so we catch up over lunch to exchange ideas and grow our networks. It's also a chance to experience the growing cultural diversity happening in Pittsburgh.
How have your Point Park classes helped you?
I can confidently say that I am applying what I learned in class in my current role. The changes in health care have opened up the market, which in turn have made things very interesting and competitive. As an analyst, I am always looking for creative ways to help my organization achieve its mission to be the number one choice for clients in the region. The health systems management concentration offered courses in policy analysis, health care economics, strategy (special topics) and statistics, which all play a role in my day-to-day duties.
What are your career goals?
To learn as much as I can, be a reliable resource to my organization and hopefully in the near future become an executive.
Final thoughts?
Choosing Point Park University was one of the better decisions I made for my career. Classes were an extension of work in the sense that you got out of them knowledge and technical skills you could immediately apply to your position.

Photo by Victoria A. Mikula, junior mass communication major
More About: alumni, Downtown Pittsburgh, M.B.A., success story, UPMC, business management, Rowland School of Business